Keeping Maa Durga painting at home is considered auspicious. Whether you use Goddess Durga paintings to decorate your living room or provide a heavenly presence in your home's ritual chamber, they are both perfect ways to bring forth the spirit of Durga. The Jamini Roy Durga painting is the best option for those interested in purchasing the Goddess Durga painting. They have a unique, almost mystical, impact as god and art merge into one.
If you want to have a painting of Maa Durga in your home for aesthetic purposes- a Jamini Roy Durga painting is a great way. There are other artists too who draw inspiration from Jamini Roy to create their paintings of Maa Durga; you can check them out if you need.
Or, if you want to print out your own choice of Jamini Roy print, you can do so at Wall Curry. You can use it to create your custom painting or wallpaper.
Now, let us know more about this famous artist.
Goddess Durga in Jamini Roy paintings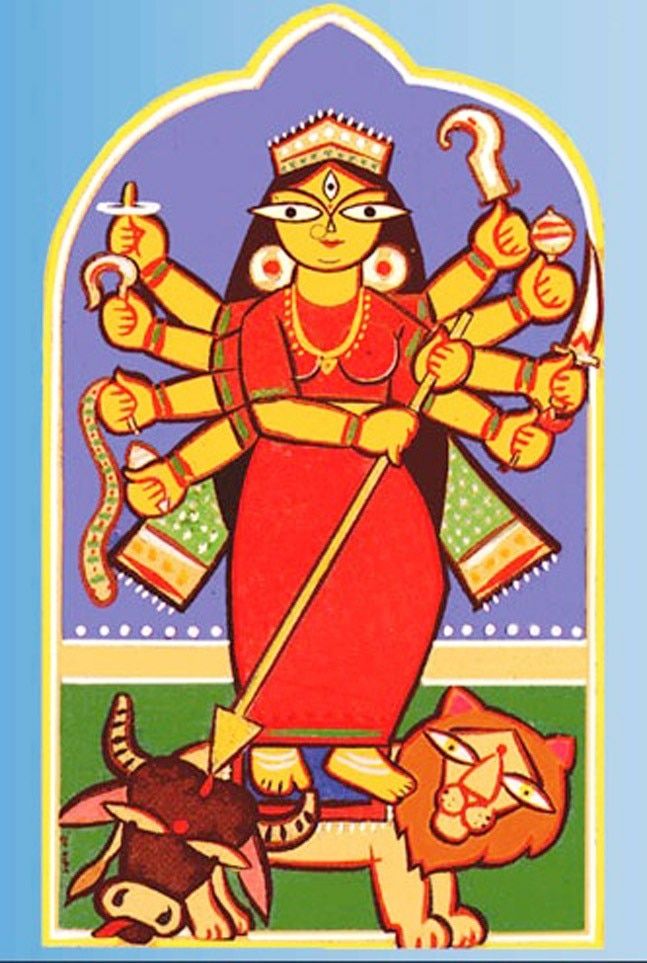 Jamini Roy is a well-known Indian painter born on April 11, 1887, in New Delhi. His new style of painting was inspired by Bengali folk art which made his imprint on the globe. Consequently, he was able to effectively introduce Indian art to the senses of a professional painter.
He is well known for his paintings of the Hindu warrior goddess Durga which are widely collected. During the nine-day festival of Navratri, for example, she manifests herself in nine distinct incarnations. In addition, the artist is well-versed in capturing the attention of each of the goddess's many embodiments.
Jamini Roy's Journey
Jamini Roy was born in the village of Beliatore in the Bankura district of West Bengal. A 16-year-old from Beliatore moved to Calcutta (now Kolkata) in 1903 to enrol at the Government College of Art. Further, he learned how to sketch Classical nudes and, importantly, paint in standard oils. A Diploma in Fine Arts was awarded to Roy in 1908.
A student of Abanindranath Tagore, Jamini Roy became well-known for his portraiture under Tagore's supervision. However, he wasn't happy with the results. His real calling came to him in 1925. After that, he heard his genuine calling outside of the renowned Kalighat temple in Calcutta. As a result of his close observation of the folk artists, he learnt from them.
Three aims were met at once by Jamini Roy's use of Bengali folk art: to simplify and depict the life of ordinary people, to make his work readily accessible, and promote Indian culture via art. He perfected this Indian art form and was soon affectionately referred to as a patua.
In 1954, he received the Padma Bhushan, India's third-highest civilian accolade, for his contributions to the country. In the 1970s, the Ministry of Culture designated him as one of the country's "nine masters," whose works are now regarded national treasures because of their artistic excellence.
Jamini Roy's unique painting style
The vigorous sweeping brushstrokes of Jamini Roy's works evoke the indigenous art of Kalighat painting, which he studied in India. In his classical painting, for example, his trademark style is characterised by the inclusion of spindly-eyed human and animal forms, which are created in bold contours and filled with vibrant colours. The calligraphy of East Asia, the clay crafts of the Bishnupur temple, and traditional Alpana patterns and motifs from ancient Kantha quilts were all sources of inspiration for his works.
Jamini Roy Paintings Durga Kartik Ganesh Lakshmi Saraswati
Gods and goddesses such as Goddess Durga, Ramayana, Radha-Krishna, Ganesh, Lakshmi, Saraswati, Katkik, and Jesus Christ are a part of his paintings, among other things. Jamini Roy also painted images from the life of aboriginals known as Santhals and scenes from the lives of Baul musicians. He painted a variety of tales, myths, and heroes, among other things!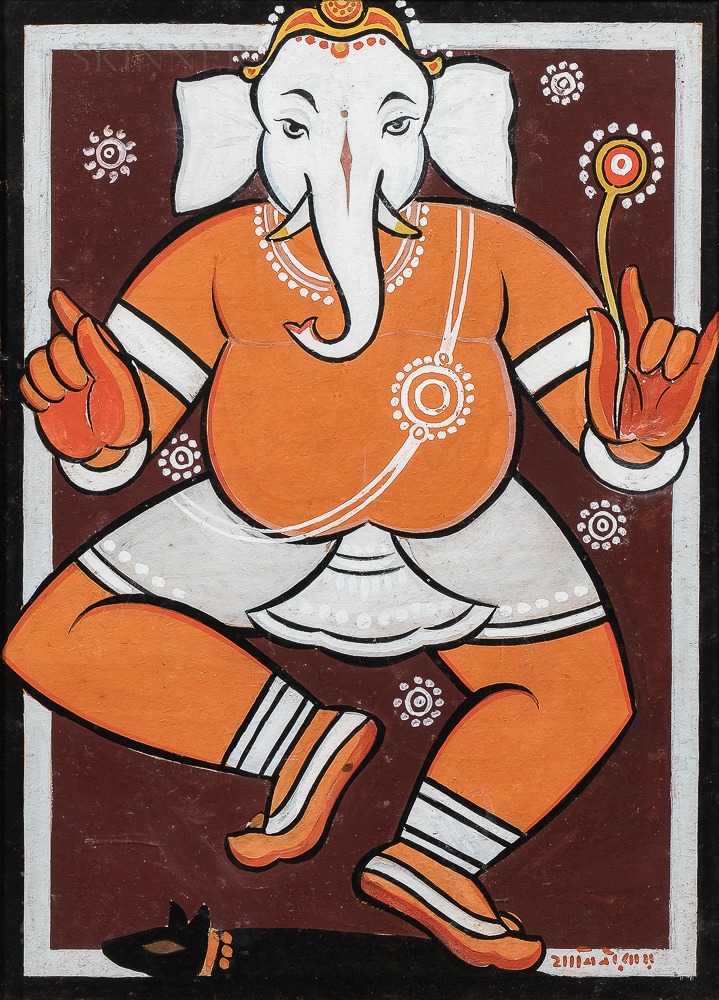 The reproduction of these paintings uses natural colours like yellow, green and red on the canvas to give a beautiful aesthetic look. It also is different from the Indian contemporary style of paintings and finds its link with the roots of India. One example of such paintings is the depiction of Ganesha in a rather simplistic and earthy form. It is unlike the vivid paintings of Ganesha with jewellery. These paintings draw on relatability with human life.
Artist Jamini roy Paintings of Durga And Shiva
Jamini Roy Durga painting with Ganesha is a folk-art painting done on silk fabric by Jamini Roy Ganesha with Durga.
The reproduction of these paintings has the infant Ganesha, the Elephant-headed God, shown in the artwork as he sits on His Mother, Durga, who is holding him. Lord Ganesha, Durga's first son, is the favourite of His Mother, who worships him as such. She has He tenderly in Her lap and wraps an arm around Him to keep him safe. She says nothing.
Devi Durga, Lord Shiva's spouse and an aspect of Devi Parvati sits on the tiger, which serves as her mode of transportation. She is typically carrying a Trident in her hand. Another way of reproducing this style is a picture in which she is riding in her chariot, with the young Ganesha in her arms, in which case it is a rare artwork.
You can buy Jamini Roy Durga paintings to adorn your home. Such paintings attempt to imbue Gods with human feelings and characteristics. They reflect the intimate human-like connection that exists between Durga and Ganesh, the mother and son.
Jamini Roy Maa Durga Paintings
Kalighat paintings have their origins in the area of Kolkata's famous Kalighat Temple. Their main characteristic is flowing brushwork in addition to vivid natural colours. Shrine visitors acquired these paintings as a symbol of blessings.
The paintings focus on the Santhal tribal culture of Bengal that is drawing inspiration from the simple beauty of Kalighat paintings by Jamini Roy.
These paintings depict Maa Durga in an unusual form where she is on her chariot without her weapons. It imbues a sense of motherhood and peace in these paintings. Portraying the ferocious Maa Durga in a tranquil state with a human-like resemblance is one of the reproductions of the Durga painting by Jamini Roy.
Durga paintings Jamini Roy
Even though so much time has passed, Jamini Roy's popularity hasn't waned in the least. Moreover, Jamini Roy's prints are still in mass production today. Likewise, his distinctive style is also becoming a part of the Durga Puja festivities every year.
Reproducing Jamini Roy's style in sculptures and artworks is a common practice now. Most notably in the form of NavDurga. Nav Durga is a depiction that finds a place in most Bengali homes. The NavDurga paintings reflect on the forms of Durga. Most importantly, they are a reflection of the forms of diverse emotions that humans entail.
Jamini Roy Durga painting
You can never go wrong with an essential yet delicate portrayal of Goddess Durga inspired by Jamini Roy. The artist in such pictures reproduces this idea of Jamini Roy Durga painting by using a darker hue in making such paintings and using red to depict the soil. Moreover, it is the reflection of the bright red Indian Milieu.
FAQs
Who was Jamini Roy?
Jamini Roy (born April 11, 1887, Baliatore, India—died April 24, 1972, Calcutta [now Kolkata]) was an Indian artist who was one of the most well-known in the world throughout the twentieth century. After abandoning his academic background in the 1930s, he chose a linear, ornate, and colourful style that drew inspiration from  Bengali folklore.

While his paintings were very popular throughout the 1930s and 1940s, they also marked a transition in contemporary Indian art from its European academic leanings to a revived interest in traditional iconography and abstract shapes. In his paintings, Roy explored a wide variety of subjects, from the Ramayana to Christ to portraits of modern people like Mahatma Gandhi.
What is the art style of Jamini Roy?
Jamini Roy Durga paintings are distinct by the use of the flat colour application. Subsequently, there is a focus on lines and objects inside a decorative border or theme. In his work, Jamini Roy explored a variety of themes. For instance, the Santhal tribe of Bengal, Jesus Christ, and even the mother-child pair and animals.
Why buy Jamini Roy painting of Durga?
Hindu Culture is representing the divine powers known as divine shakti (feminine energy/power). This combats the hostile forces of evil and wickedness. She shields her followers from sinister forces and ensures that they are safe.
What are some of the prominent works of Jamini Roy?
Ramayana – Both art enthusiasts and critics believe that his 1946 magnum work, 'Ramayana,' is his magnum opus.  Roy narrated his rendition of the famous Indian epic using vegetable colours and pigments obtained from natural components. Jamini Roy also created individual Ramayana episodes, many of which are currently on exhibit at the National Art Gallery of India and the Victoria Memorial Hall.

Makara – 'Makara' is a strange-looking sea animal mentioned in the mythological tales of ancient India. Roy created this painting in 1945. While most of his paintings revolve around people, one might wonder what prompted him to paint this mythological creature.
Bride and two Guests — This 1952 painting is notable for its magnificent indigo of Bengal. According to critics, every element of this artwork has a purpose and significance.
Where to buy Jamini Roy painting Durga?
You can visit WallCurry for the same. They are bringing in numerous paintings inspired by Jamini Roy Durga painting for sale this Navratri.