How To Install
We recommend 2 people hang the wall mural together to help achieve the best results.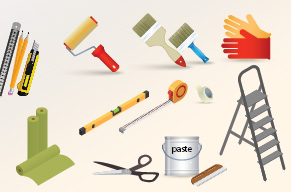 Getting Ready
Keep following things ready –
• paint-rollers n paint-brush
• pencil, blade knife/cutter, scissors
• steel ruler/scale, inchtape, spirit level
• gloves, cloth, sponge, squeezee
• prepare adhesive for pasting in bucket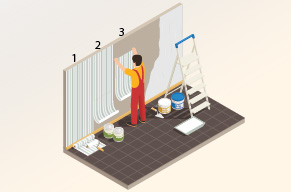 Understand your Wall Curry panels
Your wall mural is divided into multiple panels of 48.5″ each except the last panel which will be 48.5″ or less depending upon your wall size.
There is 1/2″ overlap on left side of all panels. This overlap is for perfect matching during installation.
All the panels are numbered with Panel No 1 being the left side of your wall mural and subsequent panels moving towards right side of your design.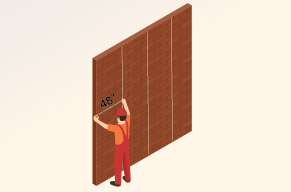 Marking you Wall
Layout all the planels and check if they are as per the sample print.
It is essential that the first panel when pasted is vertically straight. So draw a vertical line on your wall at a distance of 47″ from the left side of your wall. Use the spirit level, inch-tape and scale to draw this line.
Why 47″, you may ask. Well 1″ is bleed/extra margin at the left side of your Panel No 1.
Please note that Wall Curry murals are always hung/pasted Left to right.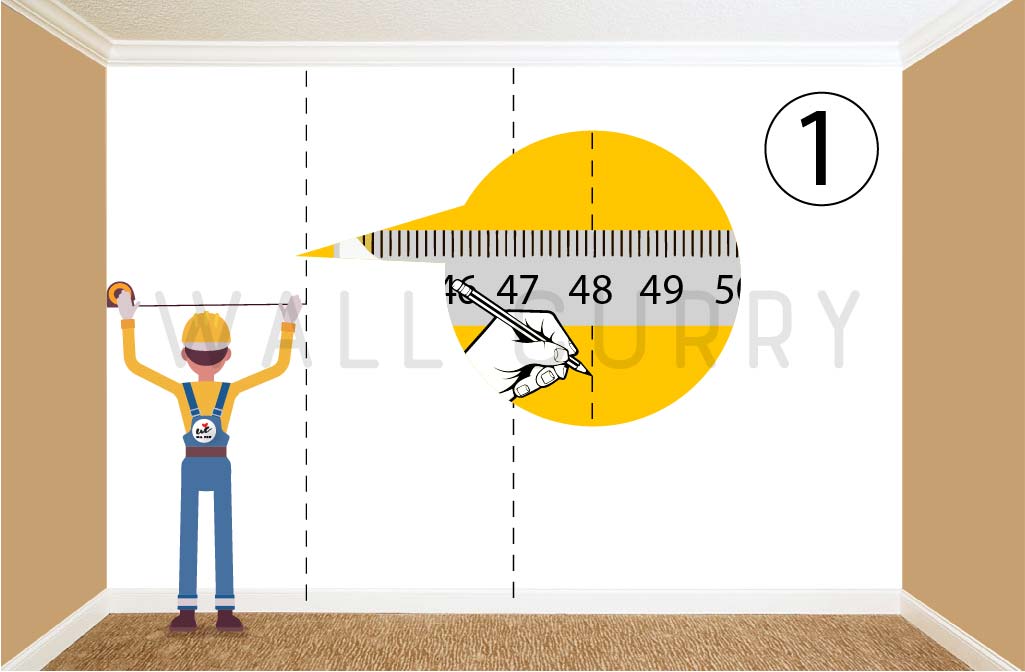 STEP 1
Marking your Wall
Starting from the left put a mark measuring 47″.
While pasting Panel No 1 you will start after leaving the 1″ bleed towards the left. This will help you guide your panel into place to ensure its applied straight.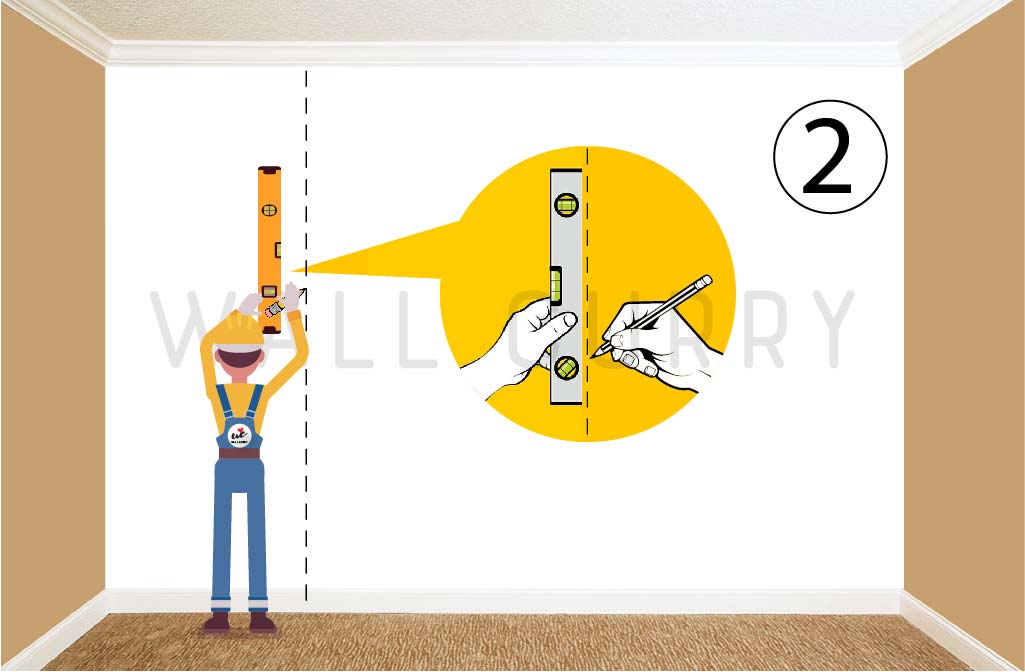 STEP 2
Marking your Wall
With the help of a spirit level draw a straight line at the mark placed in Step No. 1.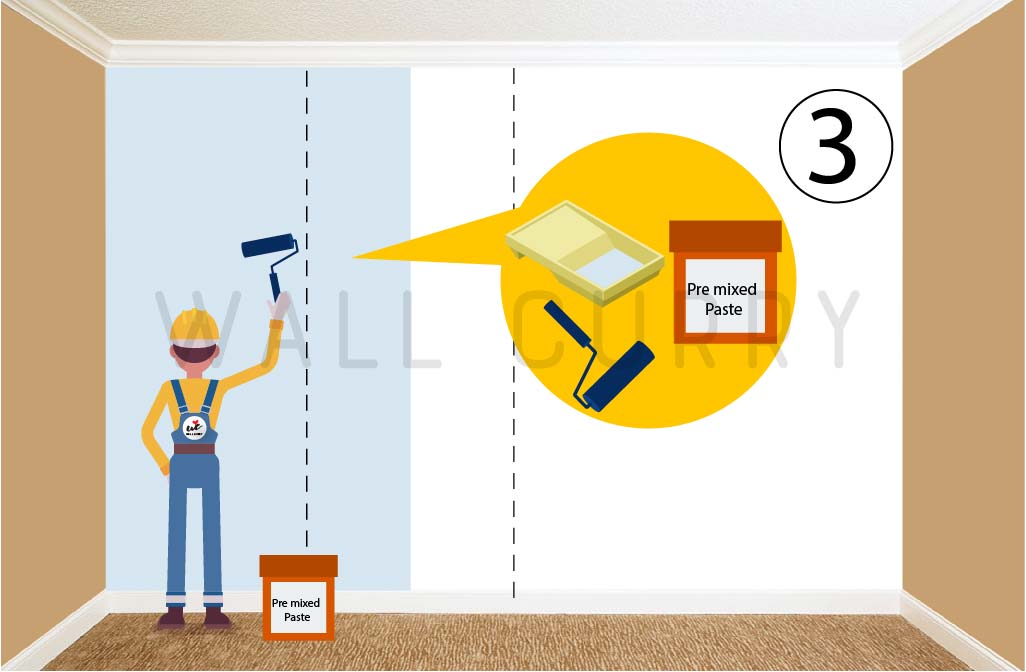 STEP 3
Applying Paste
Apply the paste onto the wall evenly covering the entire surface. If you miss a spot, this will cause the wall mural to bubble. Paste an area the width of one and a half panels at a time.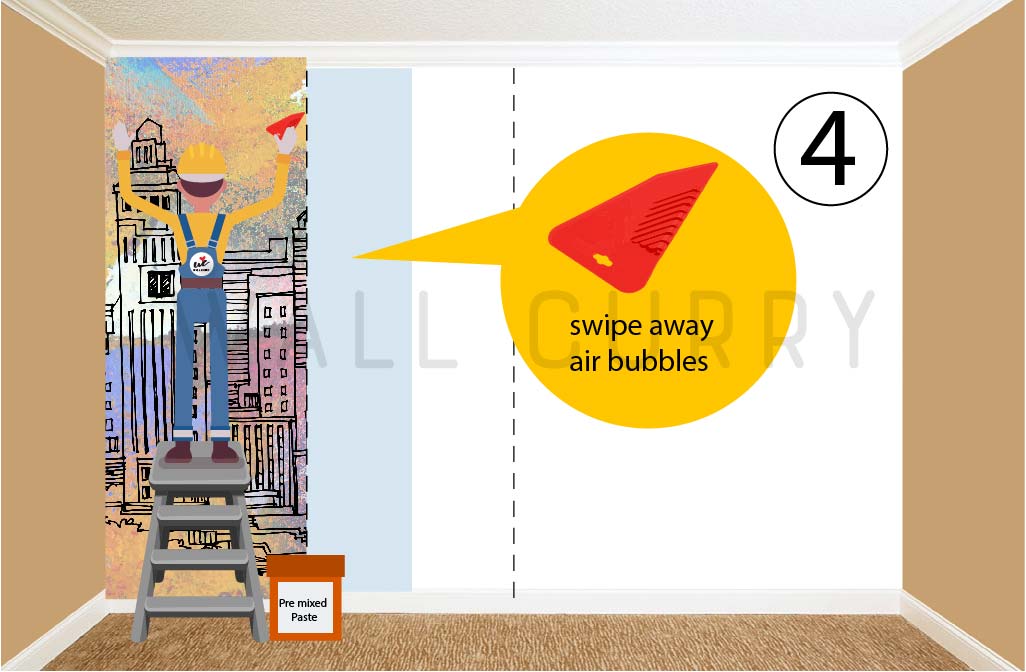 STEP 4
Pasting Panel 1 on the wall
Apply small amount of paste on back of Panel No 1 and start pasting from top left side moving towards bottom.
Make sure that you leave any extra bleed at the top, bottom and side for trimming later.
Gently smooth out any wrinkles or bubbles from the top of the panel to the bottom with the help of a squeeze.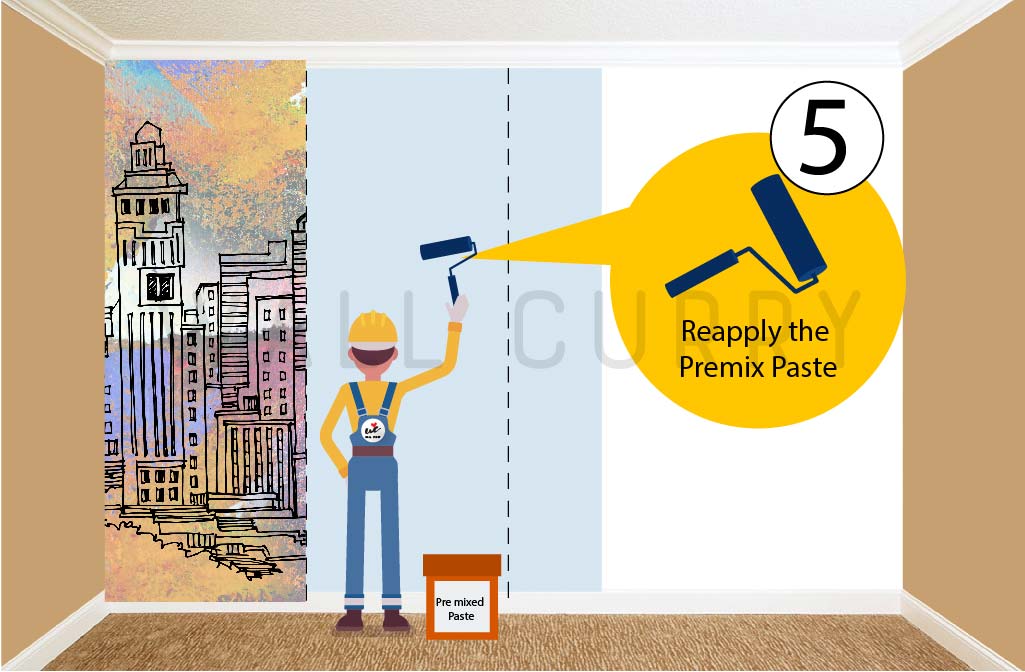 STEP 5
Applying paste for Panel 2
Now apply the paste on the wall and panel itself for Panel No 2 in same way as done earlier.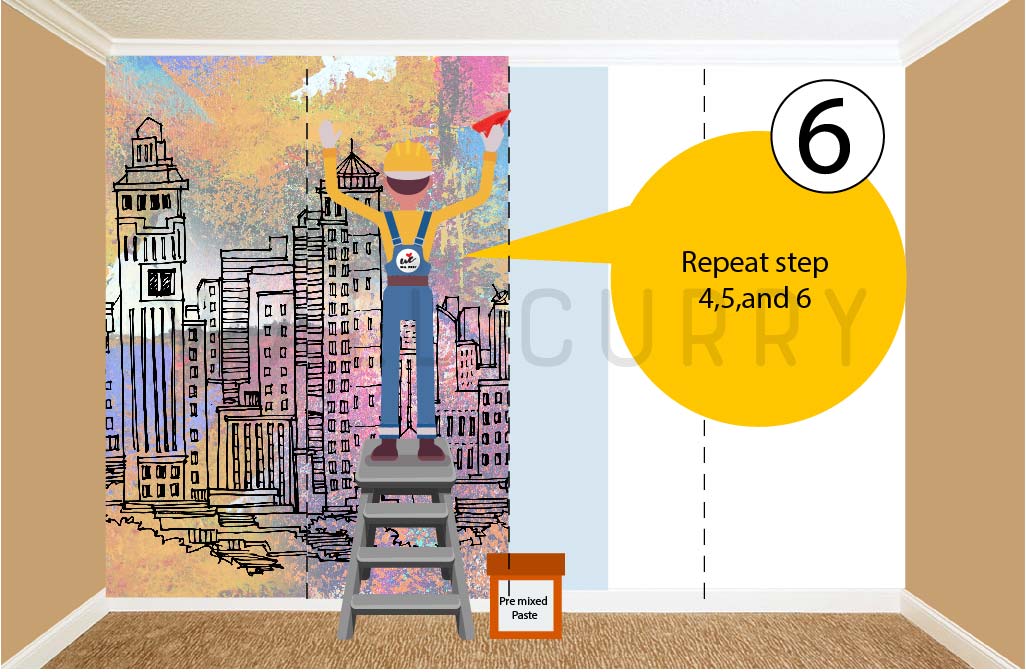 STEP 6
Install Subsequent Panels
Install Panel No 2 such that the overlap of 1/2" comes on top of Panel No 1. Make sure design of both panels match perfectly.
Gently smooth out any wrinkles or bubbles from the top of the panel to the bottom with the help of a squeeze.
Repeat Step No 3 & 4 for all subsequent panels.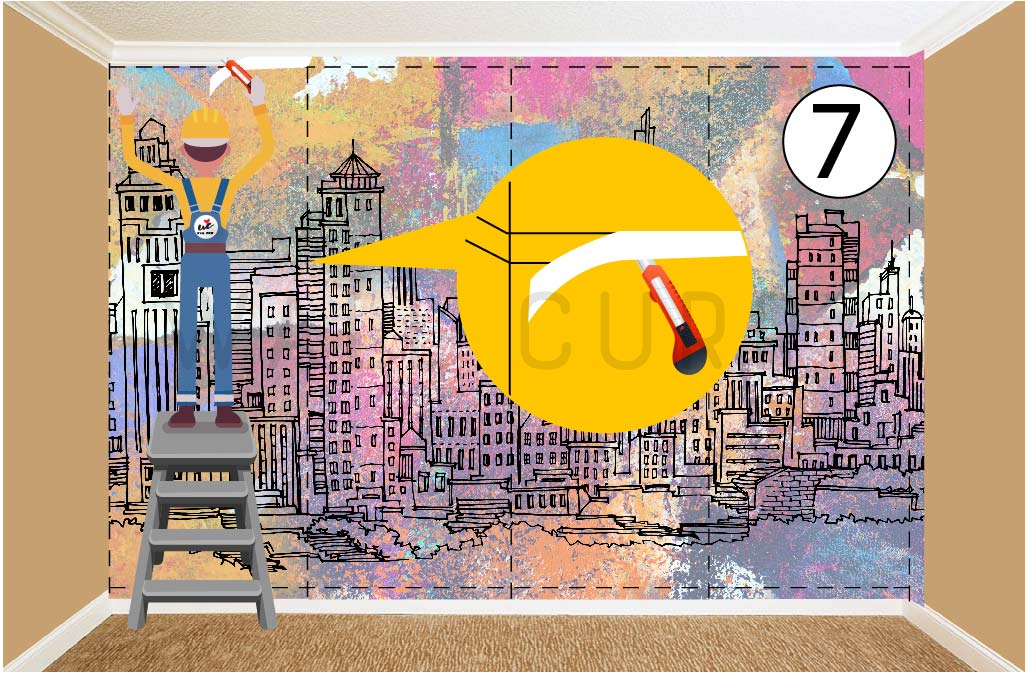 STEP 7
Trimming away extra margins
Once all the panels of your wall mural have been hung double cut overlapping seams. Place your ruler in the middle of the overlap (i.e. 1/4") and cut through both the layers. Peel away the outer piece of excess material. Now peel away the remaining excess material underneath the overlap. Smooth the panels back together so the edges now butt together.
Also cut off any excess along the ceiling, floor and sides.
To remove any paste residue , wipe the mural , as well as the ceiling and baseboard moulding with a clean wet sponge.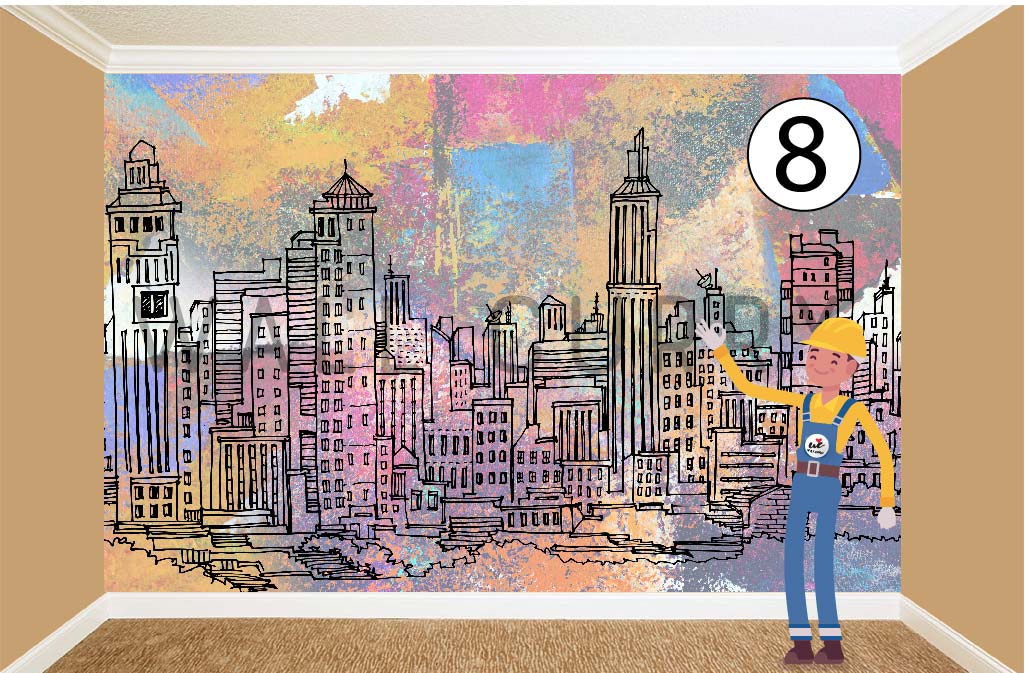 STEP 8
Viola
ENJOY YOUR OWN WALLCURRY WALLMURAL
In case if you are not able to install your wall mural easily, no worries!
We will do it for you!
For installation in other Indian cities please contact us for further details.
For foreign clients installation service is not available at the moment.