wallpaper designs for the living room are you looking to add a touch of luxury and color to your home or office? You can find various wallpaper designs to enliven your space. No matter what your preferences are, there is wallpaper that suits every room. Colorful latest wallpaper designs are always trending, and you can choose from a variety of options at Wall Curry. Have a look at the following options of colorful wallpaper to enliven your space.
30 Colorful modern wallpaper for wall design ideas
1. Coordinating Colorful wallpaper design for your living room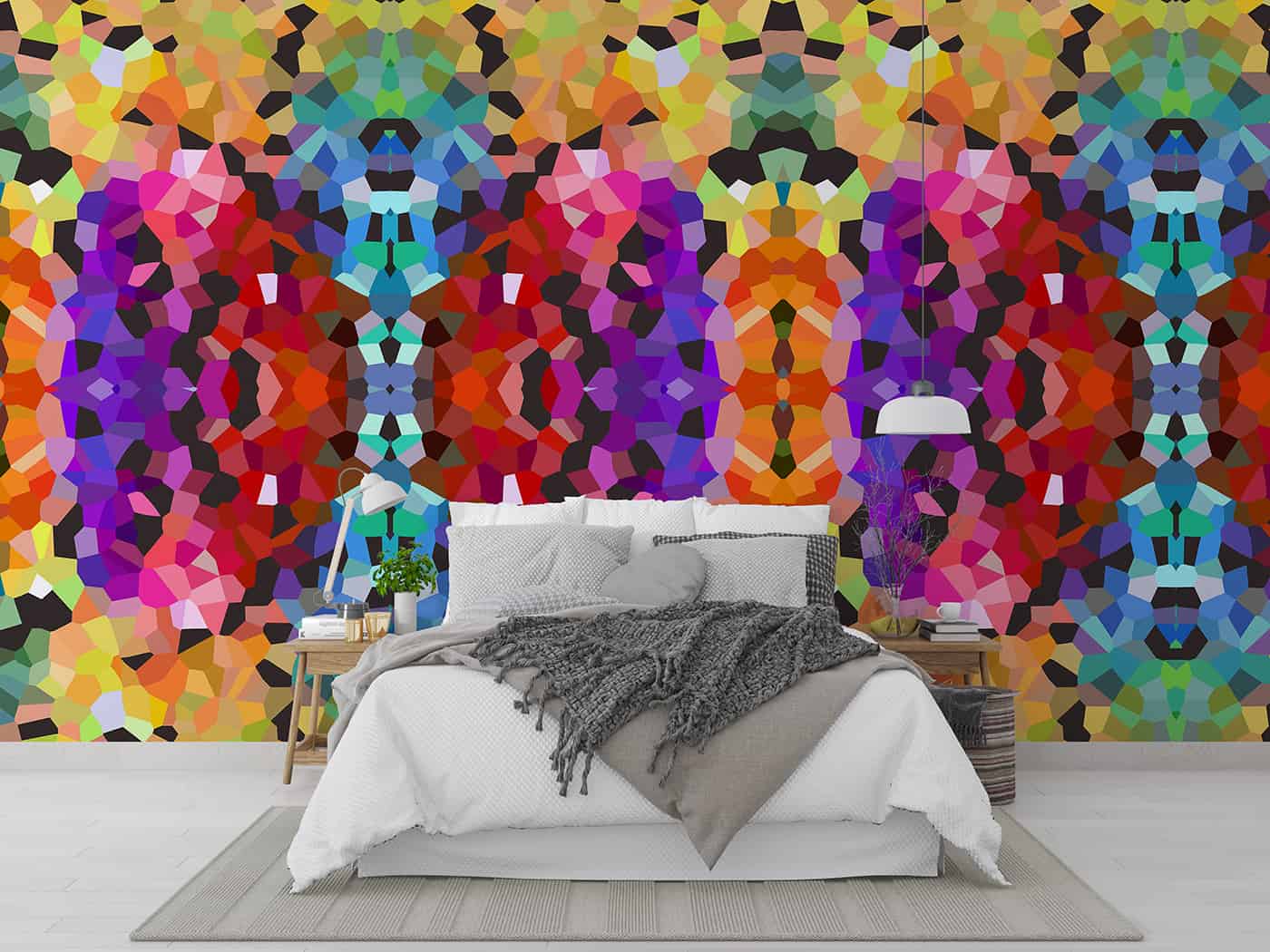 If you have colorful furniture upholstery in your space, add some drama to the space by matching the wallpaper with the furniture. A bold colored wallpaper that matches the furniture upholstery will definitely enliven any space.
2. Golden interior wallpaper for beautiful home wall design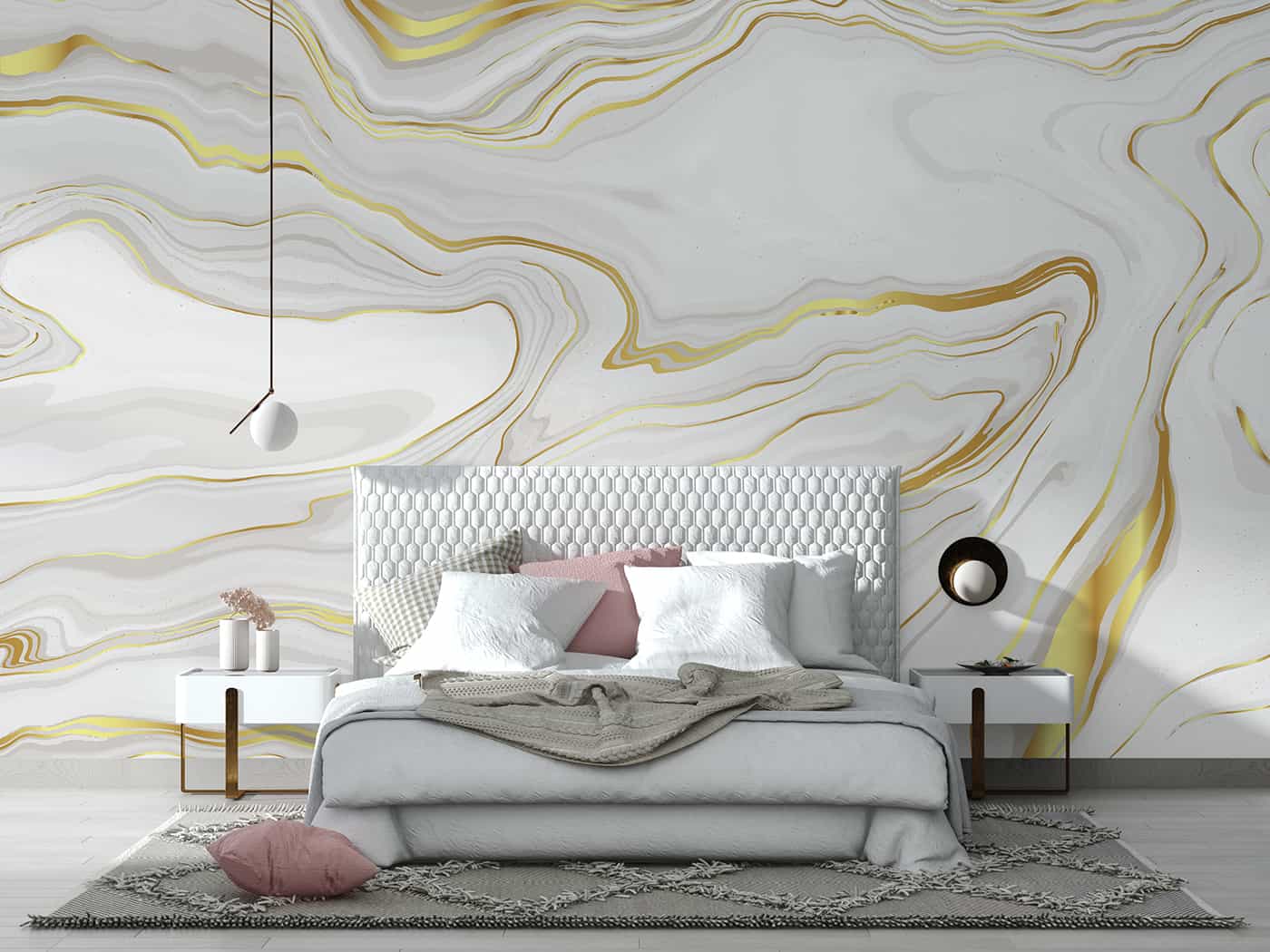 A golden wallcovering like a Gold leaf wallpaper to your dining room gives a luxurious look to the space. Add a chandelier to complete the elegant interior design trends of the dining room.
3. Feature room wallpaper design for home wall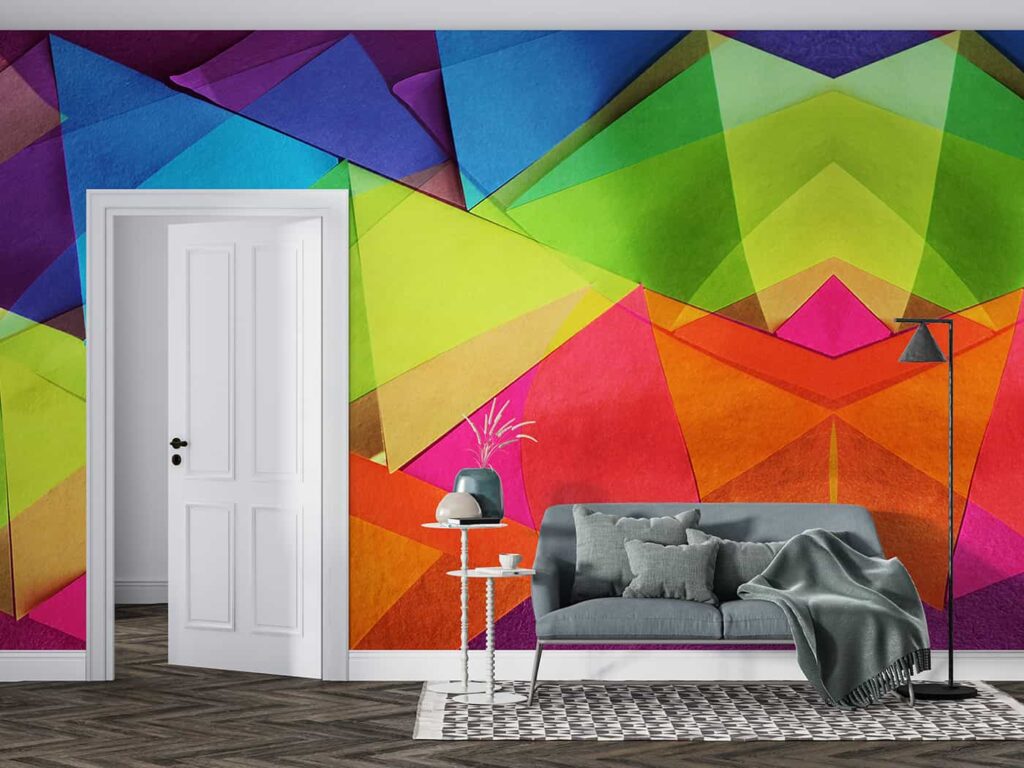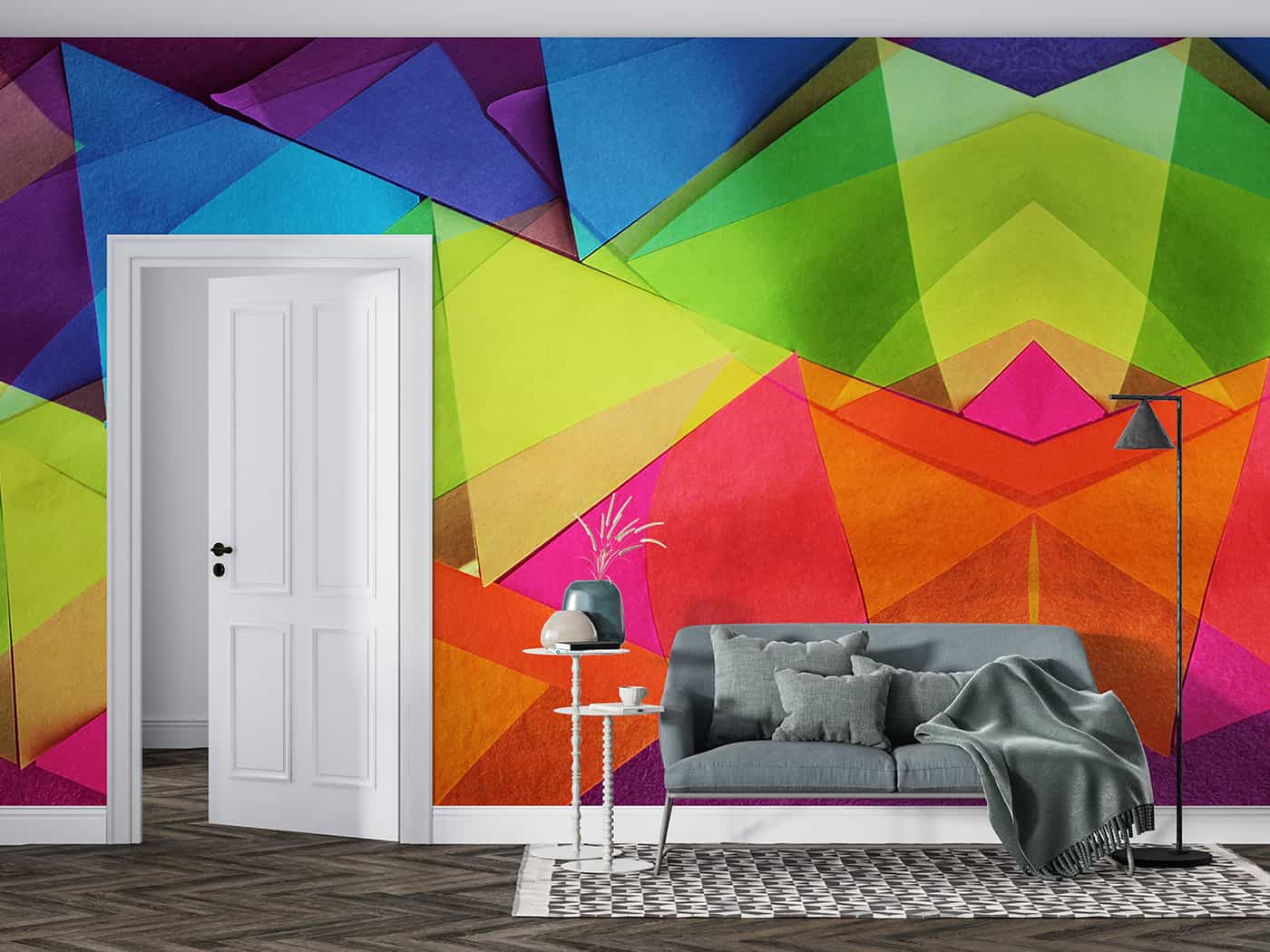 Embrace bright colors and quirky patterns to create a feature behind the bed. A wallpaper showing wild cats and tropical leaf patterns on a red background give a playful and retro design aesthetic to your master bedroom.
4. Rainbow-hued World map style wallpaper for drawing room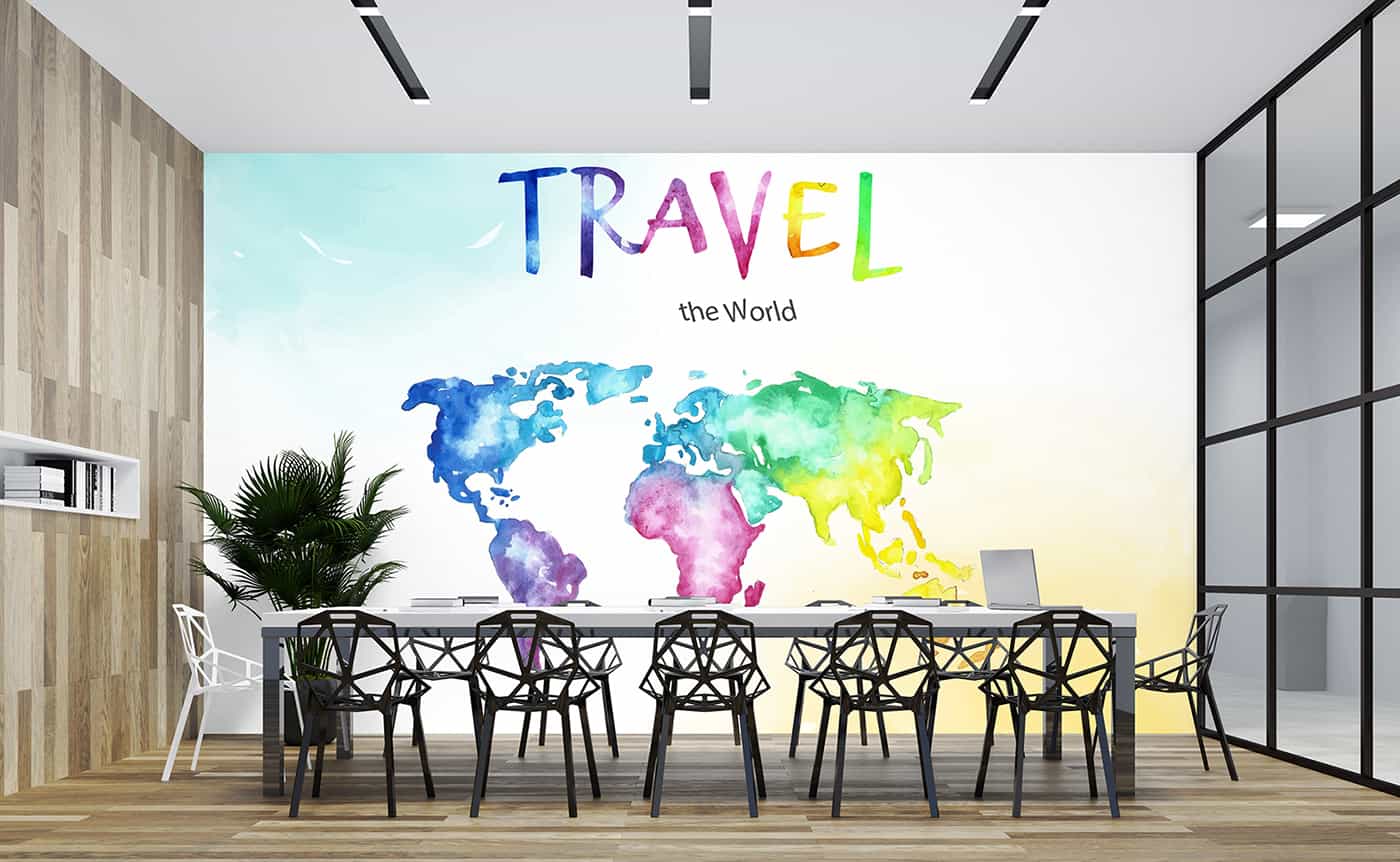 Are you stuck at home due to the pandemic? The perfect way to escape boredom is to redecorate your room with an uplifting watercolor rainbow world map wallpaper as a wall decoration. Coupling it with a wooden desk and a white lamp will provide a bold look to space.
5. Colorful Tie Dye home wallpaper for Drawing Room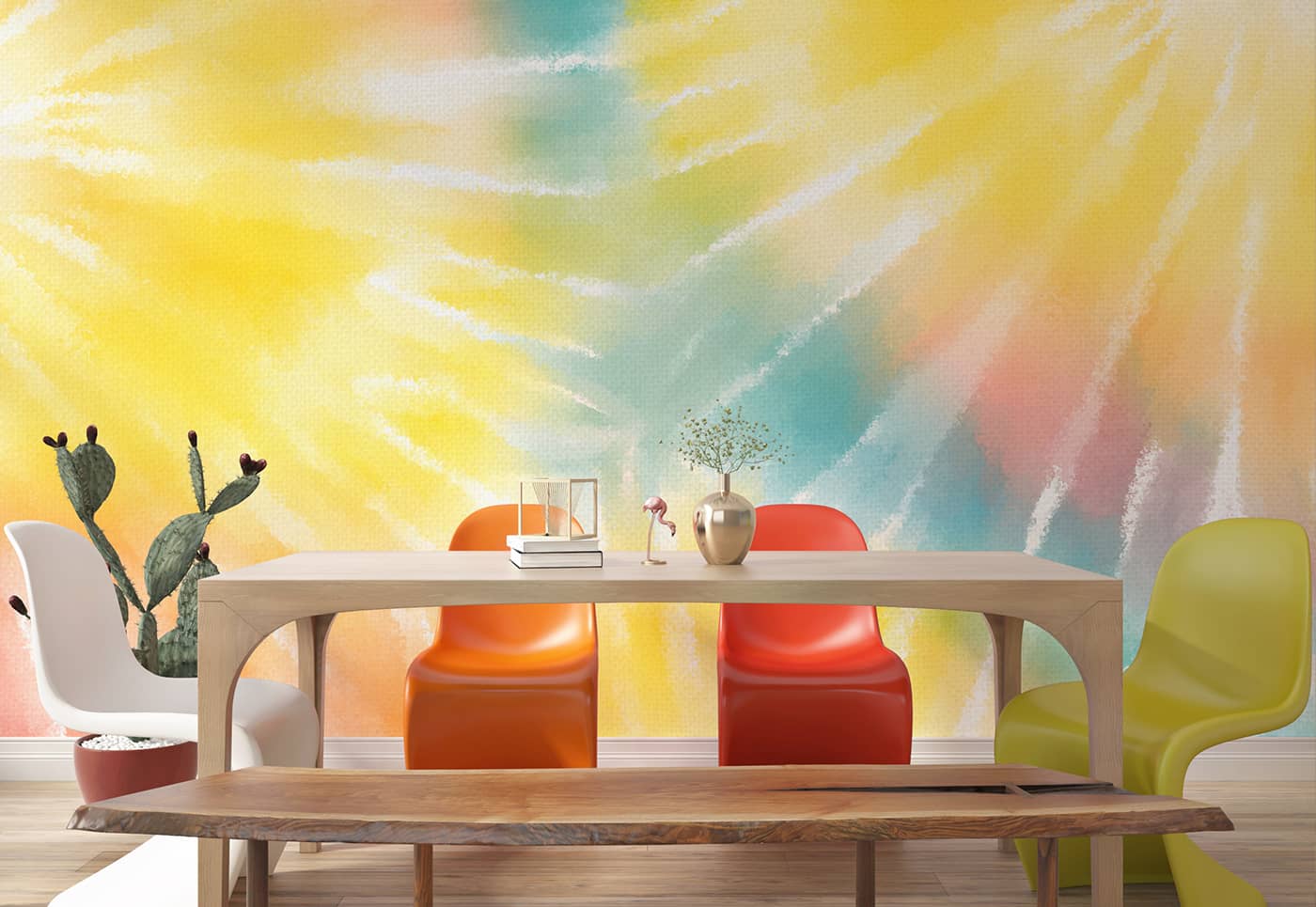 If you are blessed with an empty wall, all it needs is a stylized orange and yellow tie-dye wallpaper. The abstract layers of both colors can be pretty stimulating.
6. Vibrant Hues best Wall Designs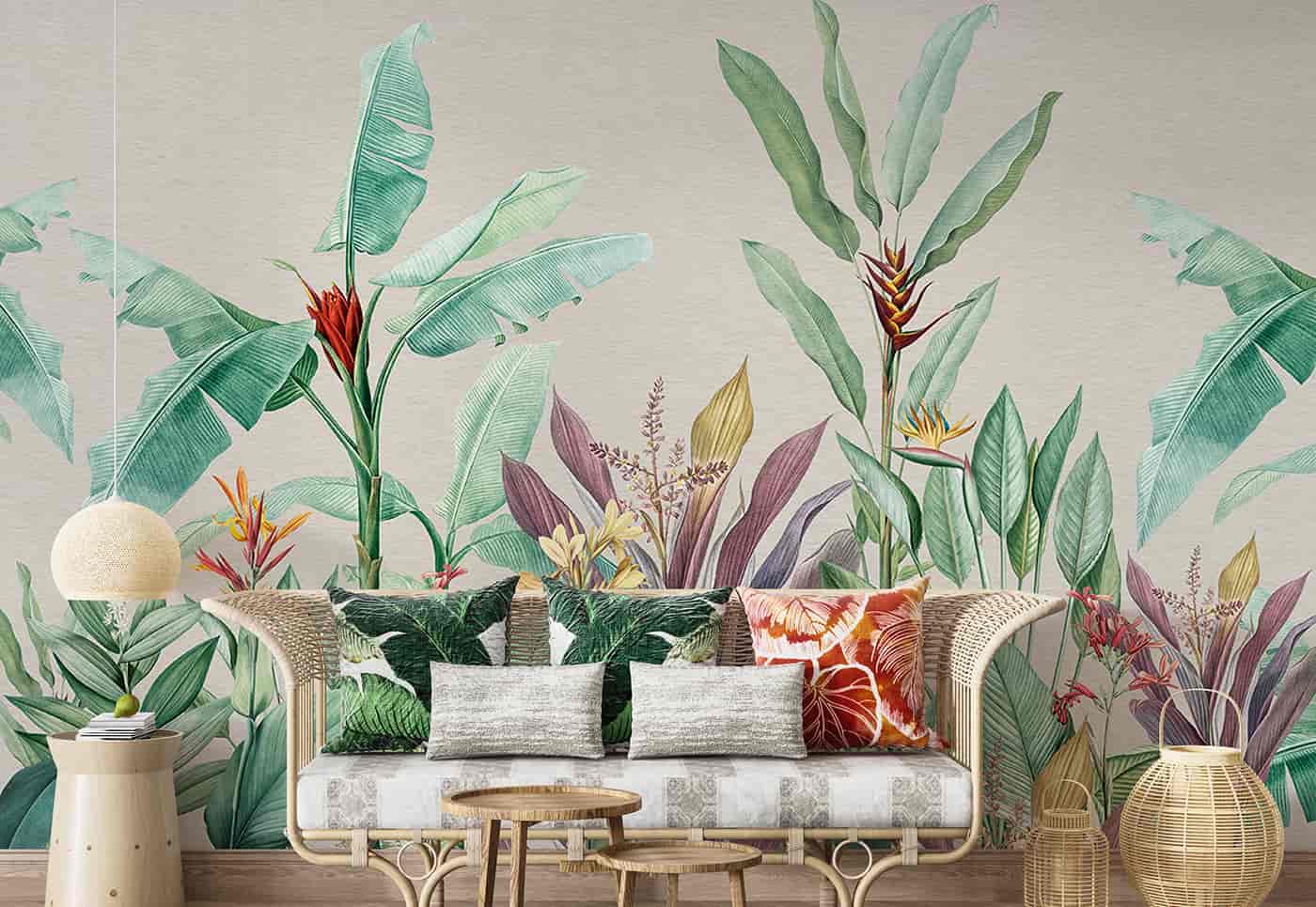 Exotic plants on white background new style wallpaper will create a light and airy environment in your space. Experience a jungle feel by adding some cane furniture to the room. Your room will turn into a tropical paradise with this wallpaper.
7. Multi-Colored wallpaper for walls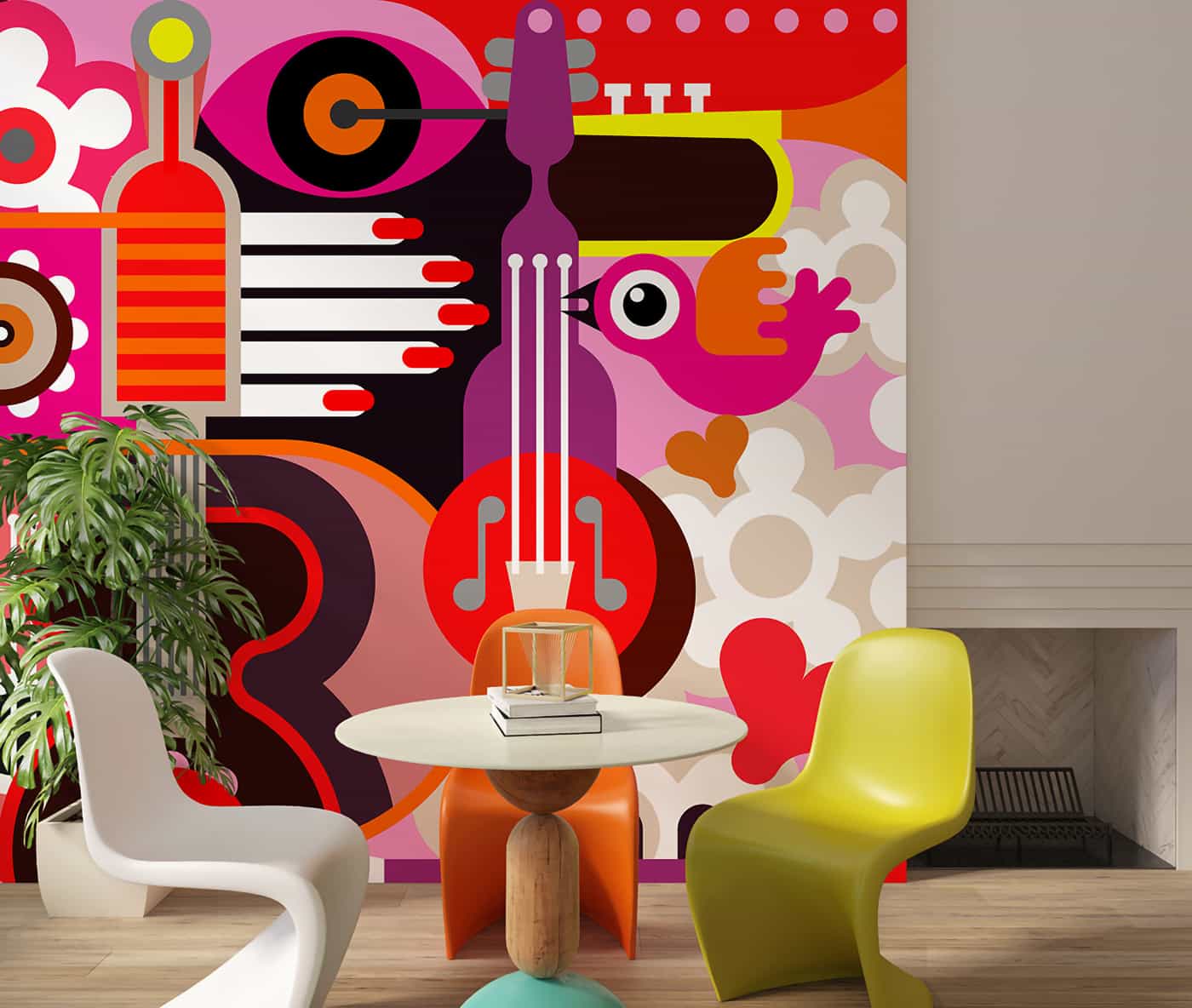 Wallpaper with bold pops of multiple colors filling geometrical figures produces an effect of high style mixed with a futuristic vibe for your space.
8. Tonal color scheme wallpaper design for bedroom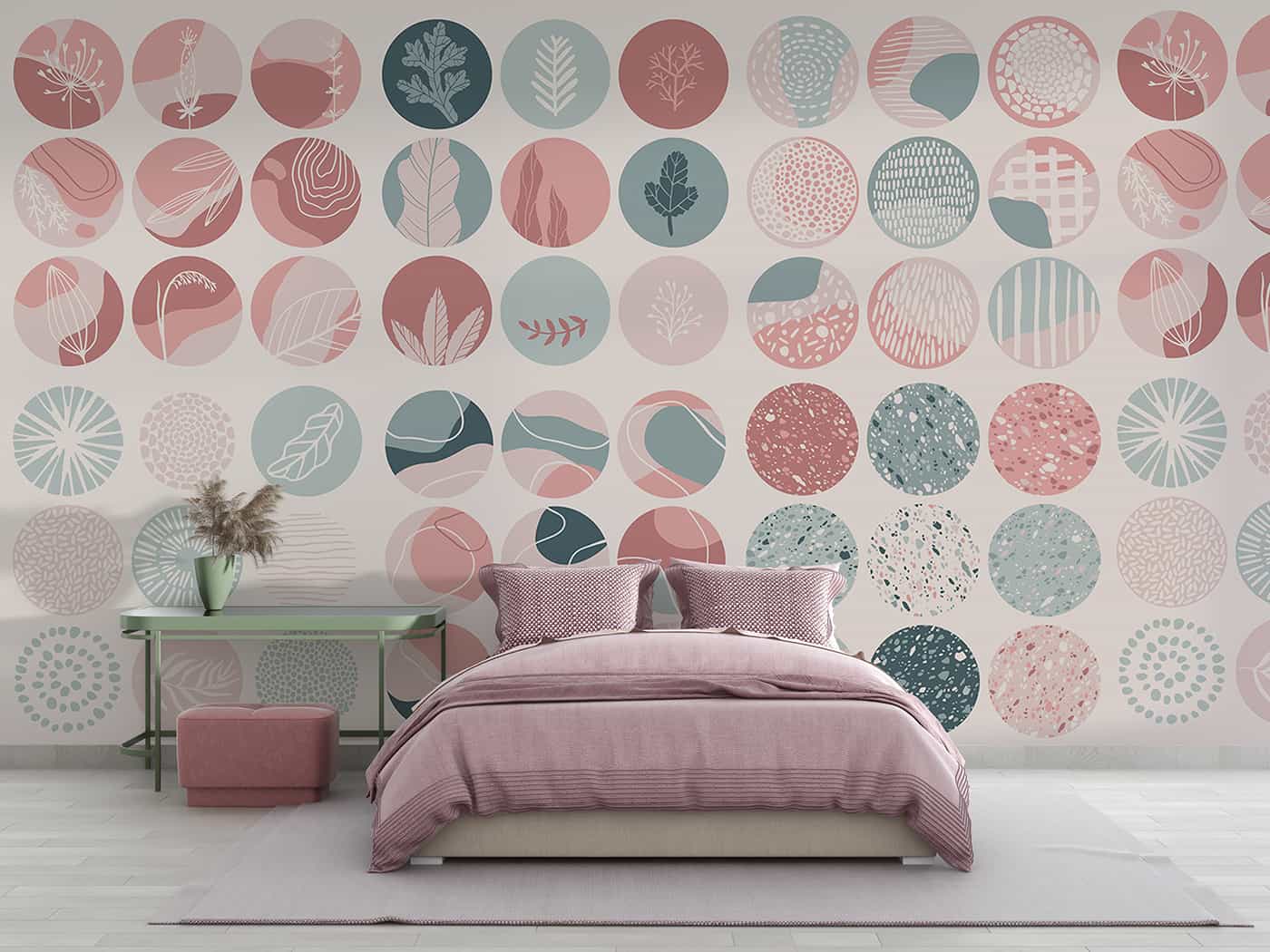 Lend a soothing effect to your room with a tonal color scheme of wallpaper decor. Choose a wallpaper featuring different shades of a particular color to create a striking feature wall. Opt for a simple design instead of a hectic pattern to get a calming effect.
9. Traditional & colorful latest wall design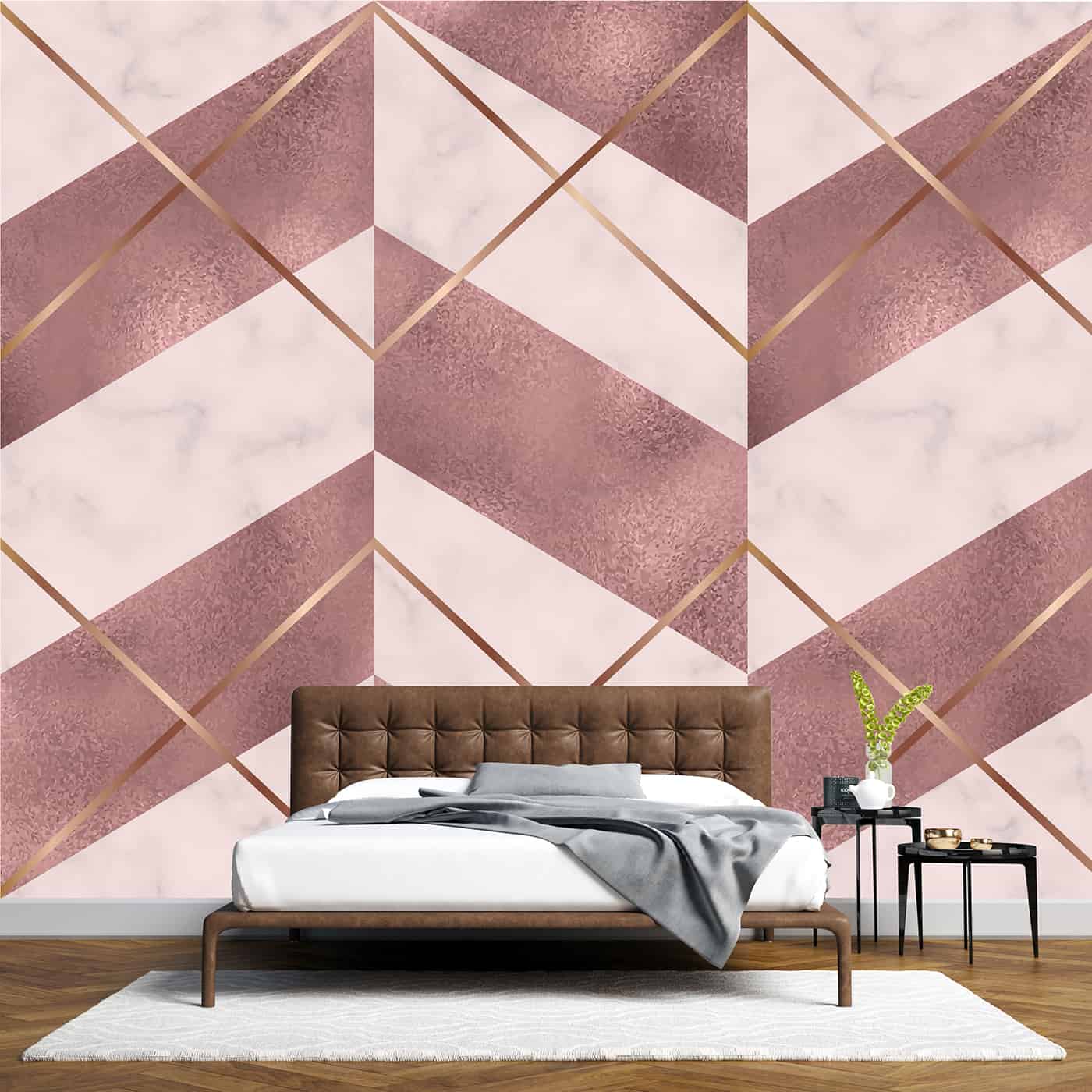 If you are looking for interior new design wallpapers to cover up the walls in the entryway or alongside a flight of stairs, then a bright pink color wallpaper with a gold geometric accent will do the trick to liven up space.
10. Forest mural colorful wallpaper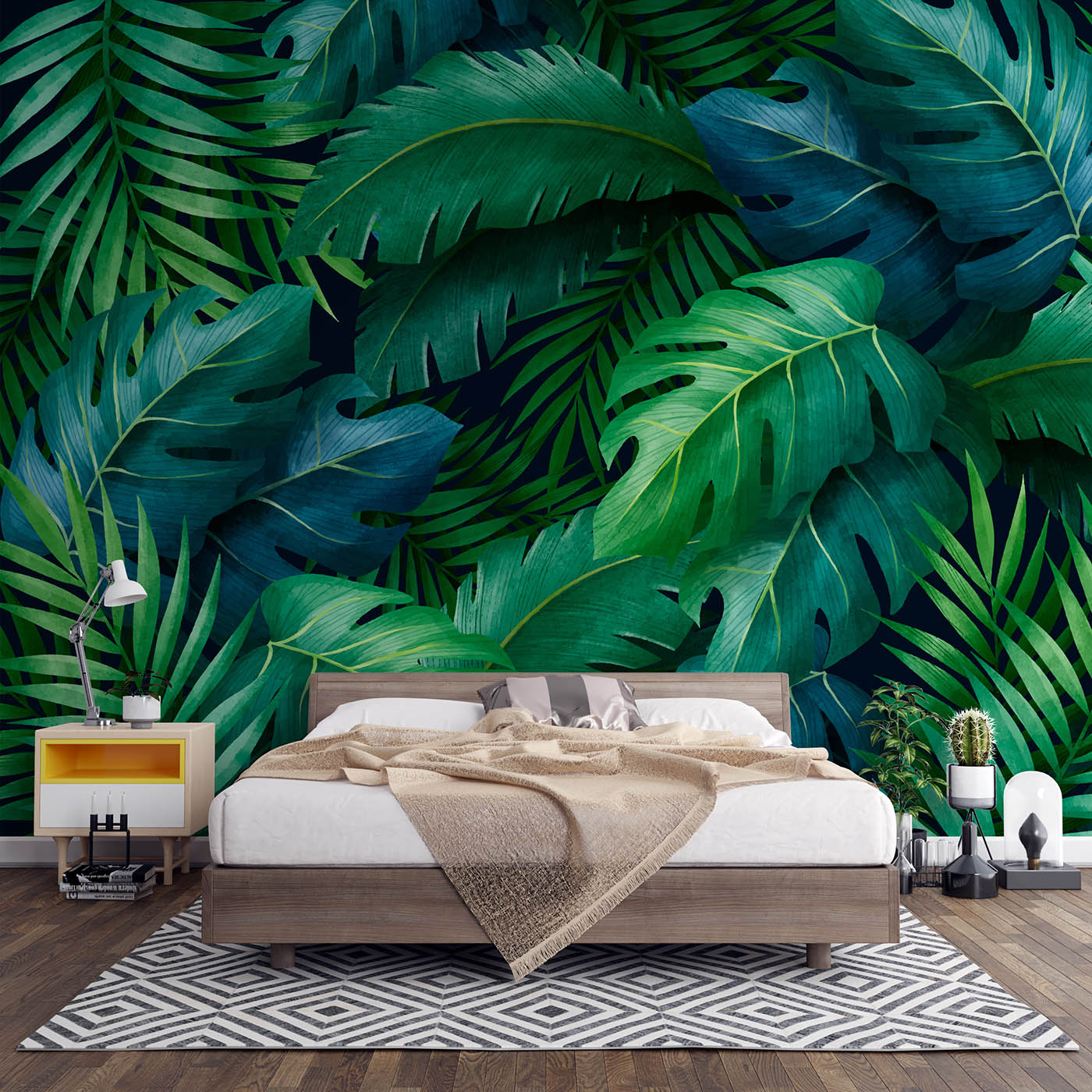 Any wallpaper whose theme is forest is supposed to be a mix of different colors. If you choose a forest mural wallpaper, use it in the bathroom walls or the nursery. It will bring a dreamy charm to the room with its bright colors.
11. Floral house 3d wallpaper design for living room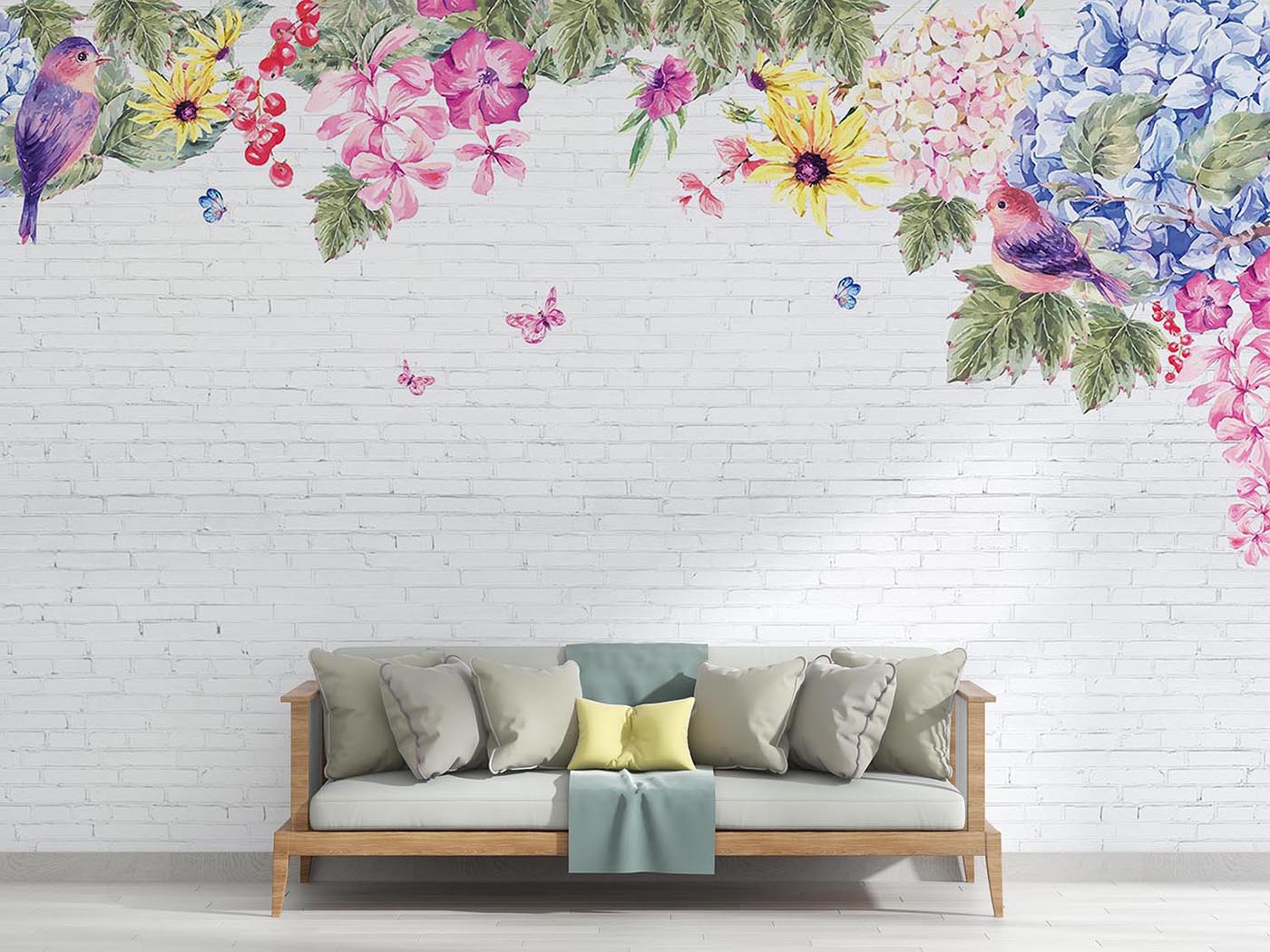 Flowers possess the most attractive color combinations in the world. A bright floral wallpaper will instantly give a cheering effect to a simple bedroom or a living room of your beach house. If your beach house has a neutral palette, then floral home wallpaper designs for the living room will add warmth to the space.
12. Fall leaves room wall designs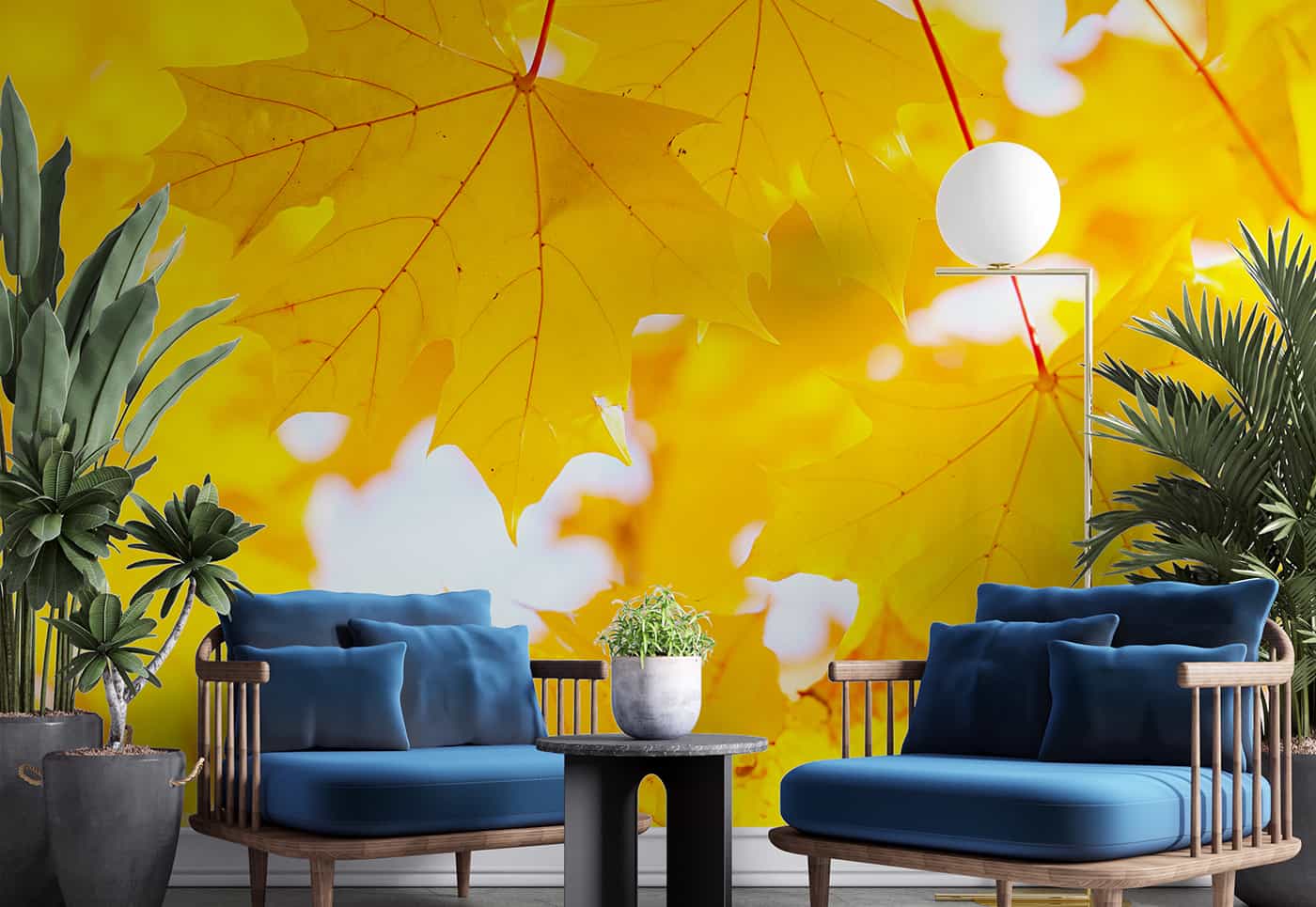 In fall, the green leaves turn into the shade of orange and yellow. Create a warm and welcoming environment in your modern bedroom and living room with a fall leaves themed wallpaper.
13. Rose modern wallpaper designs
The perfect addition to your bedroom is a rose-themed wallpaper on the wall behind the bed. Aquarelle roses on a gold grunge base are one of the best bedroom decorating ideas for the bedroom of a newlywed couple.
14. Dark floral wallpaper for bedroom walls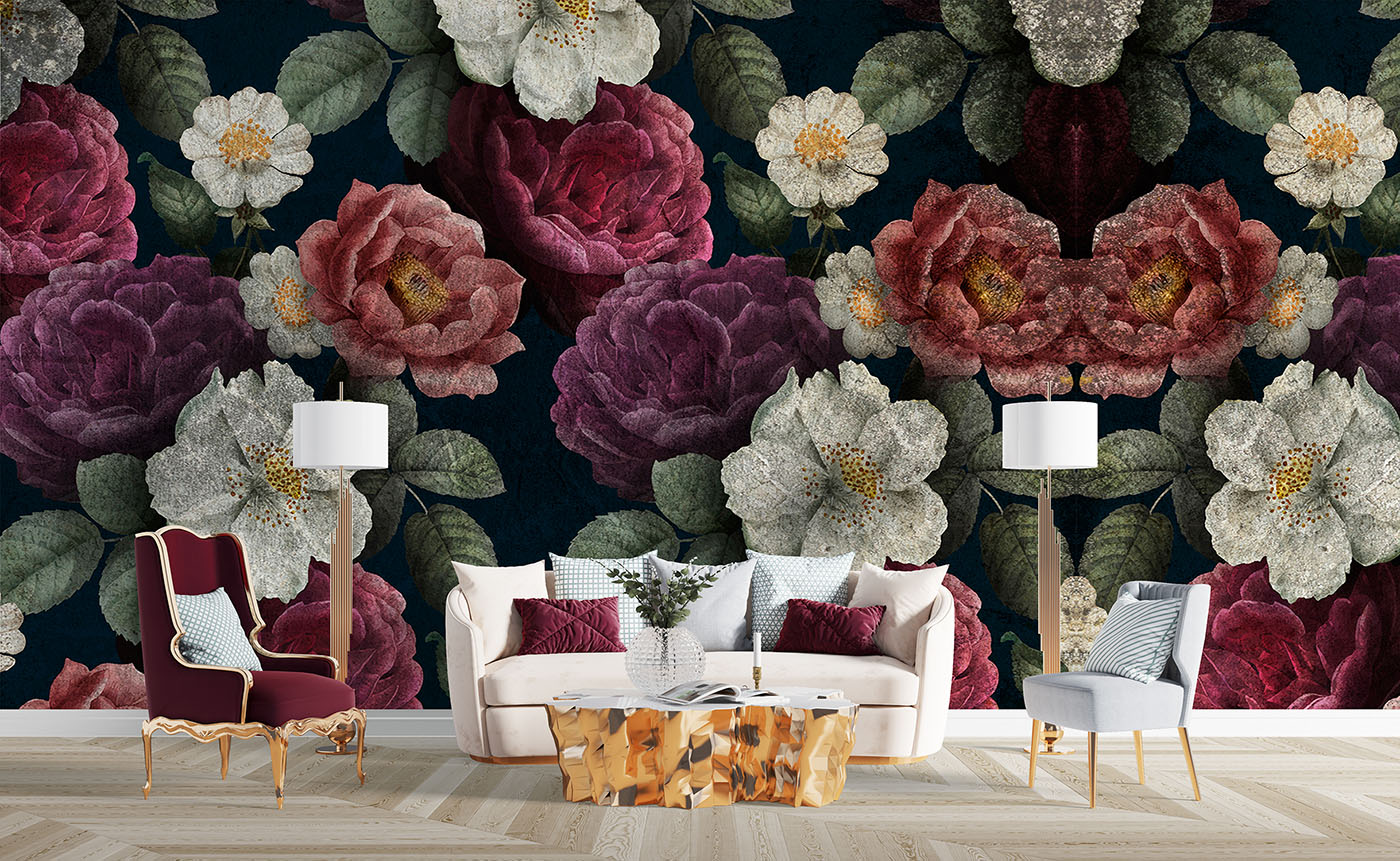 Add a bit of drama to your bedroom with dark vintage floral wallpapers. Huge flowers against a dark background are sure to add the drama you desire. Bring this mural to life by adding cushions, candle holders, and brass lightings.
15. Floral Bouquet Grunge Wallpaper for home wall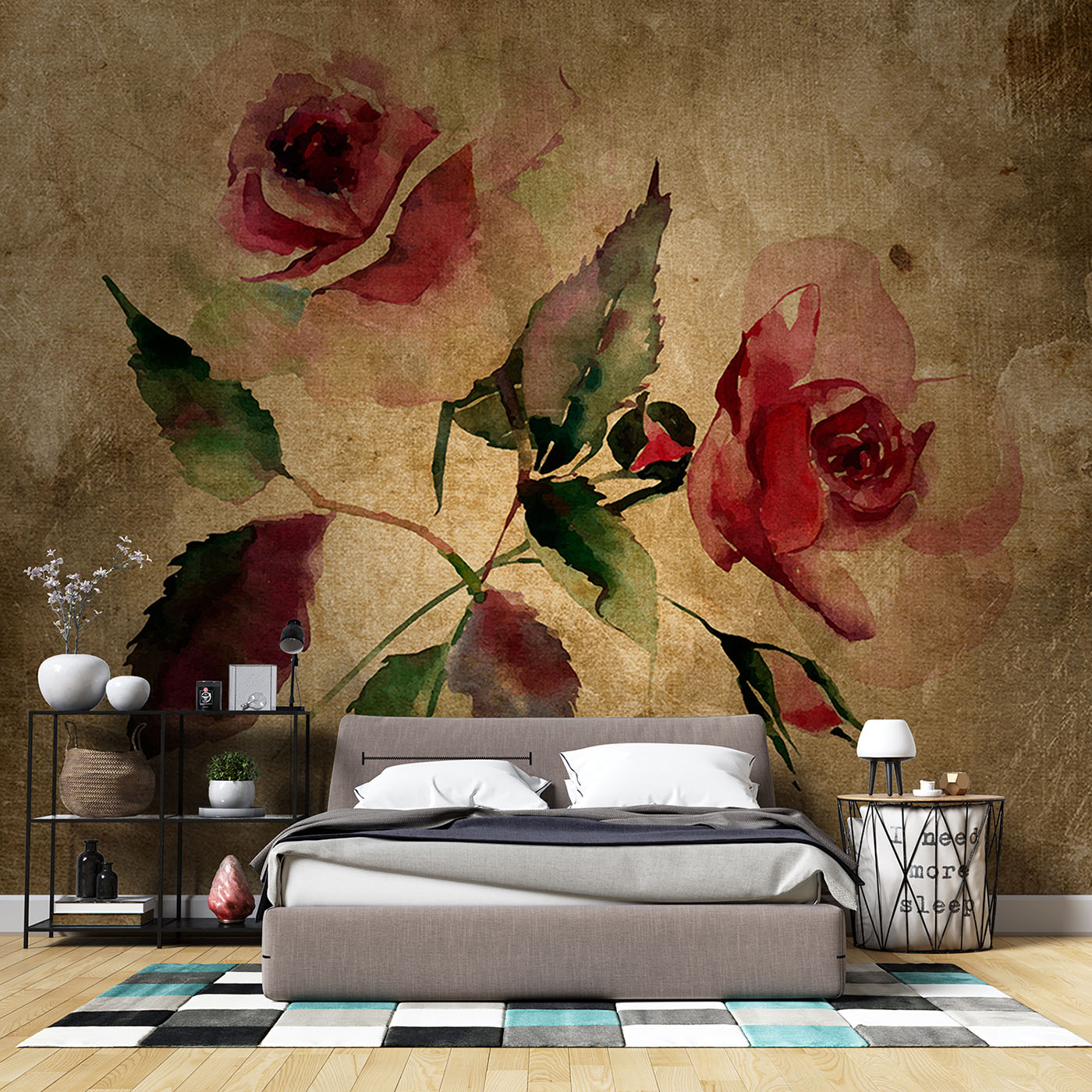 Introduce an arty feel to your modern bedroom and space. A floral bouquet against a grunge texture background wallpaper adds a romantic feel to the room, which is perfect for the bedroom walls of a couple.
16. Calm home office scheme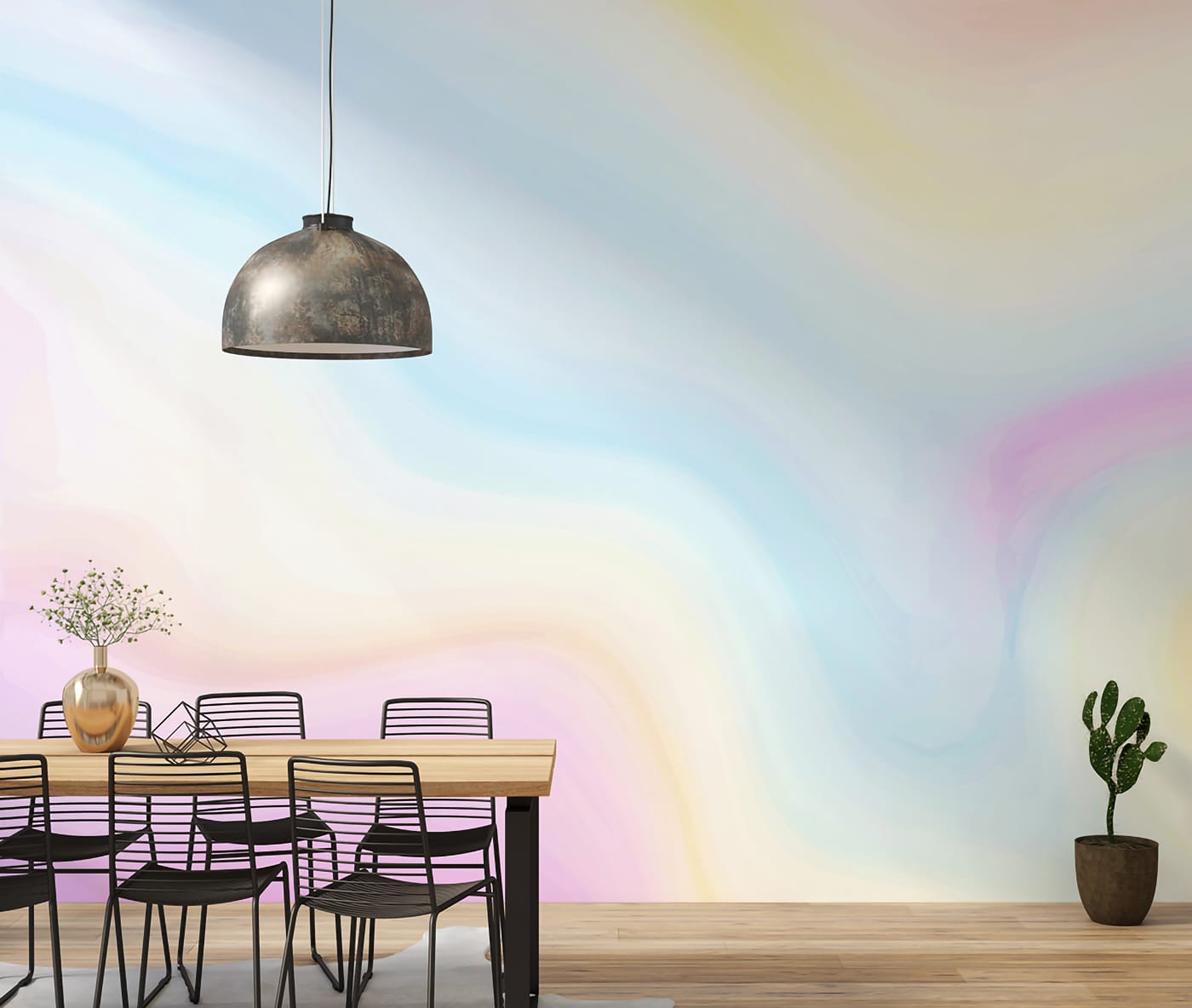 A home office is a place whose interior design should be soothing. Since the advent of COVID, there is a rise in people turning a room into a home office. Impressionist style covering or gently structured murals will work in this space. As for a calming effect, choose between the colors blue and green for wallpaper for the office walls. Blue helps create a cooling effect and green boosts creativity.
17. Watercolor home decor wallpaper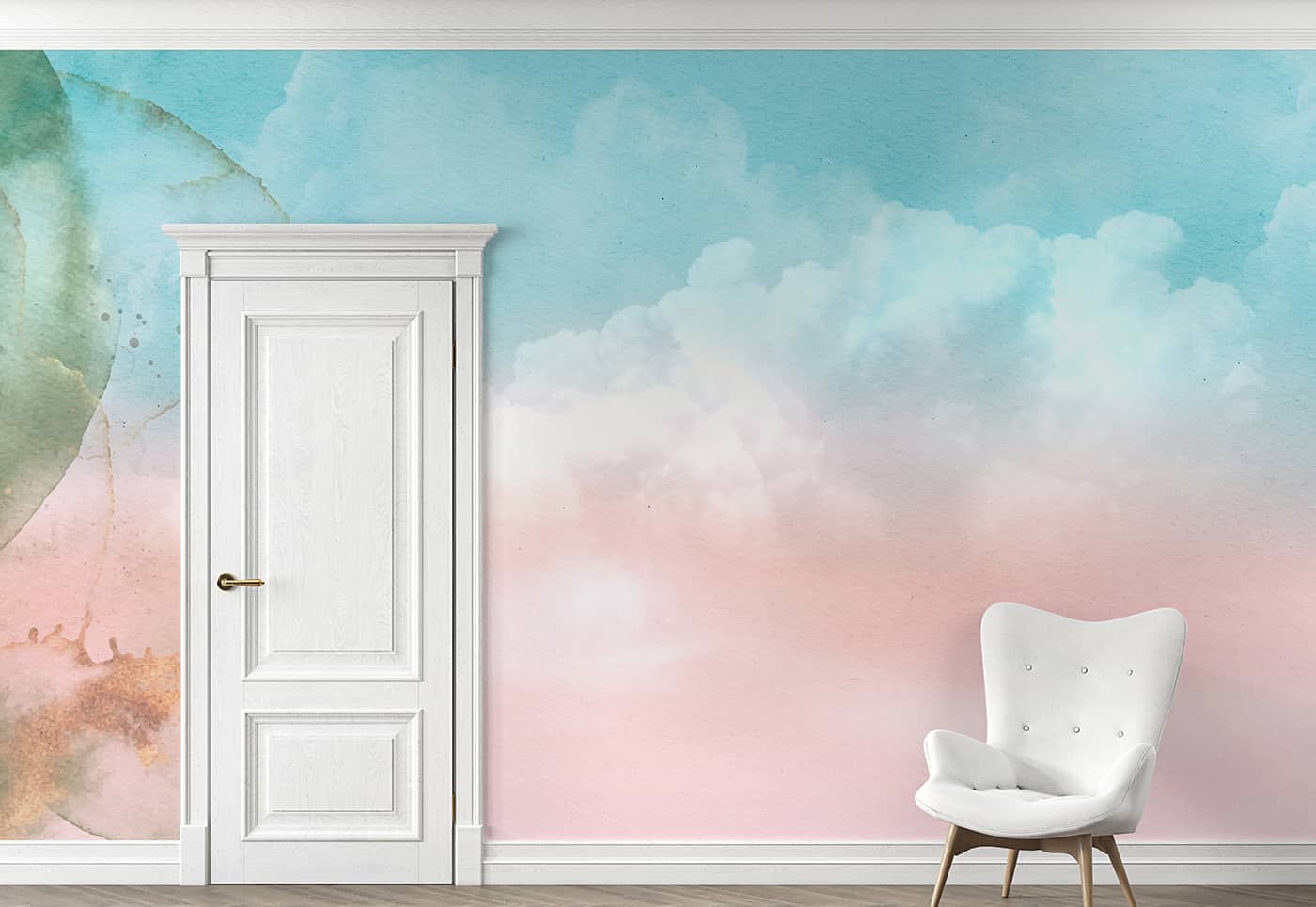 A watercolor wallpaper with a prominent multi-color motif will add an artistic edge to your home. Every hue from pink to blue to green will be present in the wallpaper, which will tie in perfectly with green walls and fuchsia blanket tie.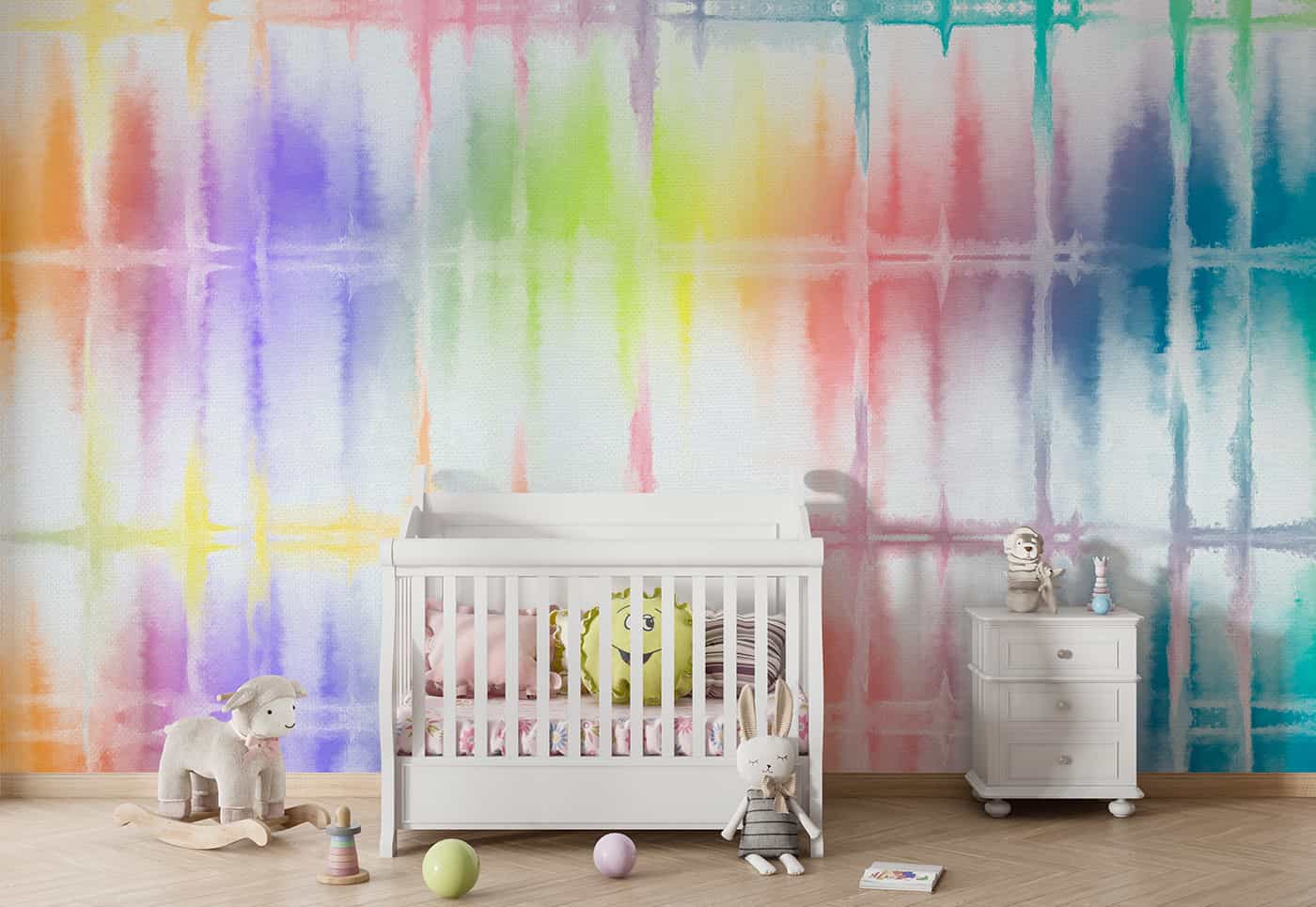 18. Colorful mosaic living room wallpaper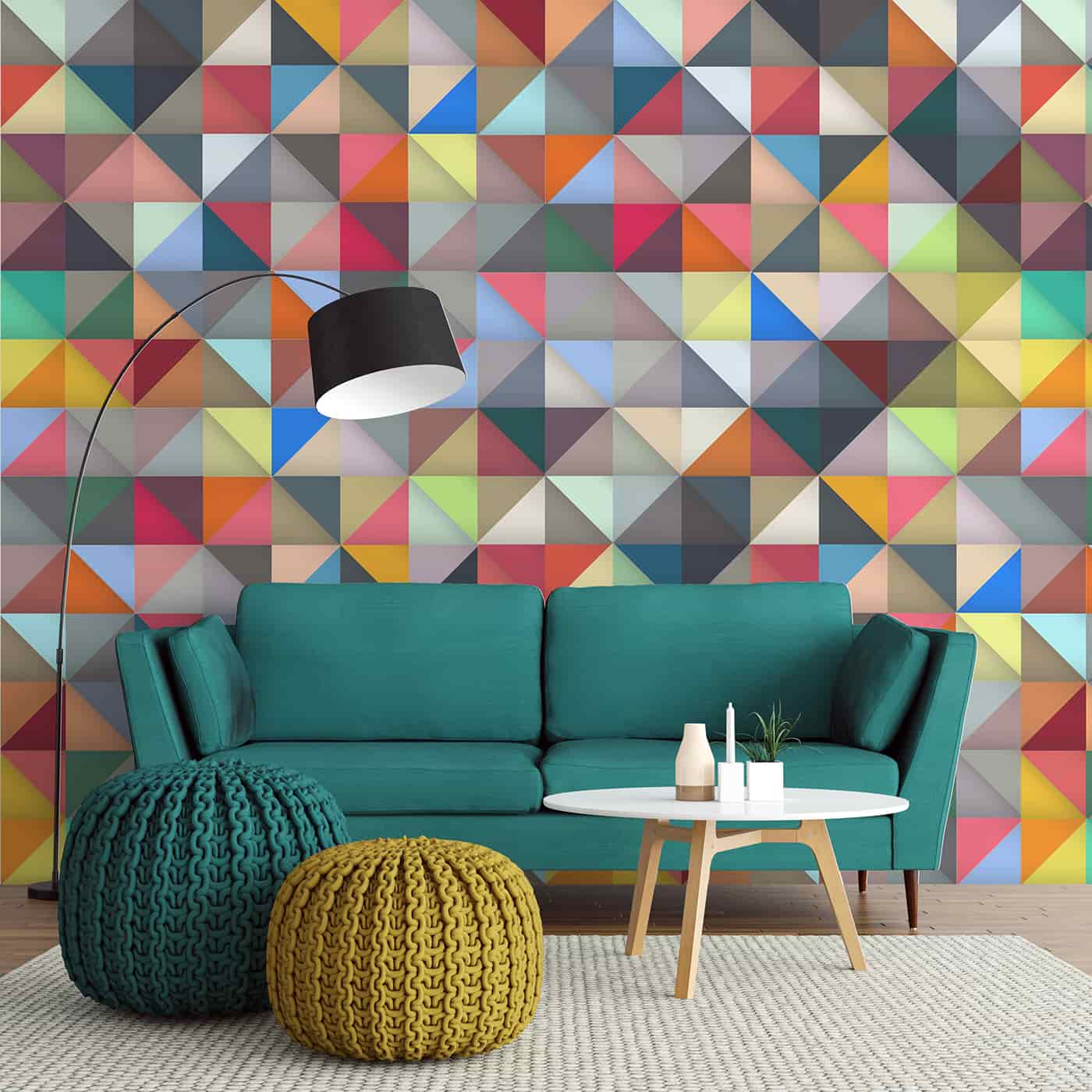 Give your living room an unapologetic, bold look by embracing your eclectic style with colorful mosaic luxury wallpaper. Combine it with a yellow patterned rug and a lamp to create an impression.
19. Yellow floral wall print design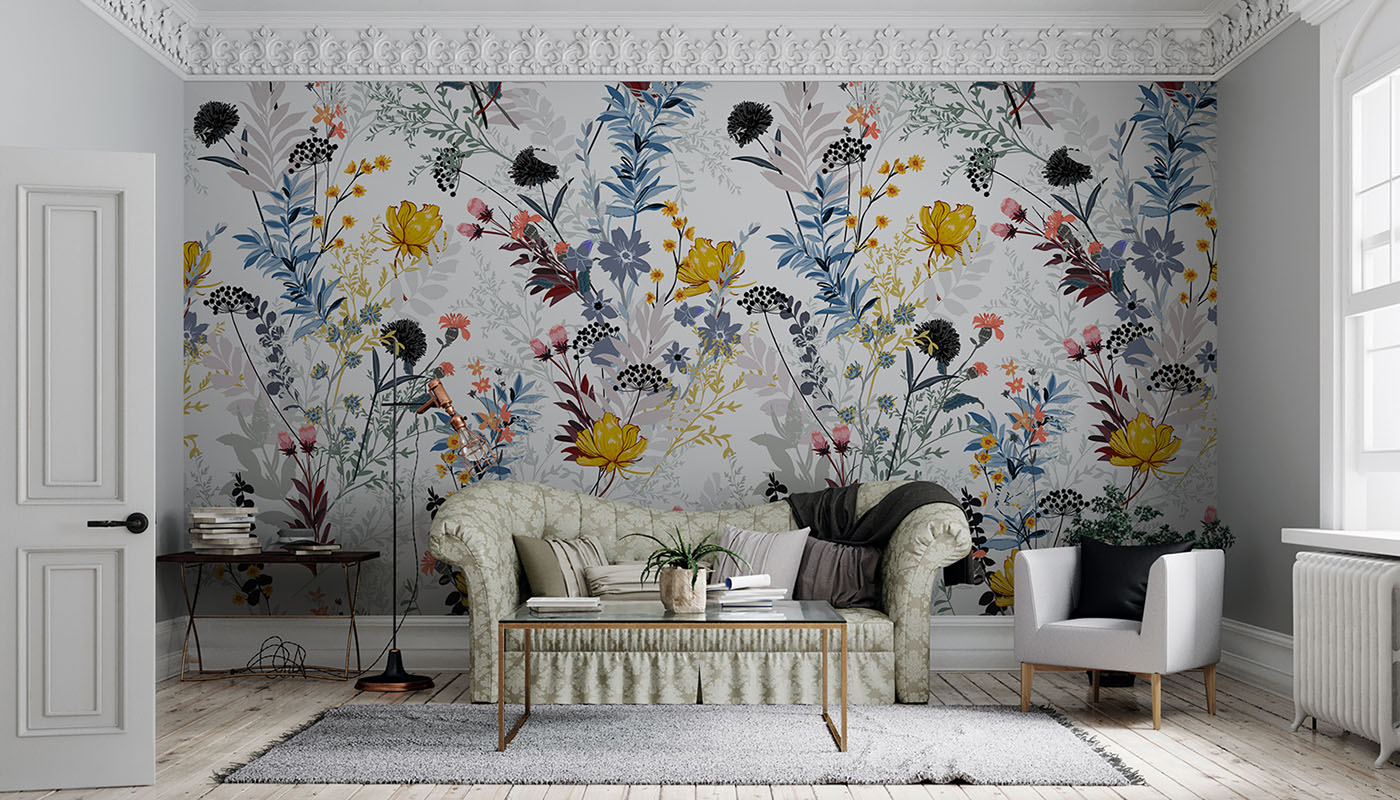 Introduce your entryway with a happy yellow wallpaper with pink and white flowers. It is a bold choice for an entryway as the color is warm and welcoming, which is the first thing that the guests see upon entering the house.
20. Rainbow striped modern wallpaper for walls ideas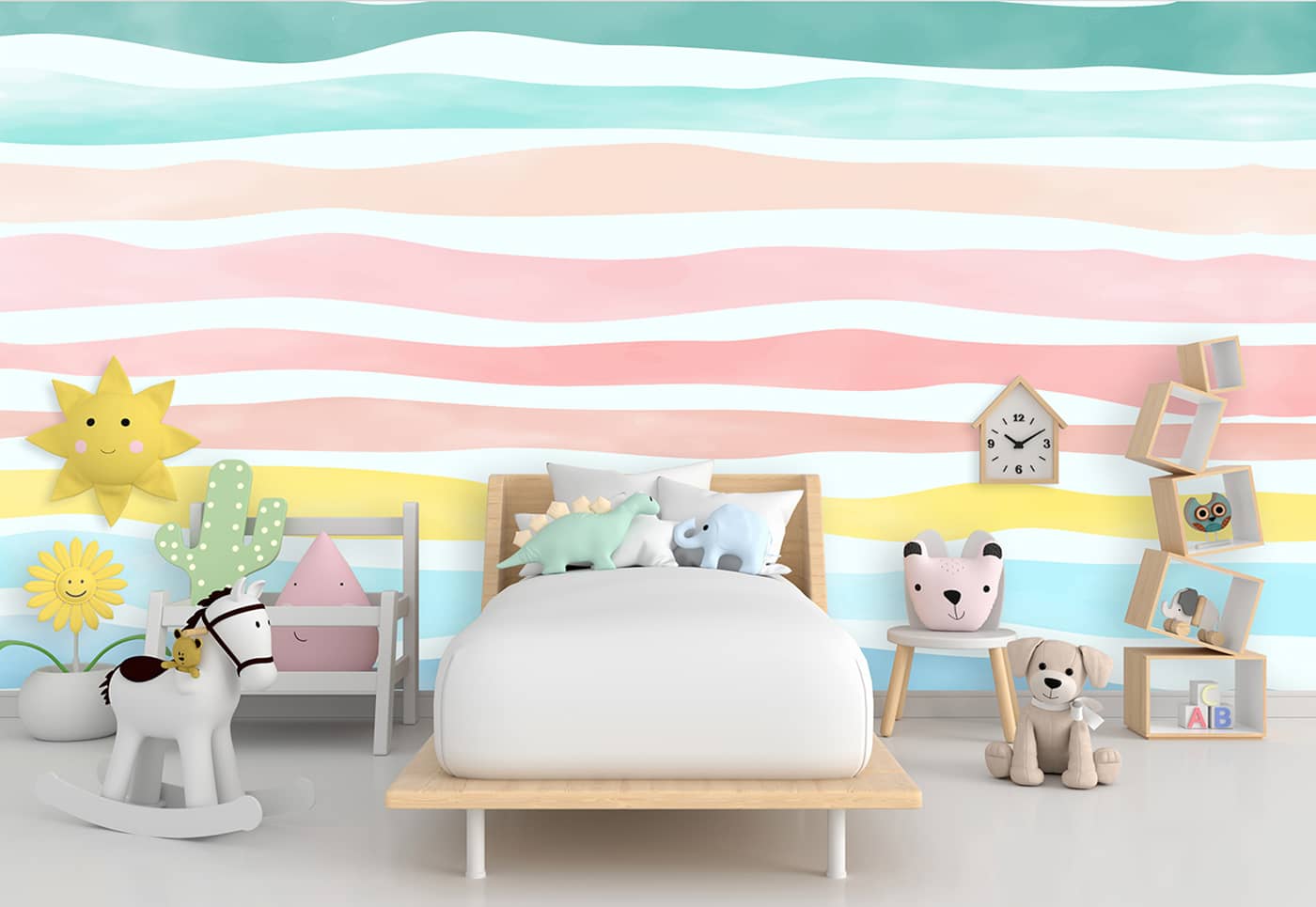 We all know that horizontal stripes wallpaper lends a widening effect on the room. A rainbow-striped wallpaper does the same.
21. Orange floral wallpaper for walls decor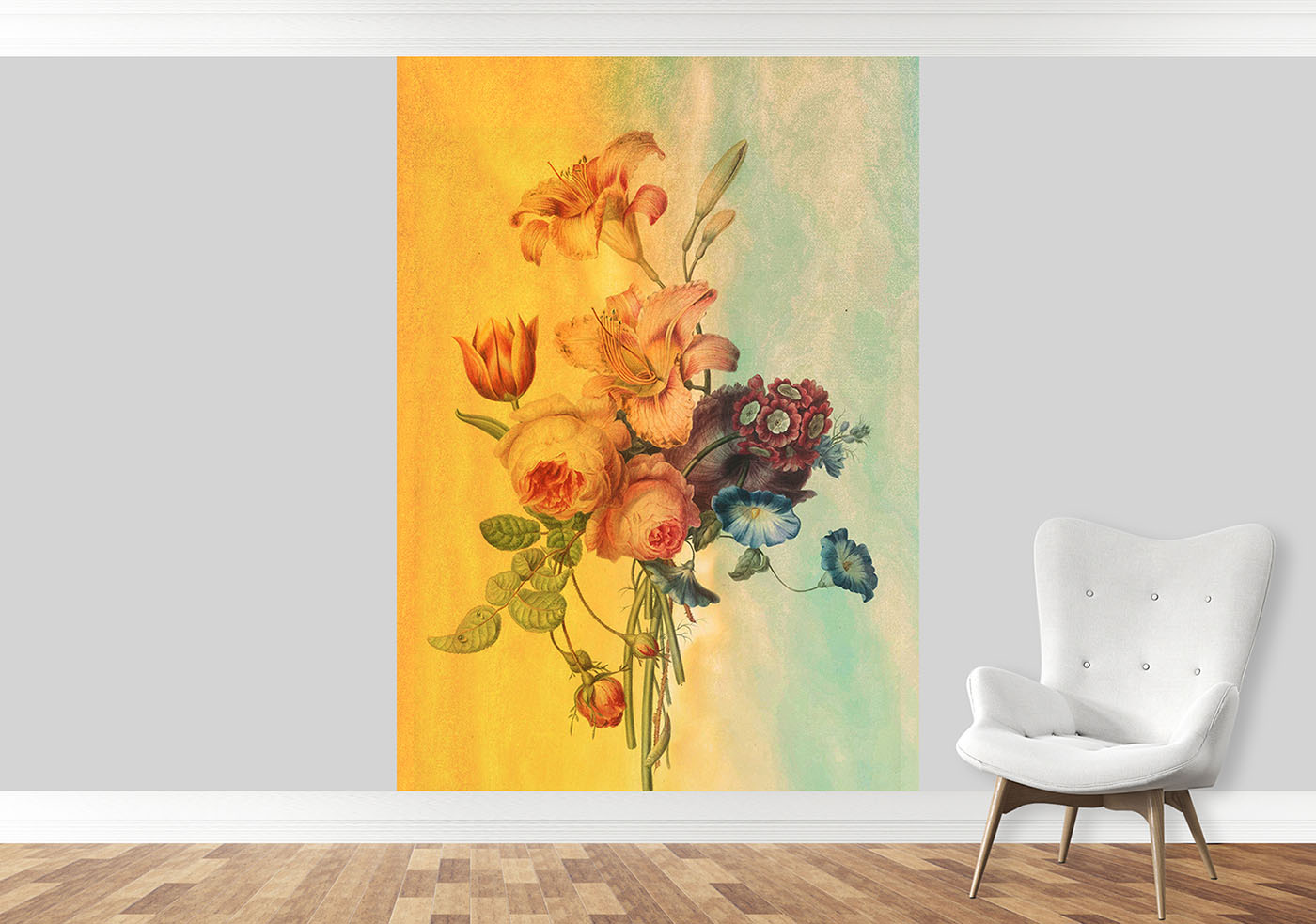 Wall decor ideas for your laundry room must have a contrasting accent in the room to motivate anyone to do the laundry. For example, a bright orange floral wallpaper with white flowers and green leaves will make the space bright and inviting.
22. Botanical print wallpaper for room wall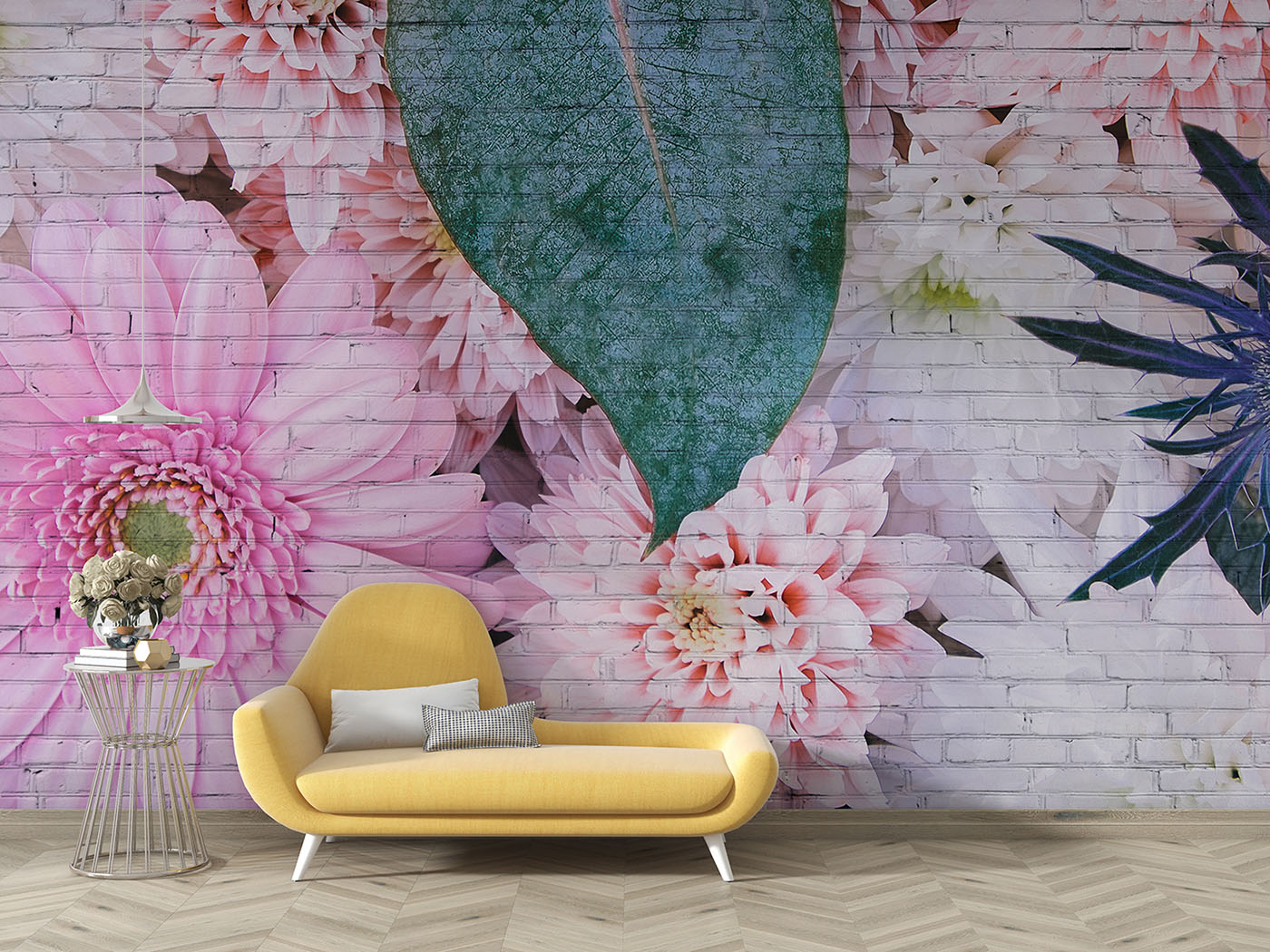 It is a great wallpaper idea for your workspace. A bright-colored retro botanical print wallpaper will add some serious positive energy to your workspace. Bright pink and purple flowers with lovely green leaves will give you a garden-like environment in your room.
23. Warli painting wallpaper
Warli paintings can enliven any space instantly. They are instantly recognizable tribal designs that go well with a variety of aesthetics and are great for accenting one wall. You can try Warli paintings that come in a light background to open up your room.
24. Multi-room wallpaper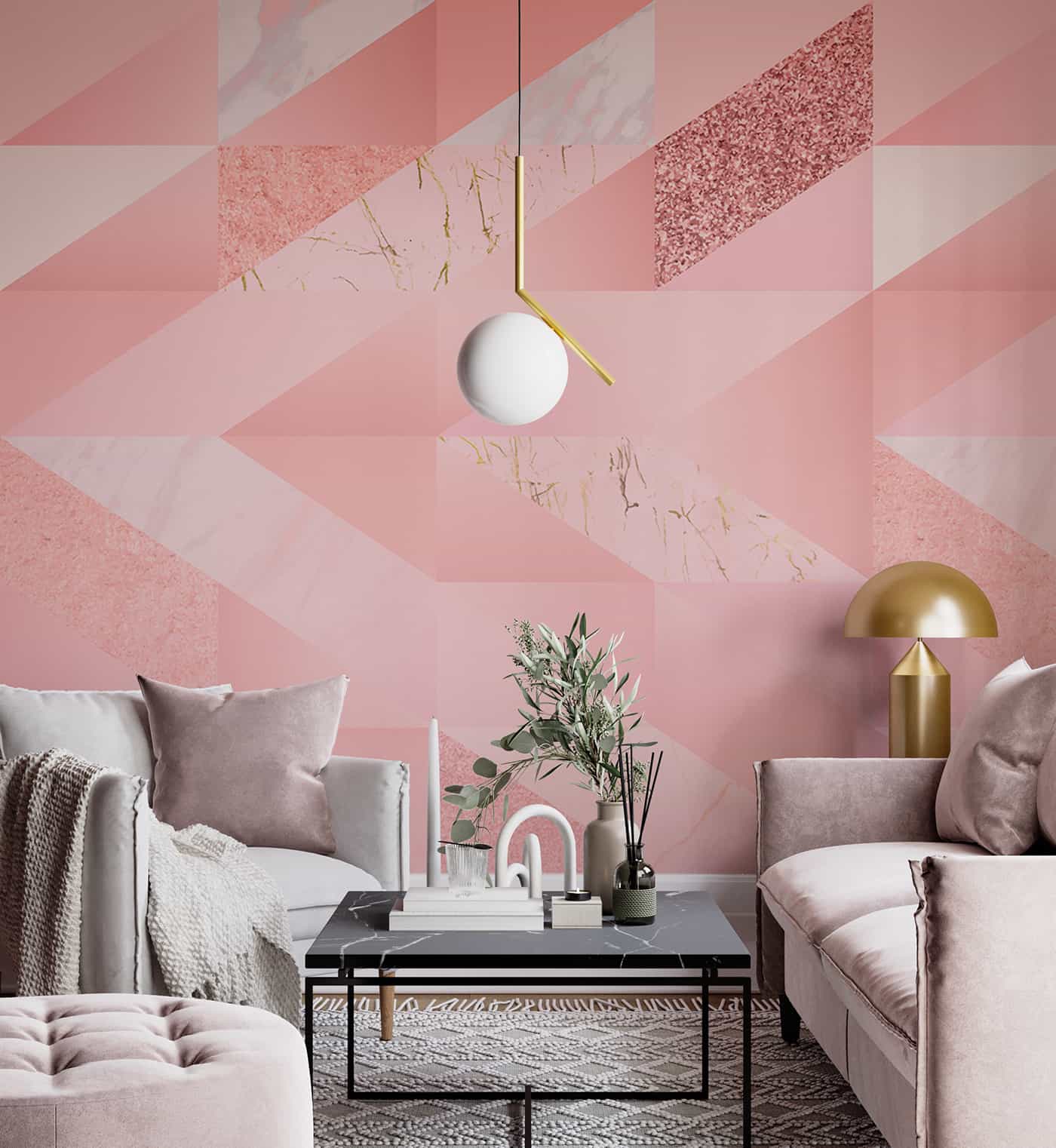 Choose contrasting colors to have a pleasing effect on the eyes. For example, two rooms with the same wallpaper pattern but different contrasting colors will light up your rooms with positivity.
25. Bold pink wallpaper for bathroom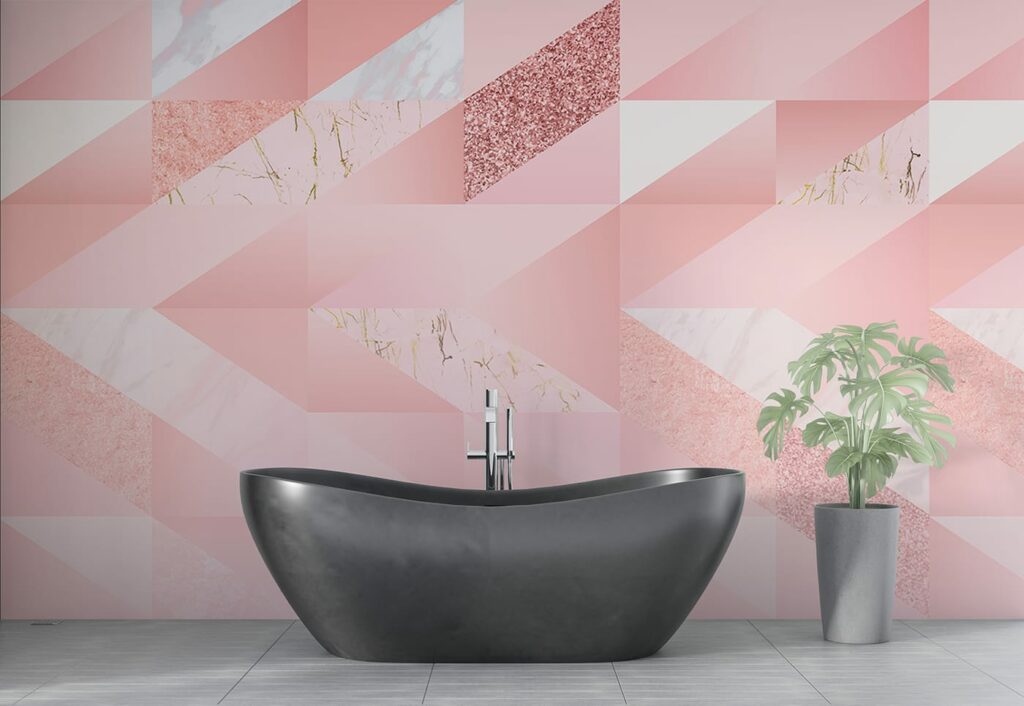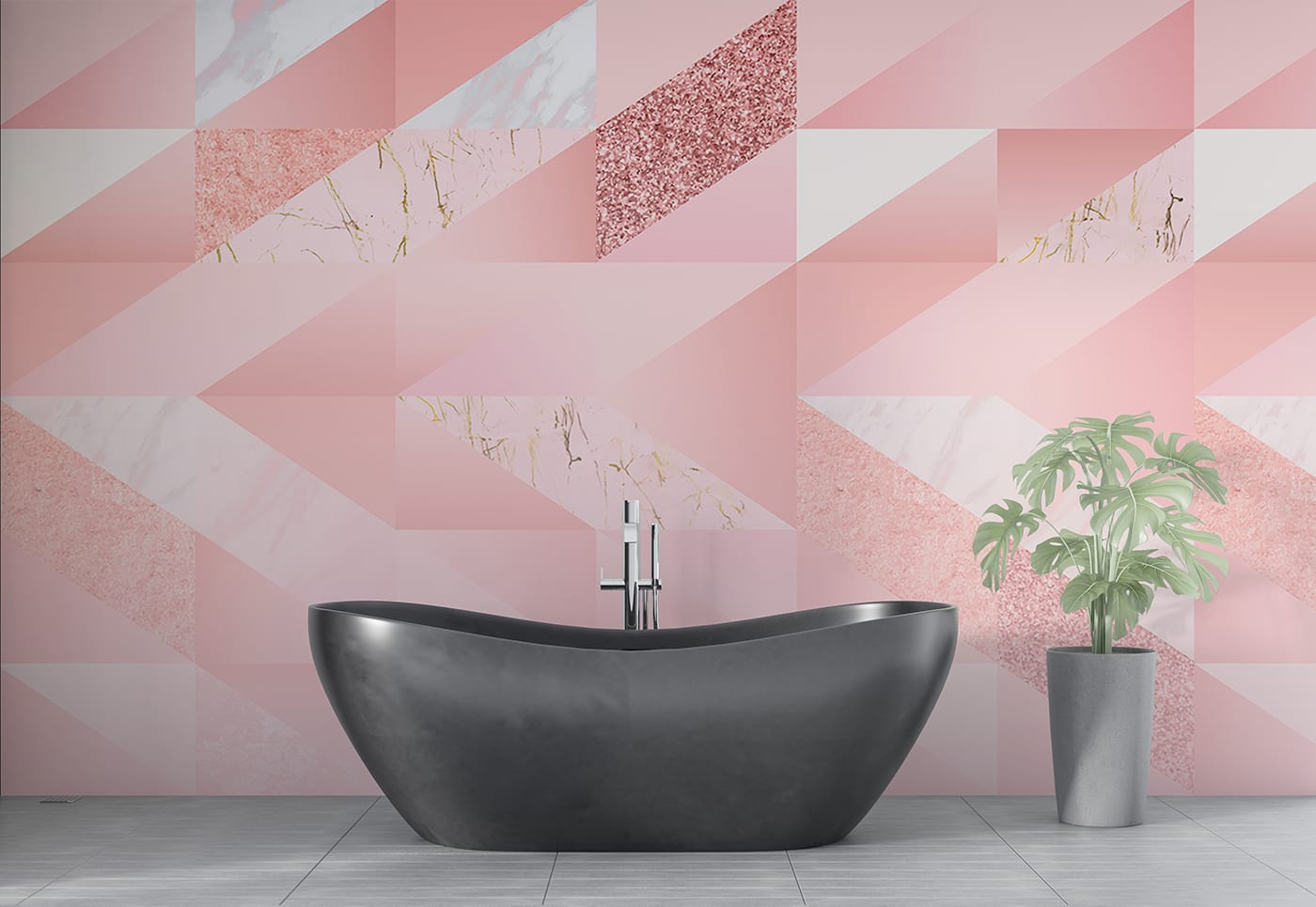 Choose a unique pattern wallpaper with bright pink color for your bathroom. The boldness of the wallpaper will create a striking focal point and add some personality to your bathroom.
26. Colorful closet & beautiful house 3D wallpaper design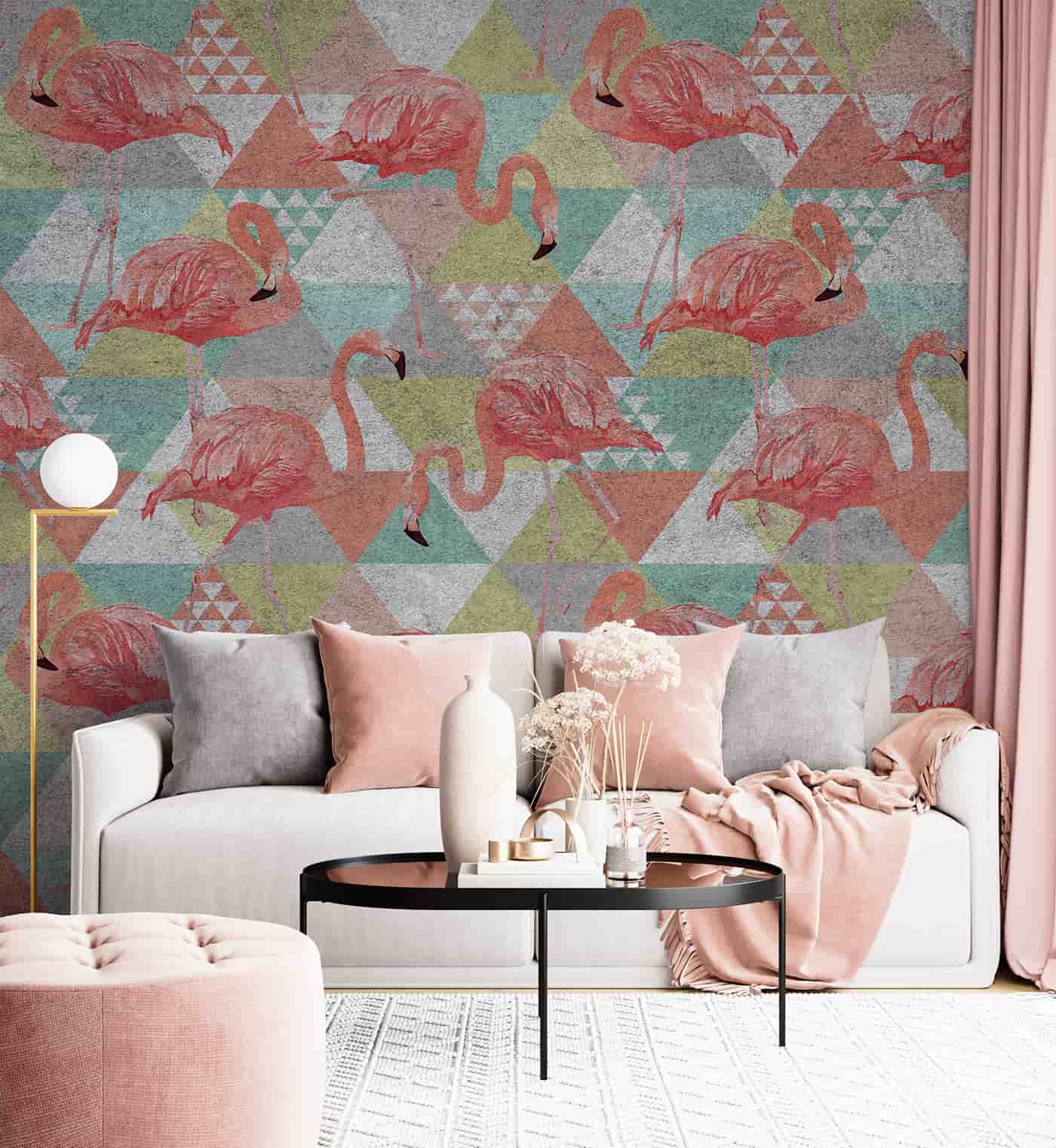 Are you trying wallpaper for the first time? The closet is the best place to try the first wallpaper in your home. If anything goes wrong, you can cover it up. It is the best way to experiment with your choice of wallpaper. Try bright pink flowers on a mint green background for a fresh look and add some positivity to your closet.
27. Tropical Birds Wallpaper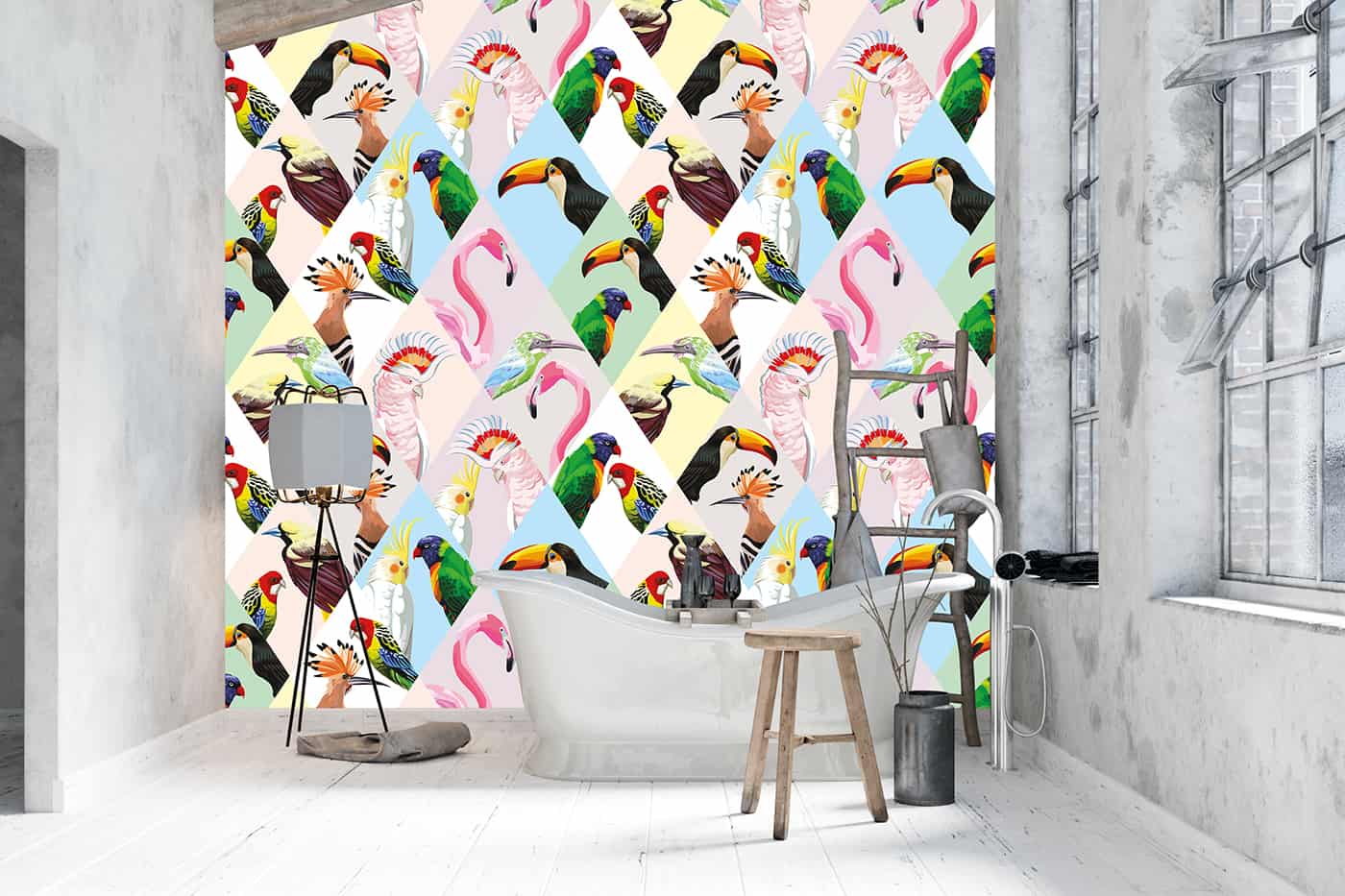 Yes, you read it right. Birds have different color combinations, which are always a sight for sore eyes. The pink hue of Flamingos, toucans, and parrots come together beautifully in a tropical bird's mosaic pattern wallpaper. Add this wallpaper to your bathroom to liven up the space.
28 Graffiti wall art wallpaper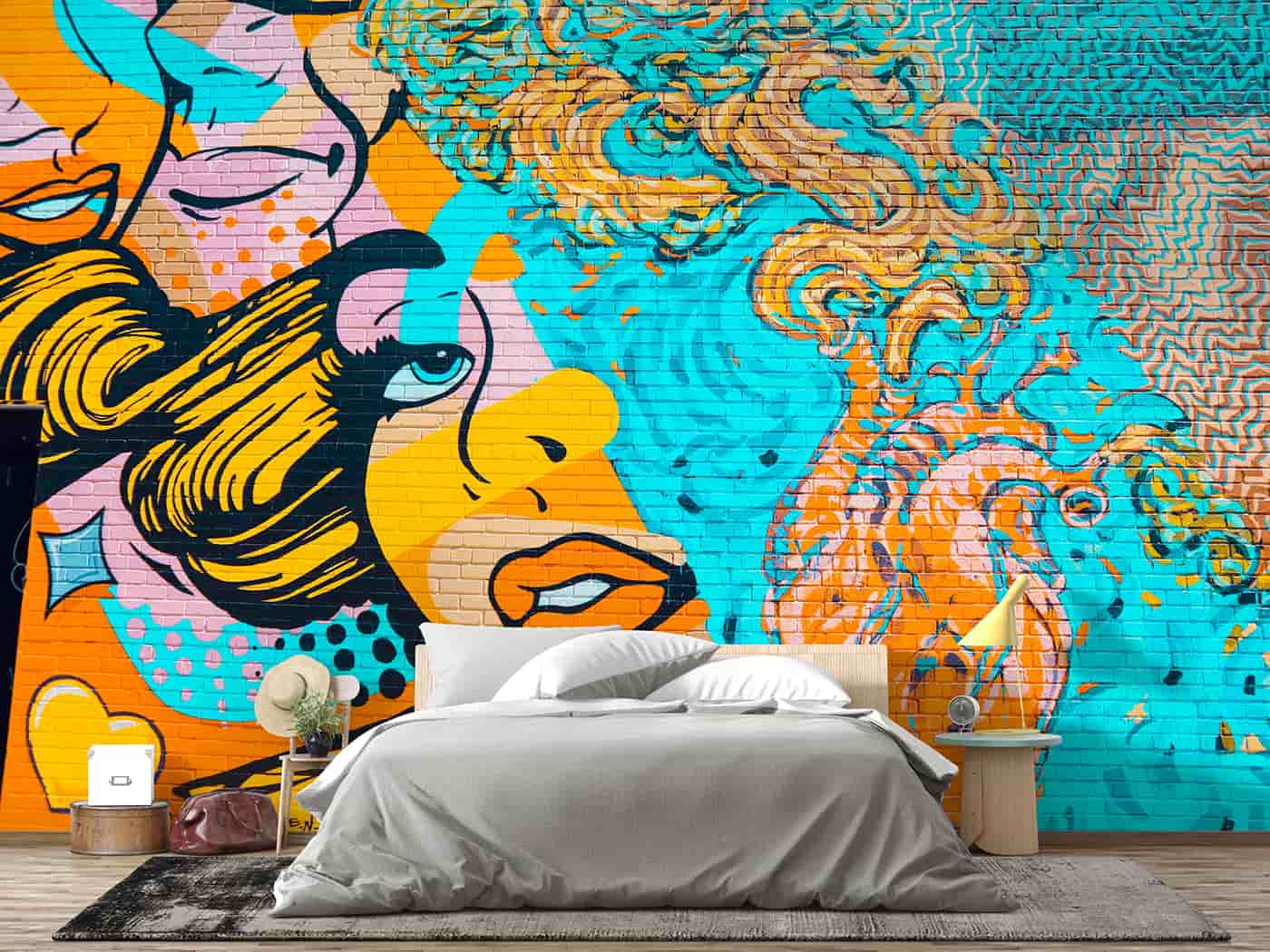 When you choose colorful pieces to make your space come alive, then a Graffiti design for your wallpaper is the best option for a striking appeal. The loud colors will feature every hue of the rainbow and give a contemporary vibe to your space.
29. Aurora wallpaper for house wall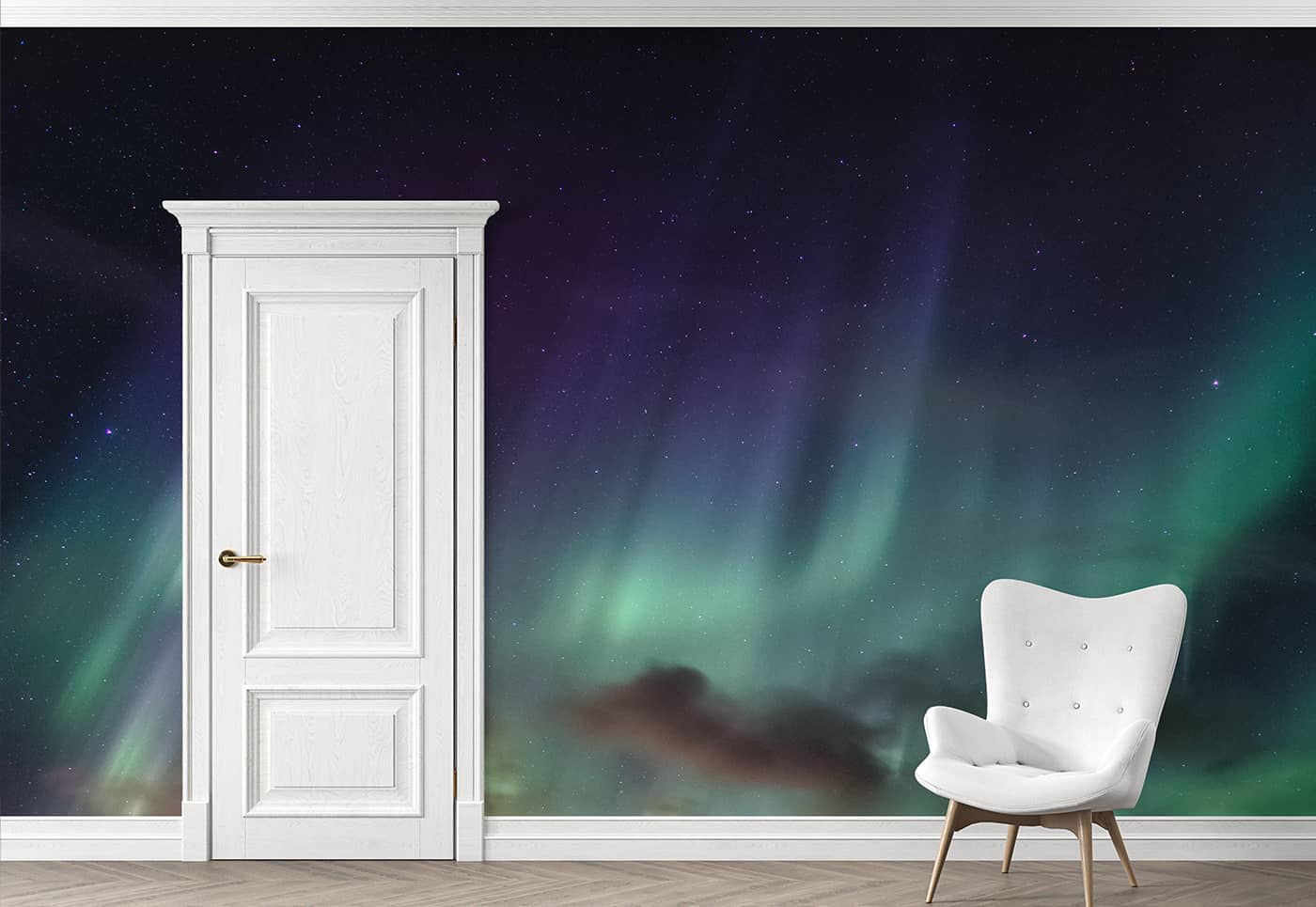 We all have seen the beauty of aurora Polaris (polar lights) in images, and if you are lucky, then you must have witnessed it live. Recreate the ethereal effect for your room with a stunning atmosphere wallpaper. Its bold color on your home walls will brighten up space and bring in the wow factor.
30. Citrus inspired green color patterned wallpaper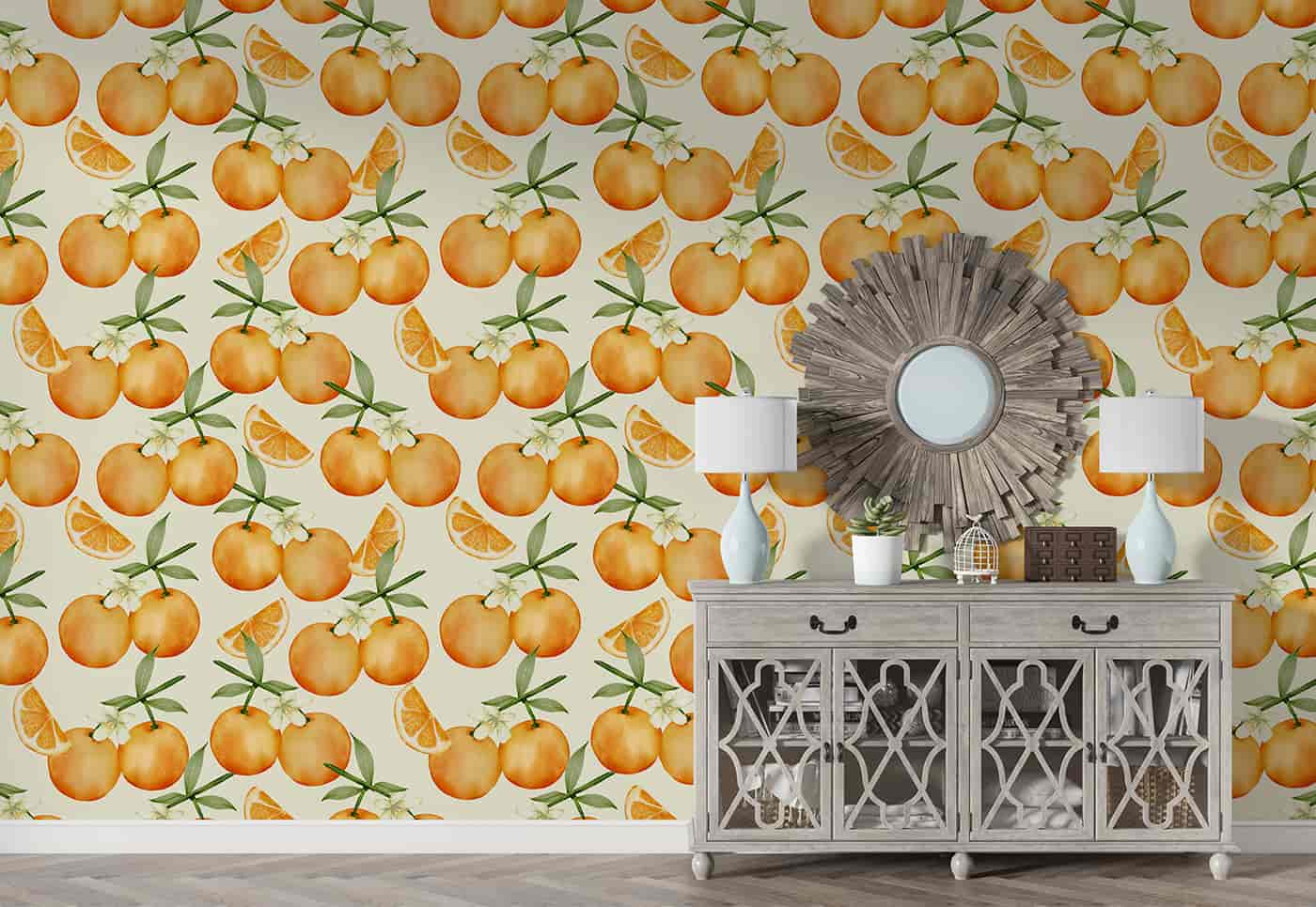 Do you want to bring the outdoors inside? A green citrus patterned wallpaper is the perfect way to achieve this. This wallpaper can be an ideal fit for your kitchen walls as its dark green color will suit the space.
Conclusion
Installing wallpapers is a big commitment and requires a lot of attention. Make the right choice while selecting the wallpaper. We have tried our best to help you by providing you with colorful new new wallpaper design ideas that are some of the best options to enliven any space in your office or home. Choose any designs from them according to your preference to decorate your house.
FAQ's
Which wall should I use for wallpaper?
If you want to apply wallpaper in your home or office, then the first thing you must do is to identify the ideal wall on which the wallpaper should go. Let us provide you some tips on how to choose the perfect wall for wallpaper.

Always make sure you don't choose a wall out of your line of sight to put the wallpaper on. To have the best impact, you must select a wall you directly see whenever you enter the room. Also, always choose bold colors for modern wallpaper if you want to affect your space dramatically.
2. What types of wallpaper are best for the bedroom?
When choosing a wallpaper design for the bedroom, make sure it goes behind the bed as it is the best position for the wallpaper. Hues of blue are the perfect colors for wallpaper that goes on in the bedroom. You can experiment with other colors which bring out positive vibes and warm feelings as it will be the perfect environment for you when you arrive in the room exhausted from the day's work.
3. What colors make a room look bigger and brighter?
Brighter rooms always have a more inviting or welcoming effect, and they also look more extensive. So to make a room appear bigger, go for soft tones like blue and green as they will introduce positive vibes and energy to your room. Horizontal striped rainbow paint wallpaper designs are the best choice to make your room look bigger and brighter. The horizontal stripes will lend a widening effect to your room, making it look bigger, and the rainbow colors will brighten up space.