We all dream of a spacious kitchen with natural light flooding in through the windows, but in real life, we have to work with what's available, and it's not always the dream kitchen for most of us. If you have access to the right small kitchen design ideas and small space solutions, then the space available for the kitchen doesn't matter. We can make the most of the space available by using creative small kitchen design ideas.
Checkout the Wall Curry website to discover more creative wallpapers according to your choice of style.
Let's look at a few small kitchen ideas:-
Open small kitchen design ideas
Open shelves kitchen design trends
Go with open shelves instead of the regular cabinets in the kitchen. It will make your kitchen appear bigger. A vintage wallpaper covering the ceiling or the walls can go well with green open shelves.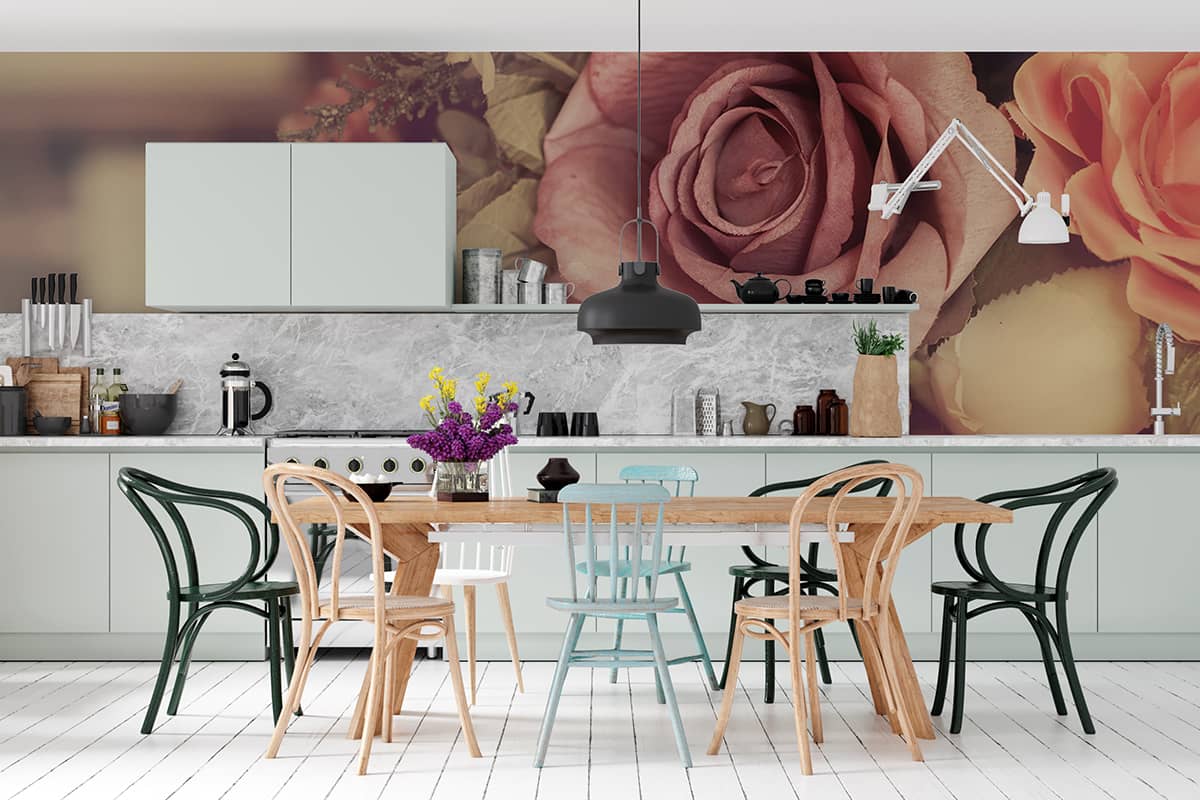 Open kitchen design
Take advantage of an open kitchen and let the cabinets extend to the ceiling to create an illusion of a larger space. You can cover the wall with geometric or pattern wallpapers of a cool color like blue for a fresh look.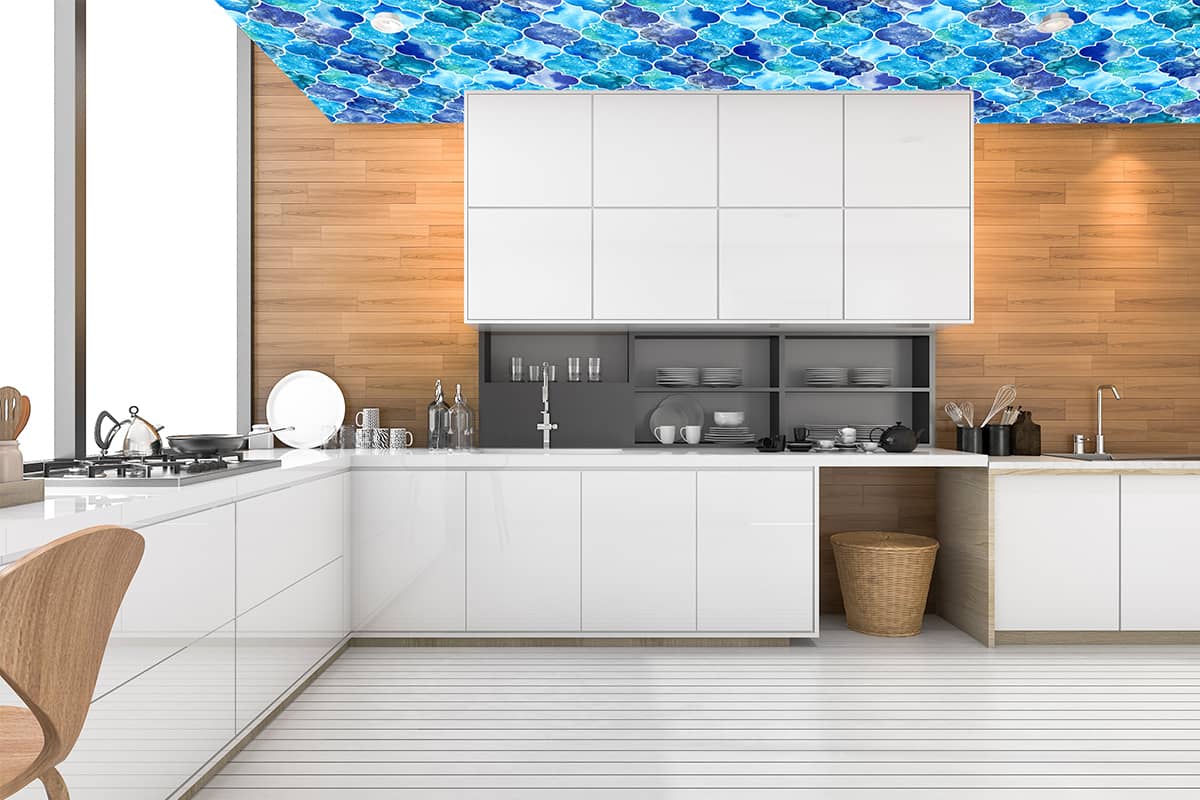 Open kitchen design
Choose an elegant wallpaper that will unite the open kitchen visually with the dining room and the living room.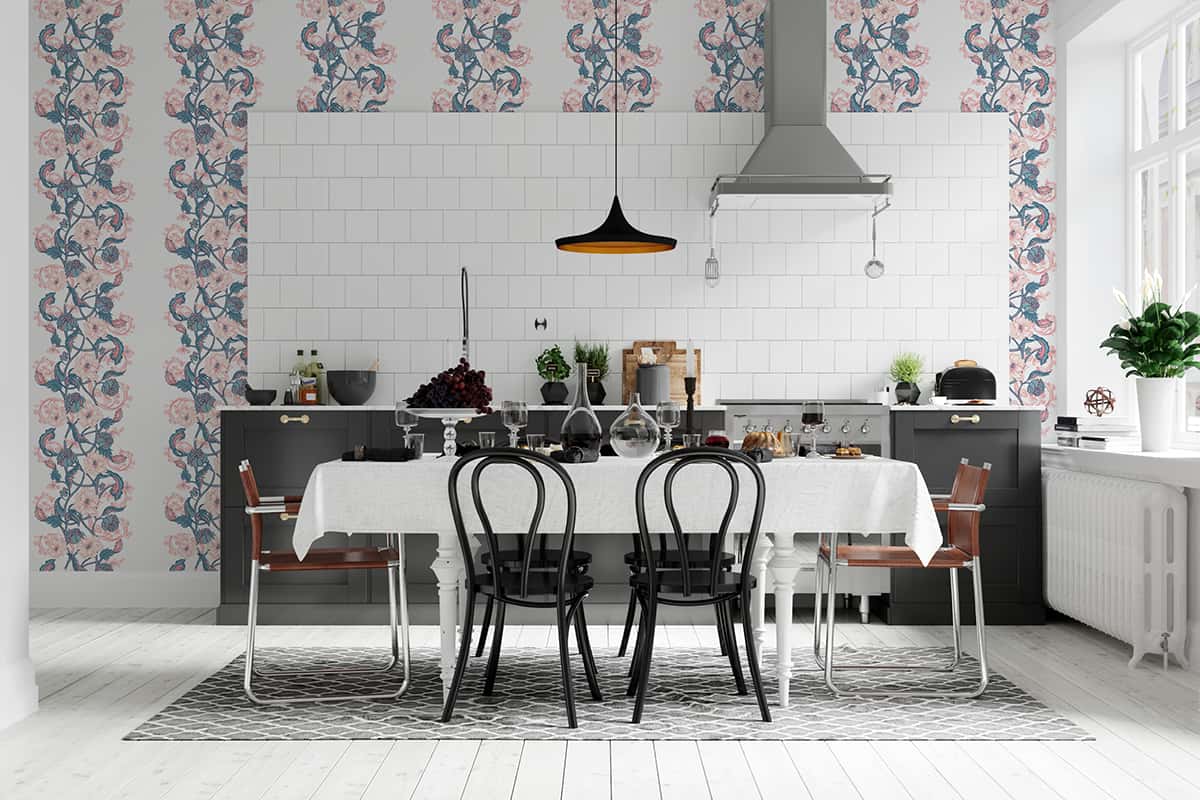 Plant-based open kitchen design
The open kitchen usually has tons of light flooding in the kitchen. Put plants on top of a fridge and countertop to utilize this light and make your kitchen a happy place. Light-colored wallpapers will go wonderfully with plant-based open kitchen design.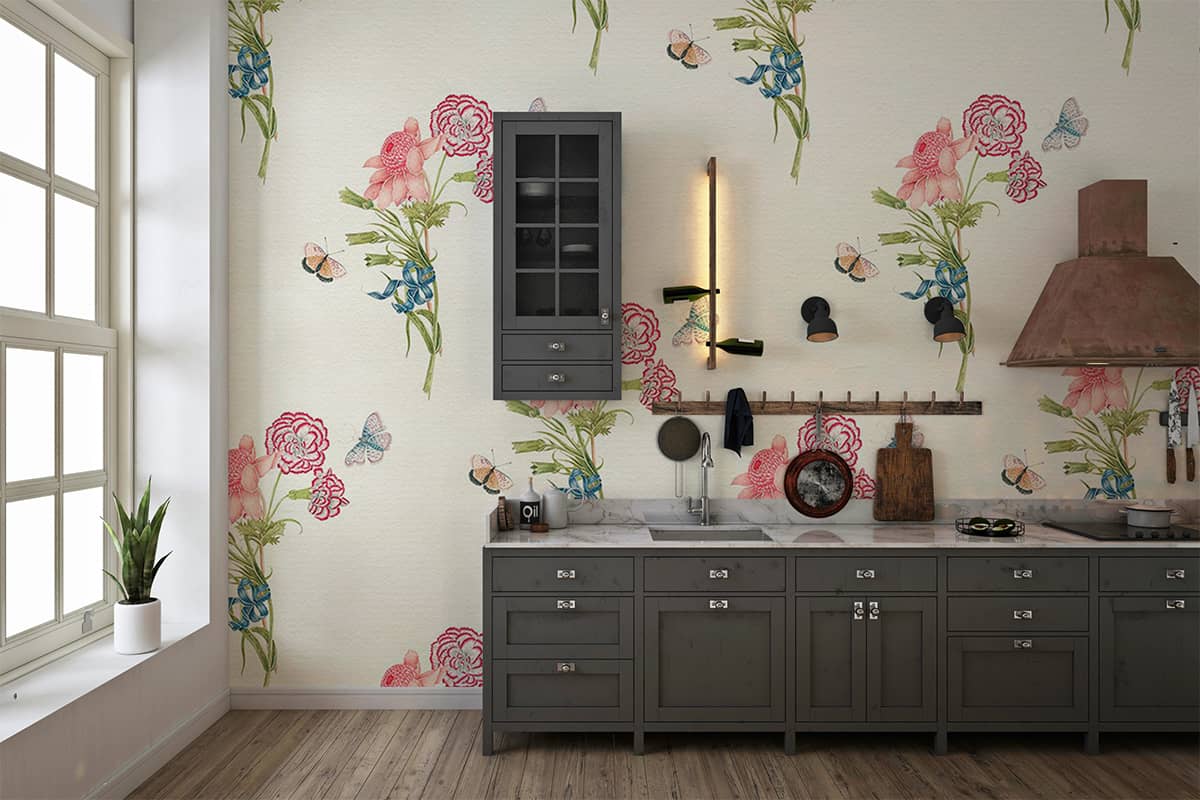 Minimalist small kitchen design ideas
Minimalist and Modern
If you are a fan of minimalism, a kitchen that features stainless steel countertops and cabinets for storage solutions provides a sleek and clean look. A touch of green patterned wallpaper will blend in wonderfully with a minimalist kitchen interior design.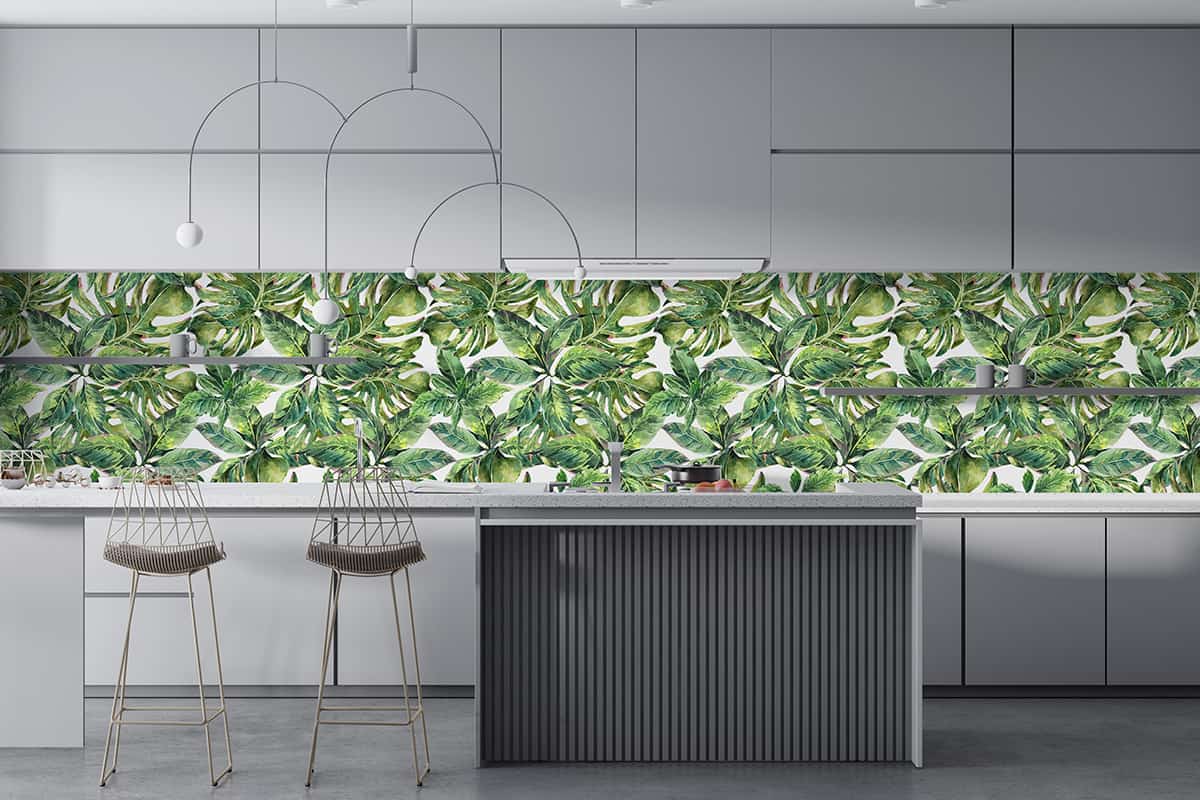 Skylights
A petite kitchen doesn't have to look dark and gloomy. In a minimalist kitchen, install skylights to feel light and bright with a streamlined design.
Contemporary kitchen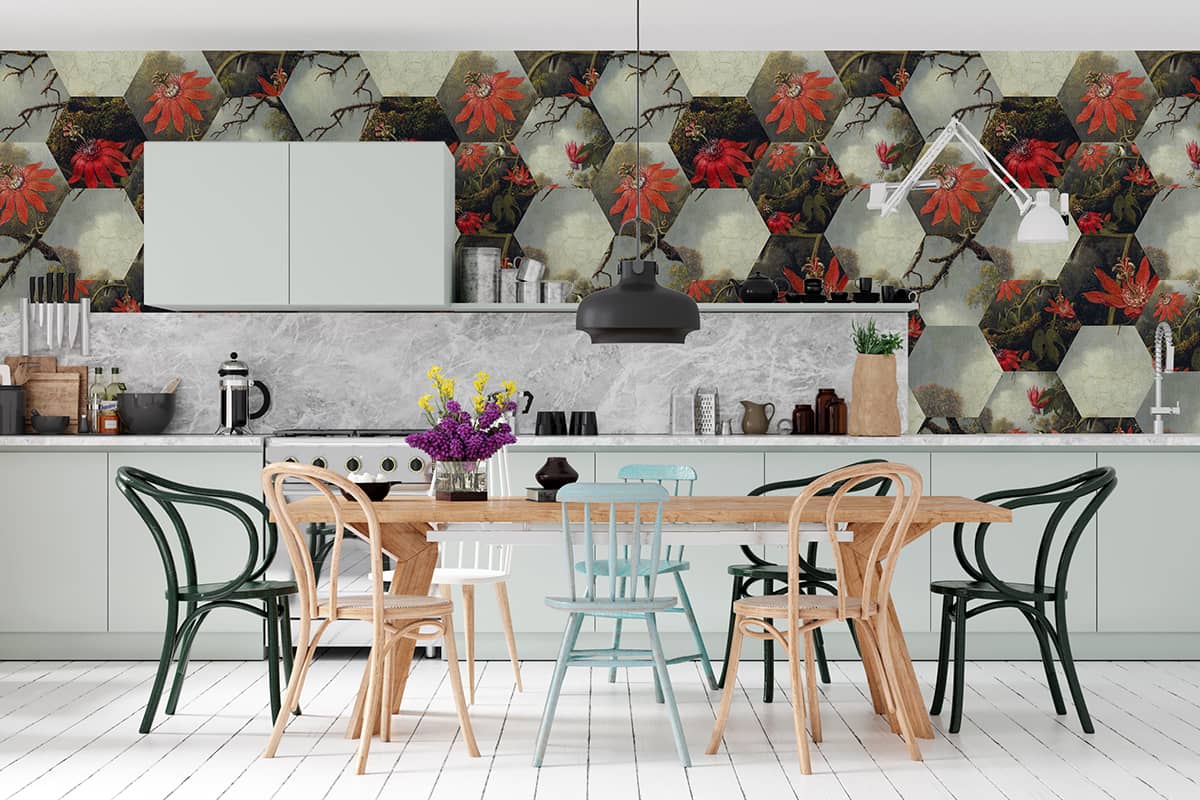 Contemporary kitchens are known for blending modern design with minimalist elements. Dare to bring in bold printed wallpapers featuring flowers or leaves in a contemporary kitchen to liven up the atmosphere in the small kitchen design.
Reflective surface wallpaper kitchen design
Reflective design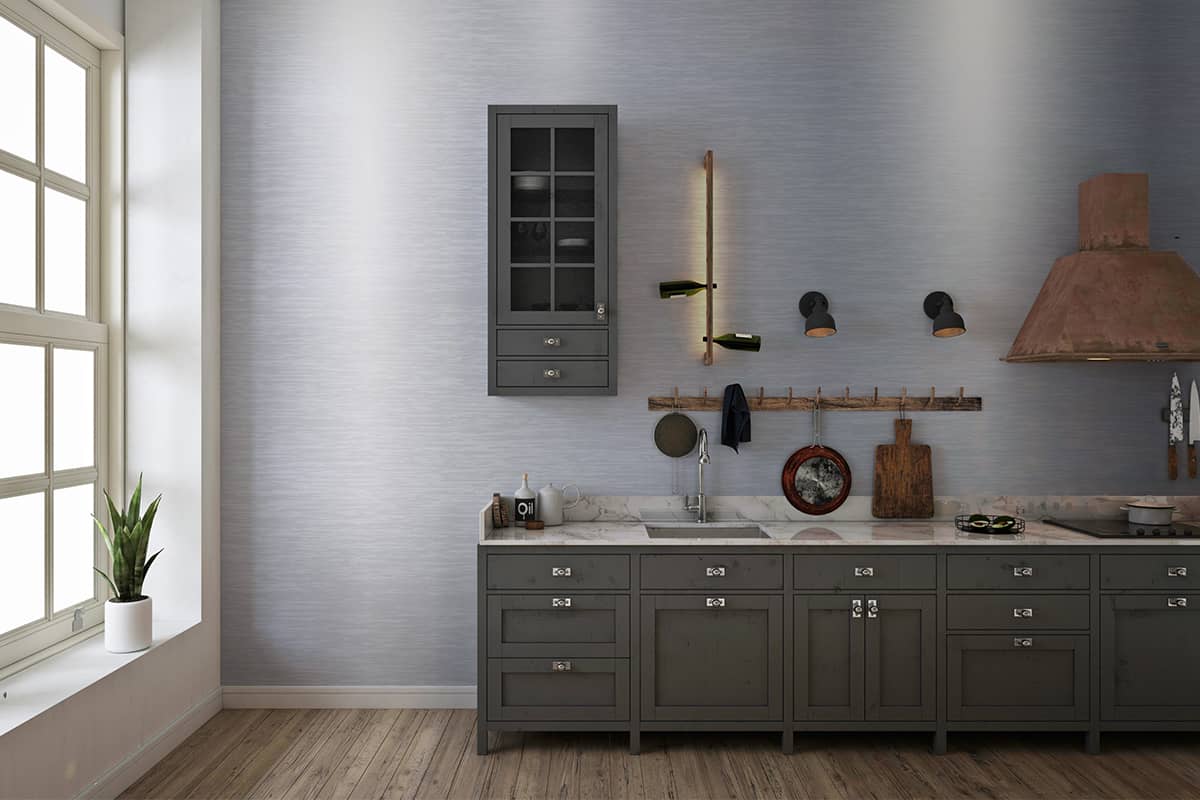 Reflective surfaces in small kitchens work as a significant element to create an illusion of more space. Reflective surface wallpapers are an excellent choice for kitchen designs with many dark surfaces like shelves and counter space. Light will bounce around from the reflective wallpapers and illuminate the kitchen space.
Colorful reflective kitchen design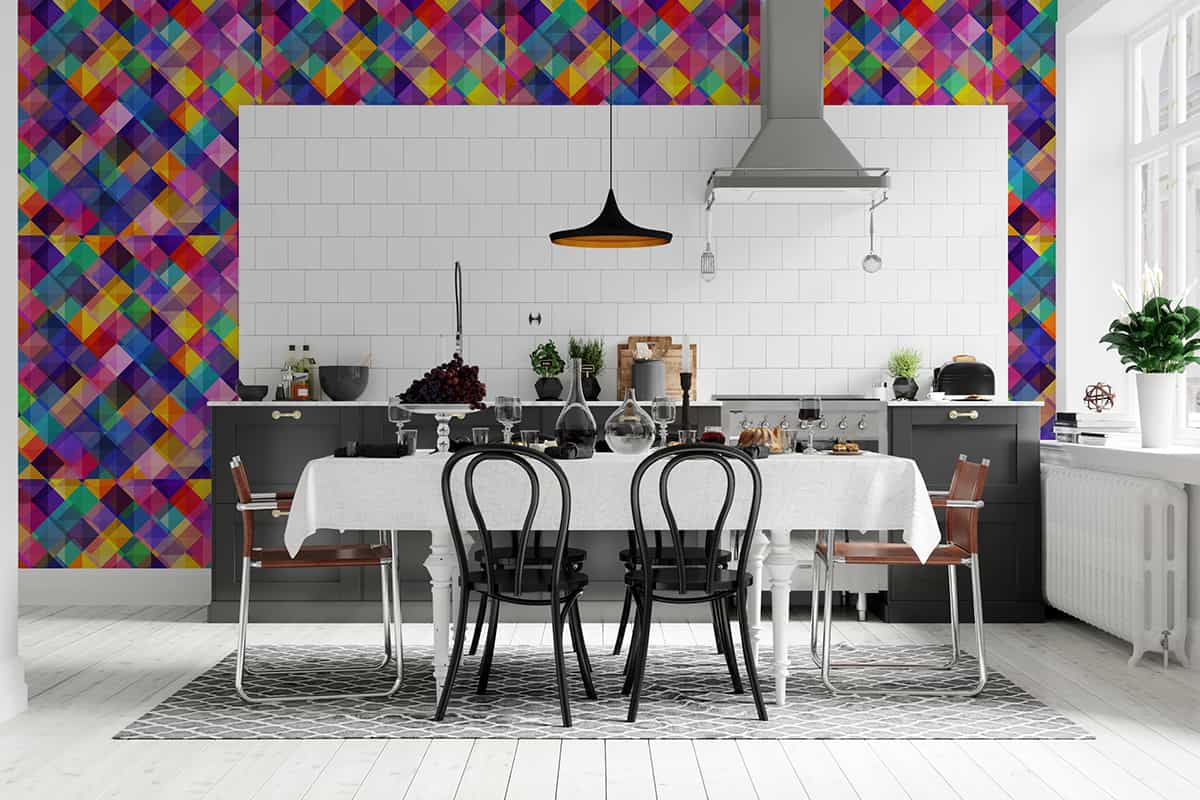 It is essential that a small kitchen space feels more extensive than it is in real life. You can design the kitchen with blush pink and deep aqua colored cabinets and wallpapers with reflective elements to make the space feel larger with colors.
Black and white modern kitchen design
Black and white small kitchen design ideas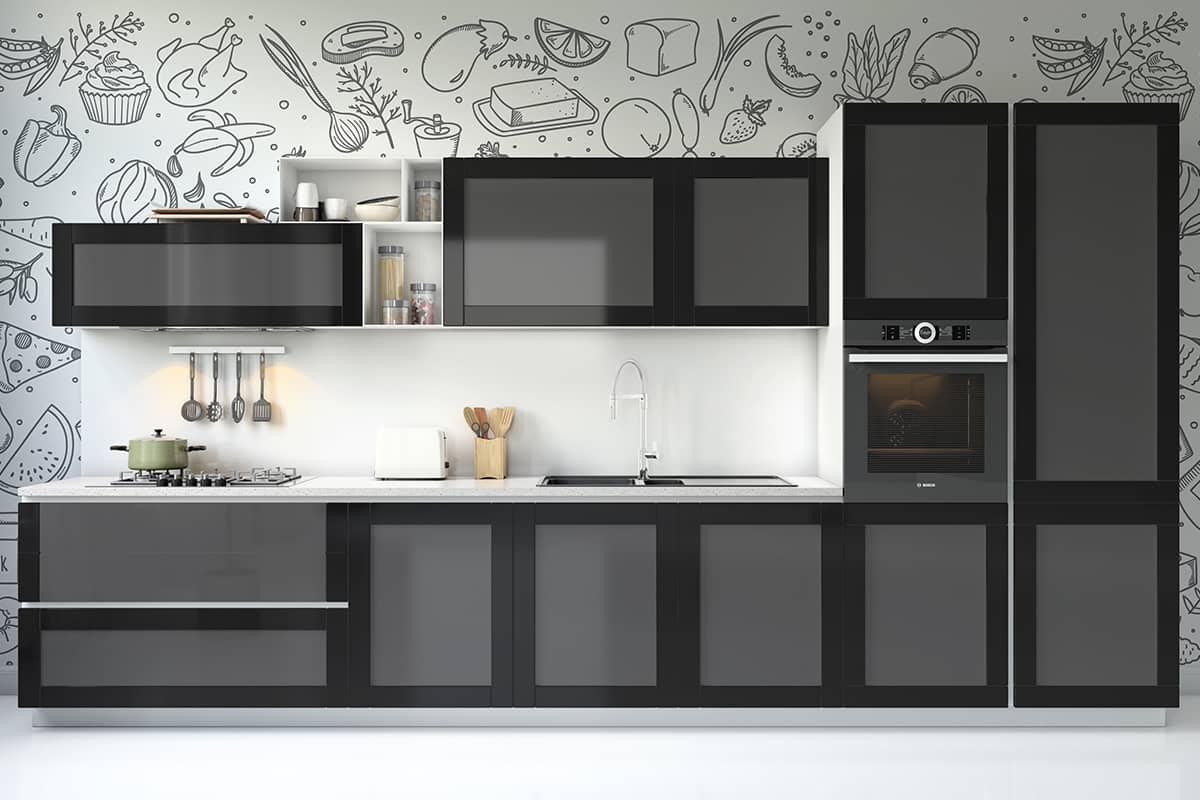 The kitchen doesn't always have to consist of colorful elements. A kitchen with asymmetrical kitchen furniture design and a combination of black and white color goes well with a doodle-themed wallpaper of the same color.
Geometric kitchen design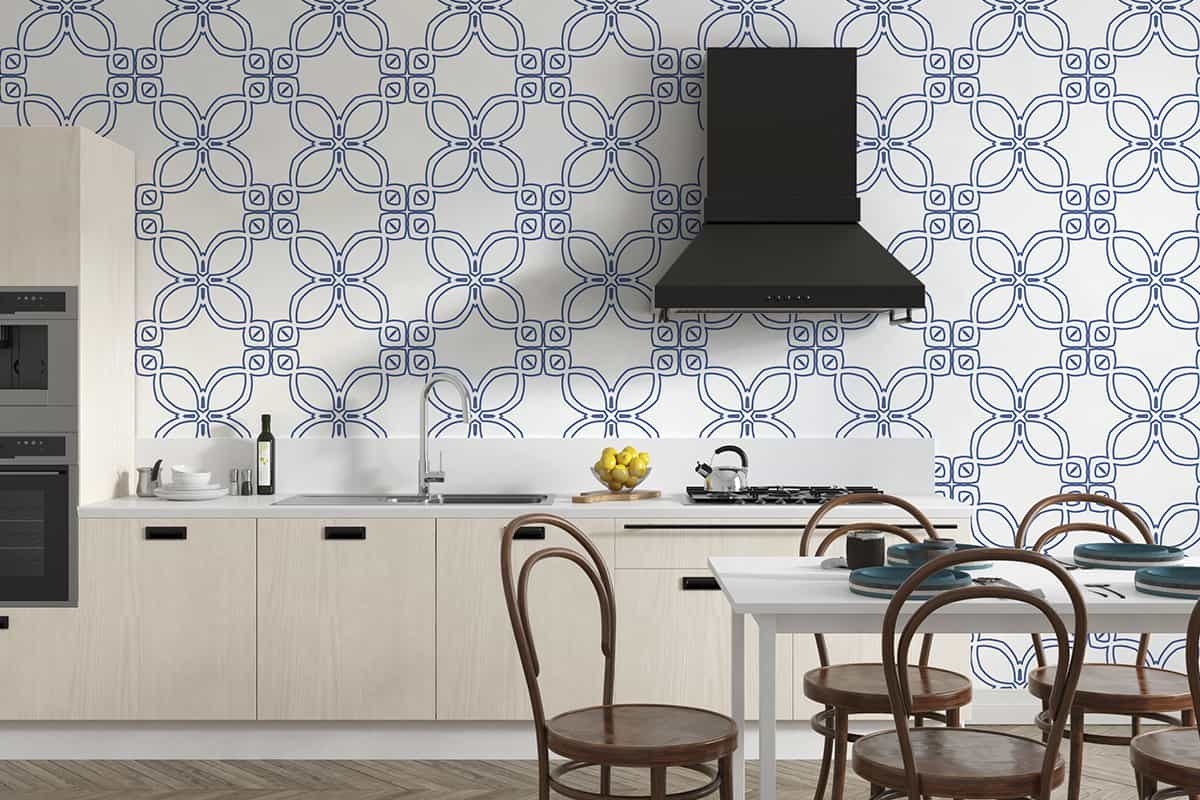 Black and white geometric wallpaper print will emit an art deco feeling in the kitchen. Use the wallpaper in a slim wall like between counter space and an island to avoid it from feeling too overpowering.
Black theme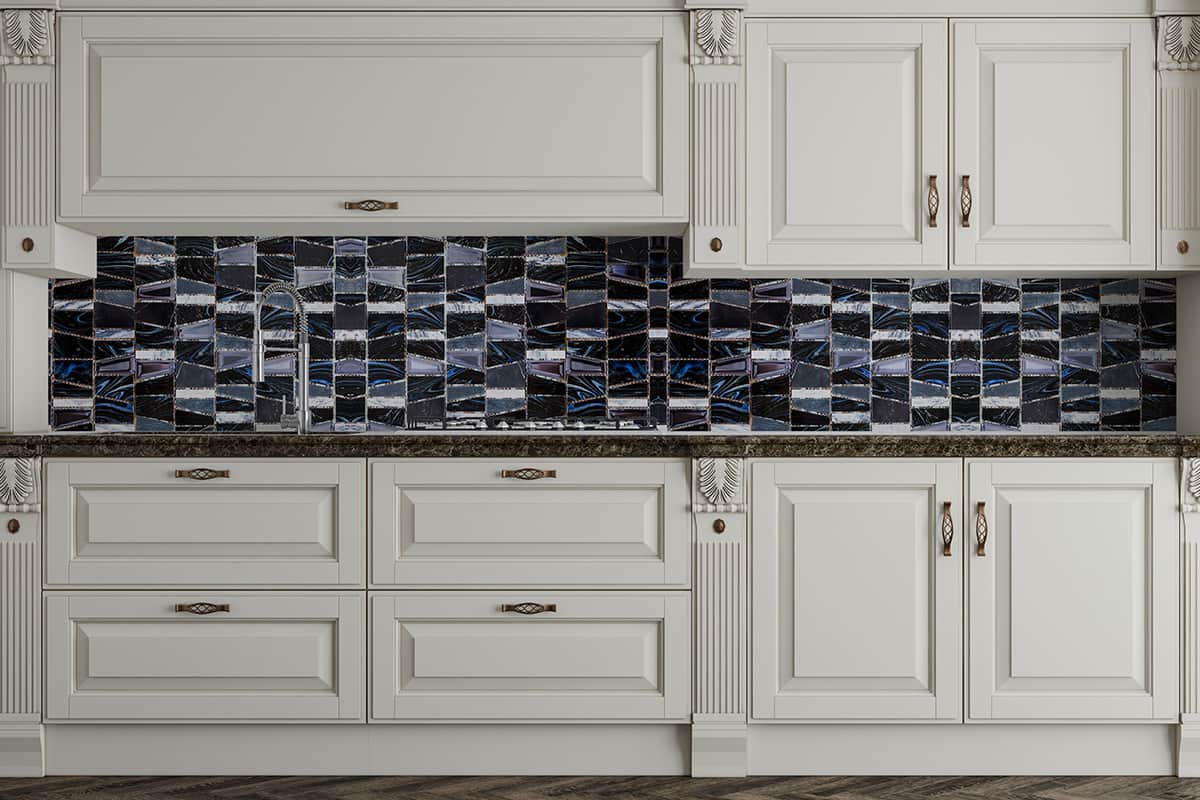 A black and glossy tiles wallpaper will be a good style, as it can straddle that line between a retro and futuristic style.
Fruity wallpaper kitchen interior design
Fruity approach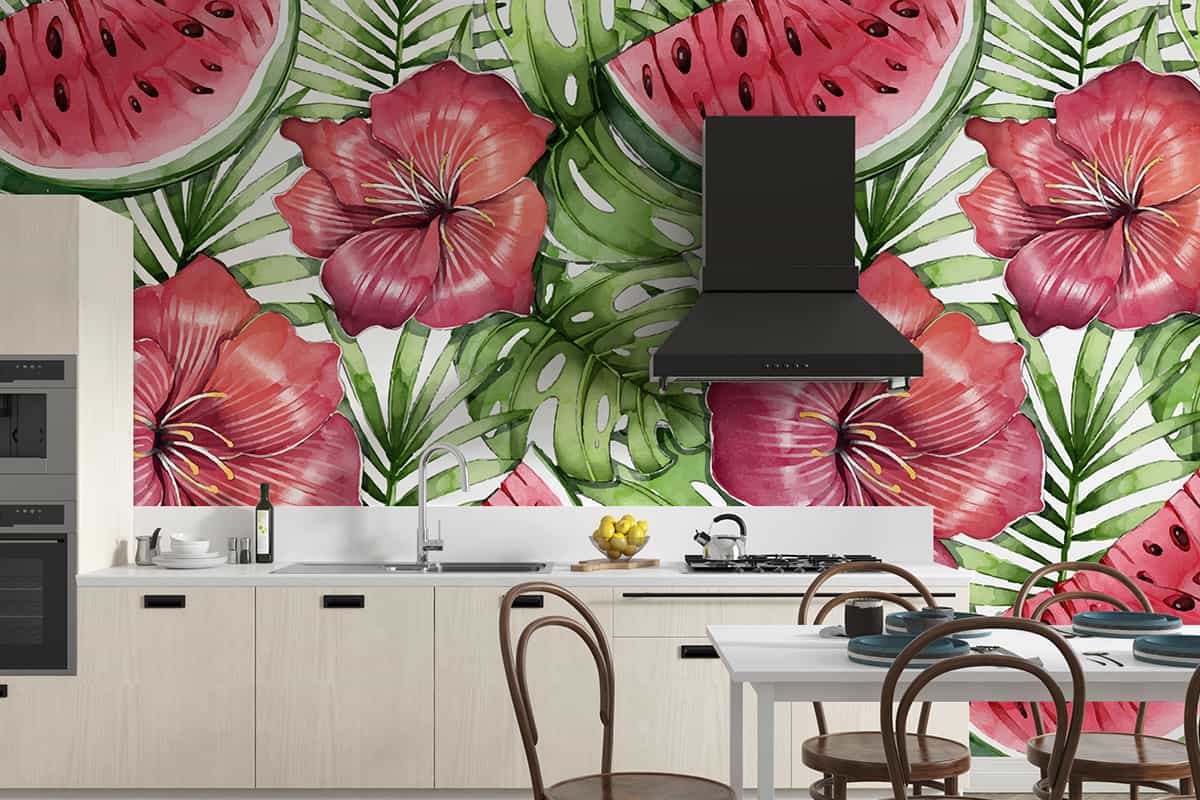 A wallpaper print of your favorite fruit is an excellent option for a cheerful and bustling kitchen. The color of fruits will make the entire kitchen pop, providing an incredible sight for the eyes.
Farmer-market kitchen design inspiration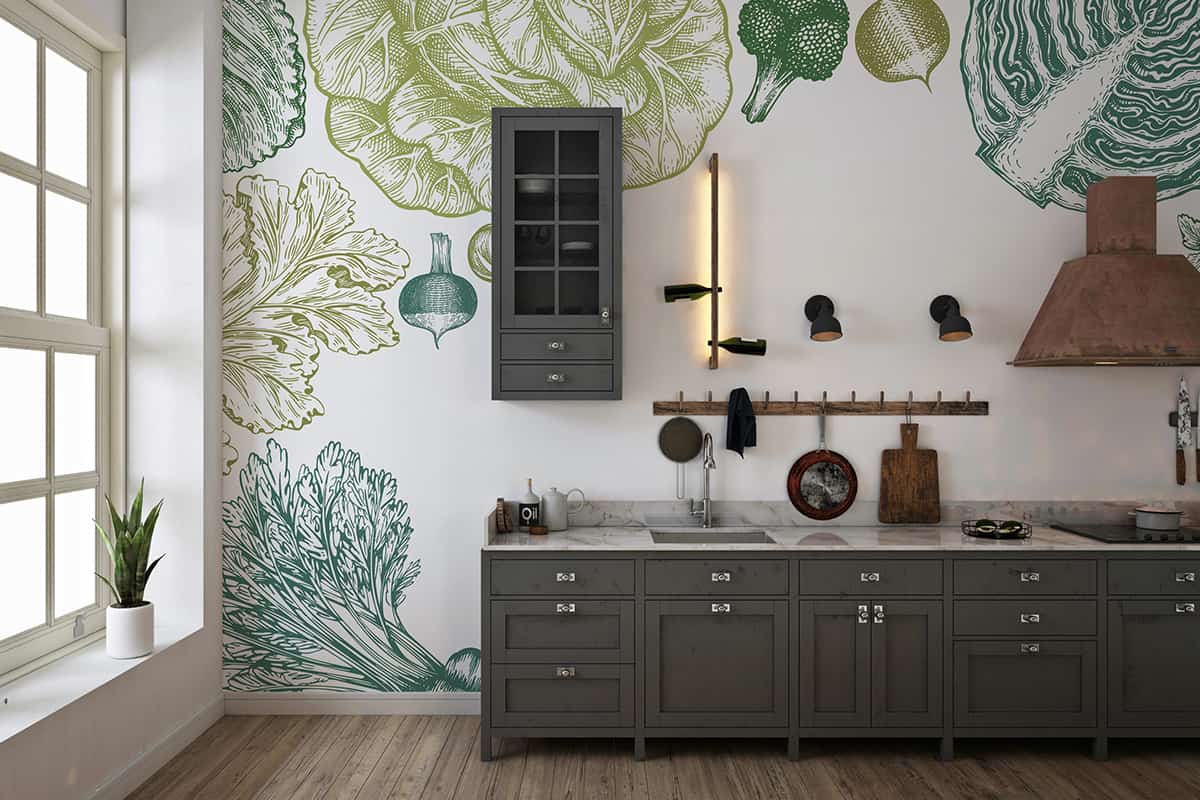 Choose a graphic kitchen wallpaper design with your favorite fruits and vegetable print to bring some farm-fresh style to your kitchen space.
Tile-style wallpaper small kitchen design ideas
Vibrant kitchen decor
The kitchen counter space made of marble and white tile themed wallpaper will add a vibrant look to your kitchen design.
Retro style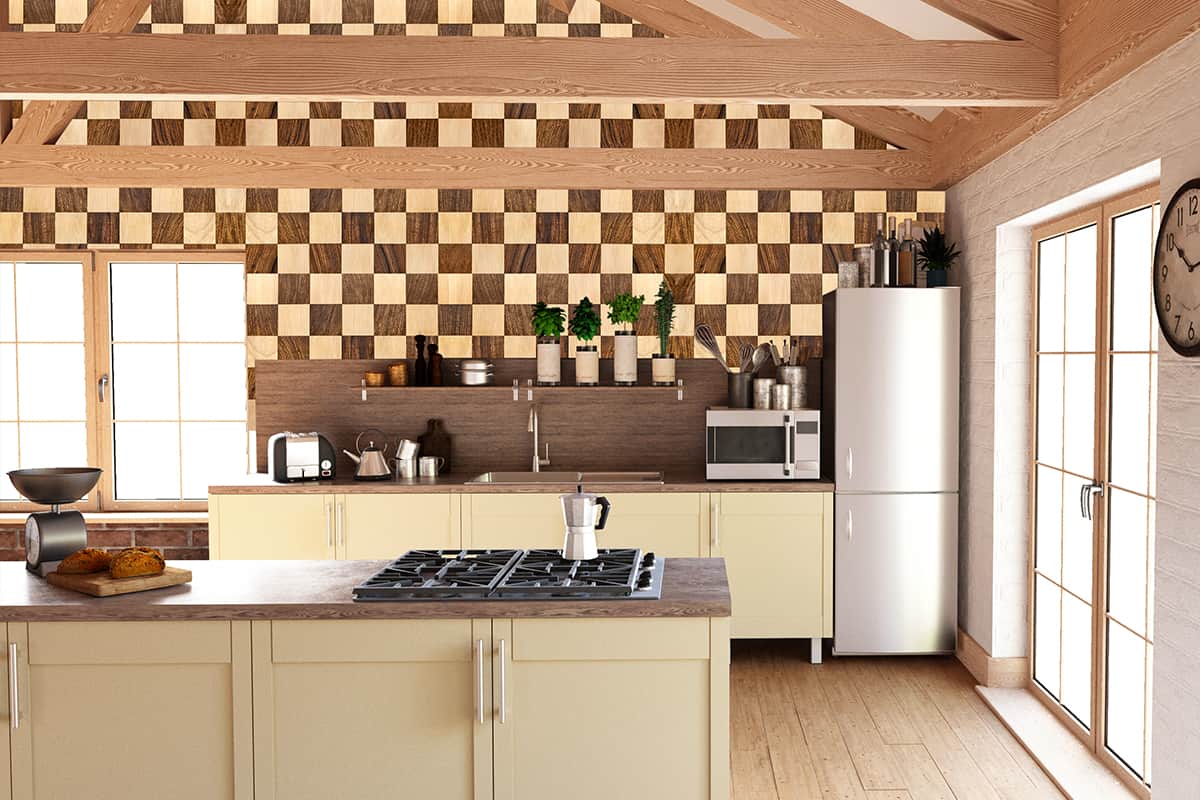 Use a checkerboard tile-work pattern wallpaper to add depth to space, and the small kitchen will look spacious.
Tiles + Wallpaper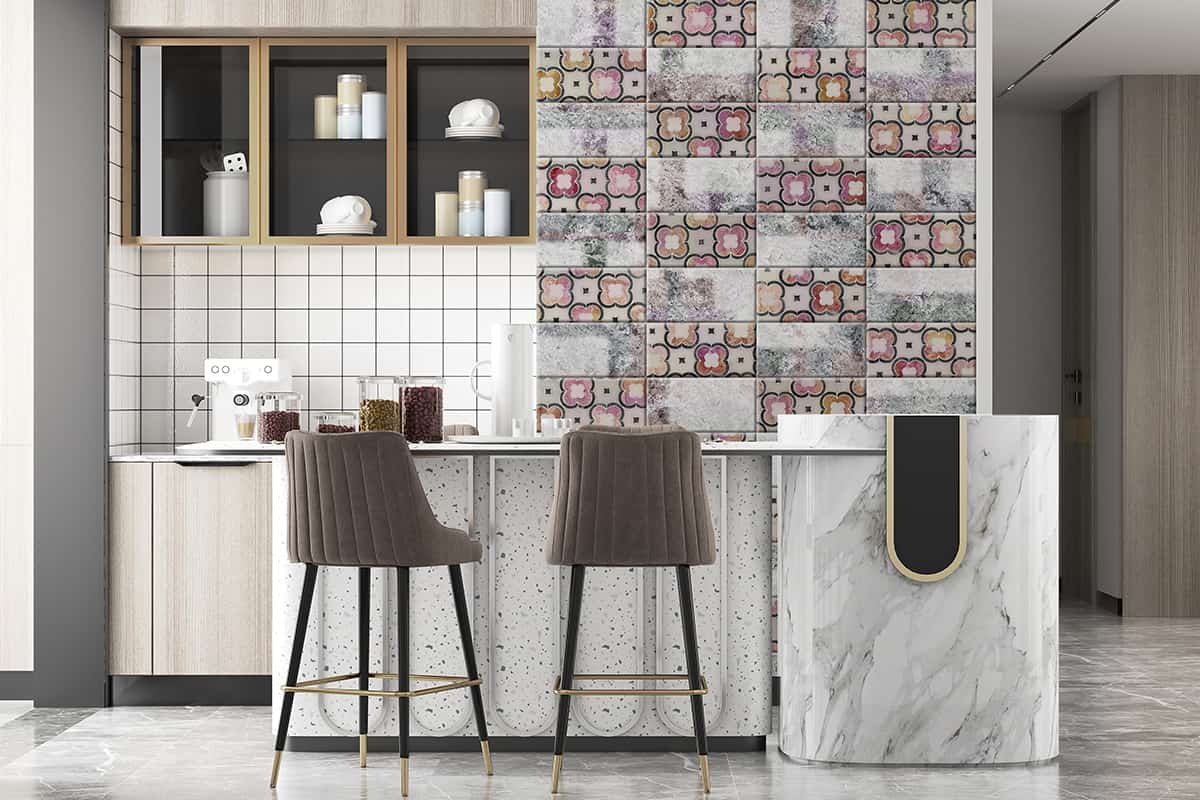 A tile and a wallpaper lover? Go with a versatile tiled wallpaper for your kitchen. It is an excellent option to get the feel of tiles at a more pocket-friendly cost and get the best of both worlds.
Other smart and creative kitchen design for small space
Luxe look of kitchen interior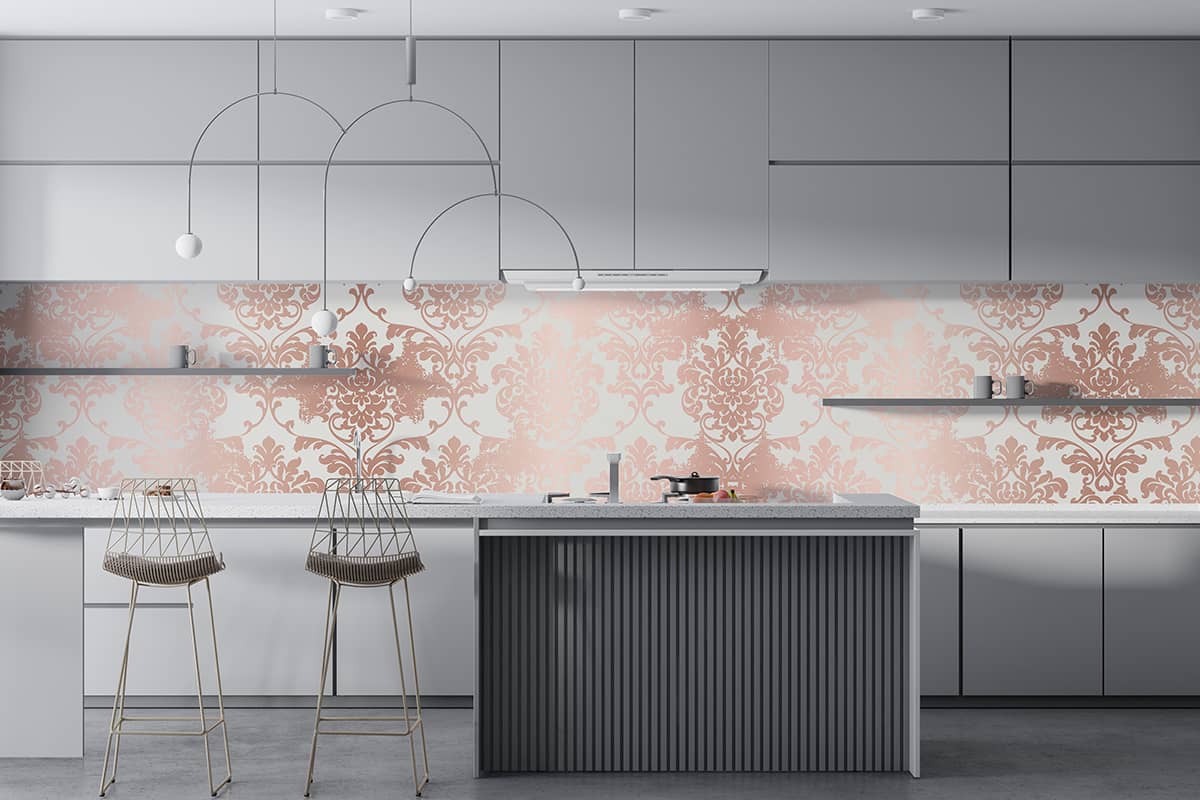 A bold colored wallpaper on the walls can make your kitchen feel even more luxe. For example, a blue palm print wallpaper is perfect to go on the kitchen walls to emit a tropical vacation feel.
Outdoors style kitchen decor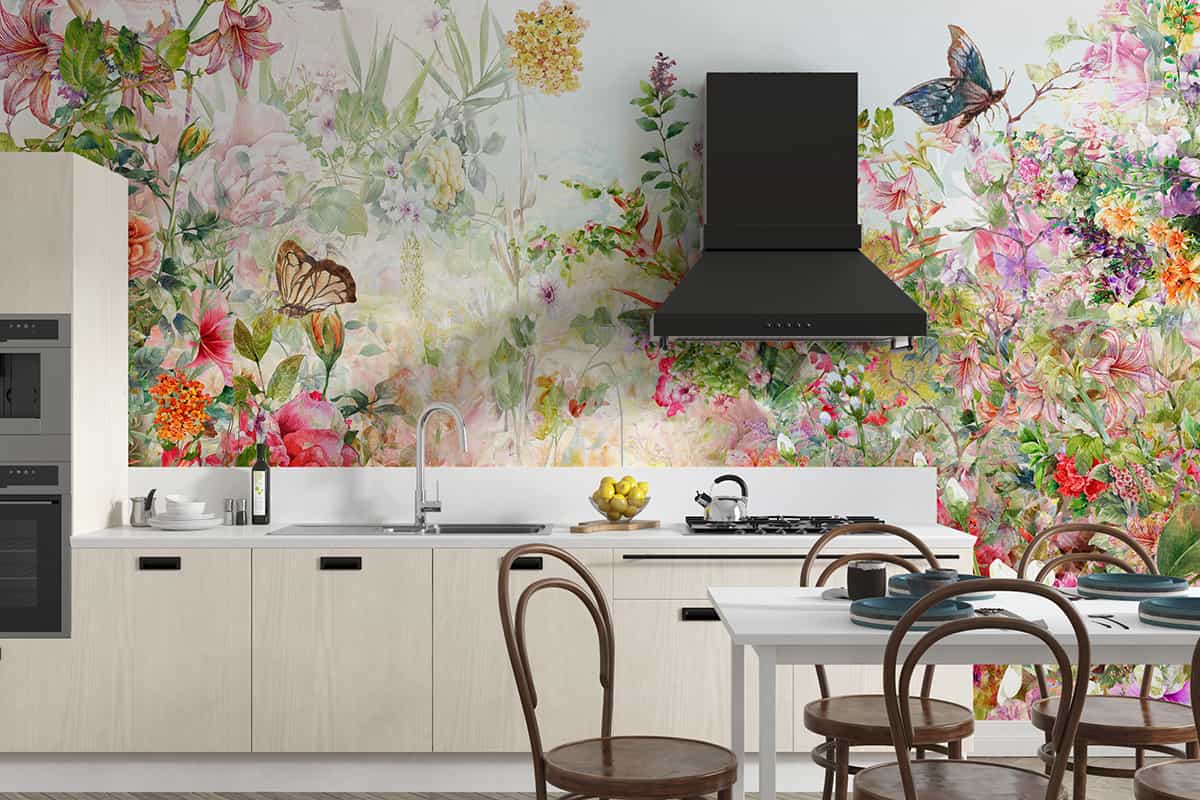 Bring in the garden table and chair to fit in with a country-style kitchen. Floral or garden-themed wallpaper with flowers or a forest background will go well with this kitchen layout.
Disappearing kitchen interior design
Small kitchen designs can make people feel claustrophobic. Integrating large door panels and cabinets into the walls can save a lot of space. Similar to wallpapers, if you can get wallcoverings for these large panels and cabinets, then it will be a great way to keep the kitchen clean from stains.
Hanging pots kitchen room design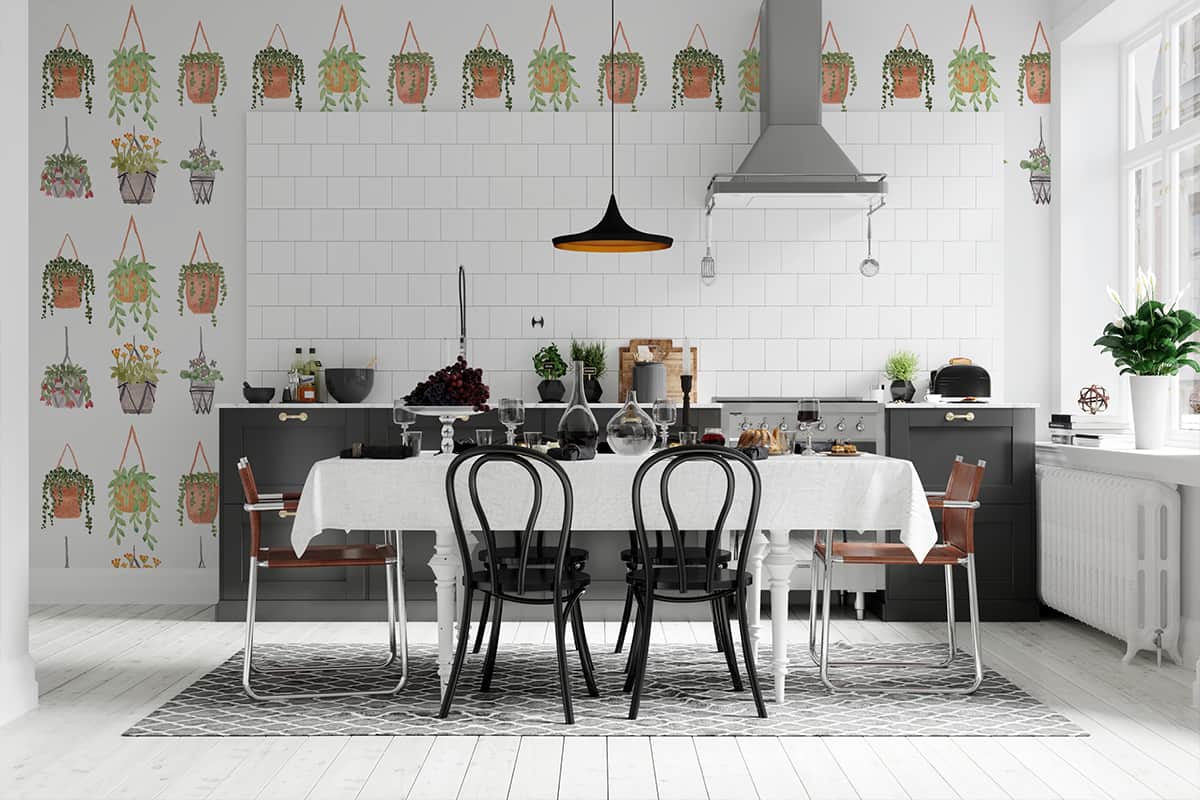 A pot rack hanging in the middle of the kitchen over a salvaged pine island or hanging the pots on the wall is a smart way to occupy an underutilized space in a small Indian kitchen design. White brick-themed wallpapers will provide an excellent contrast to the kitchen.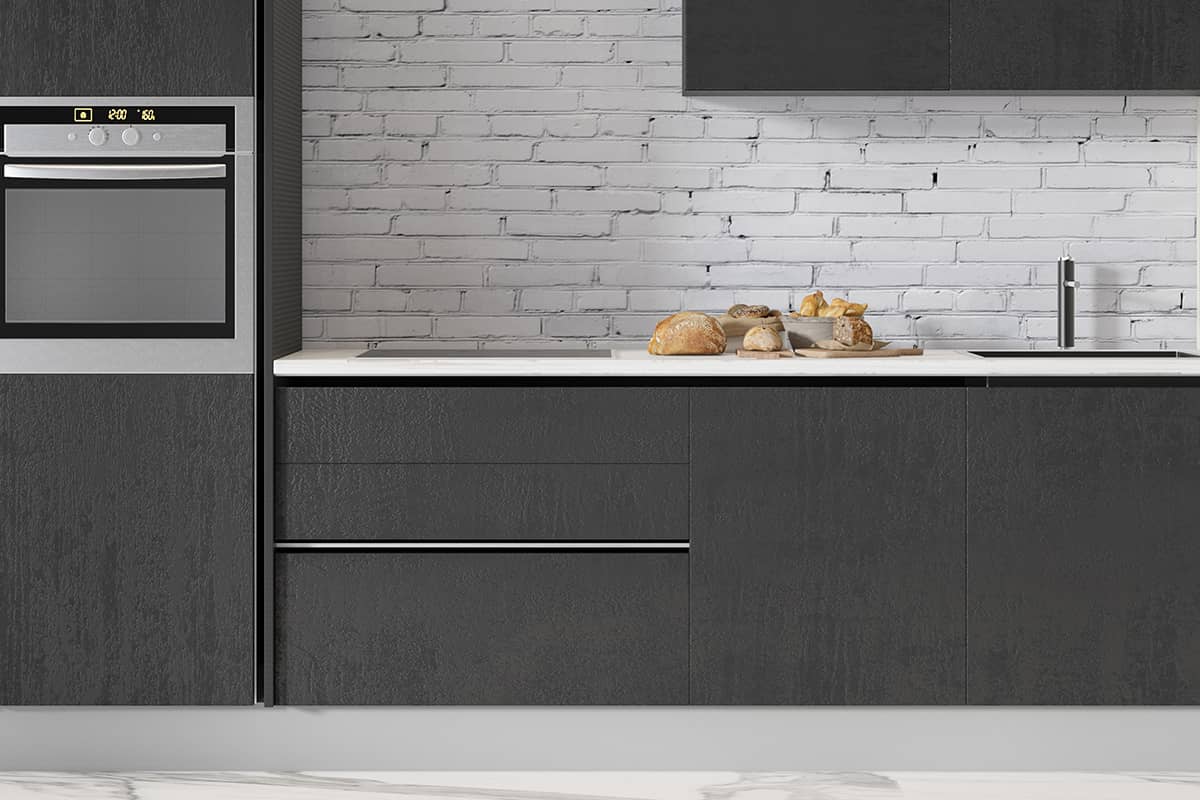 Pool house kitchen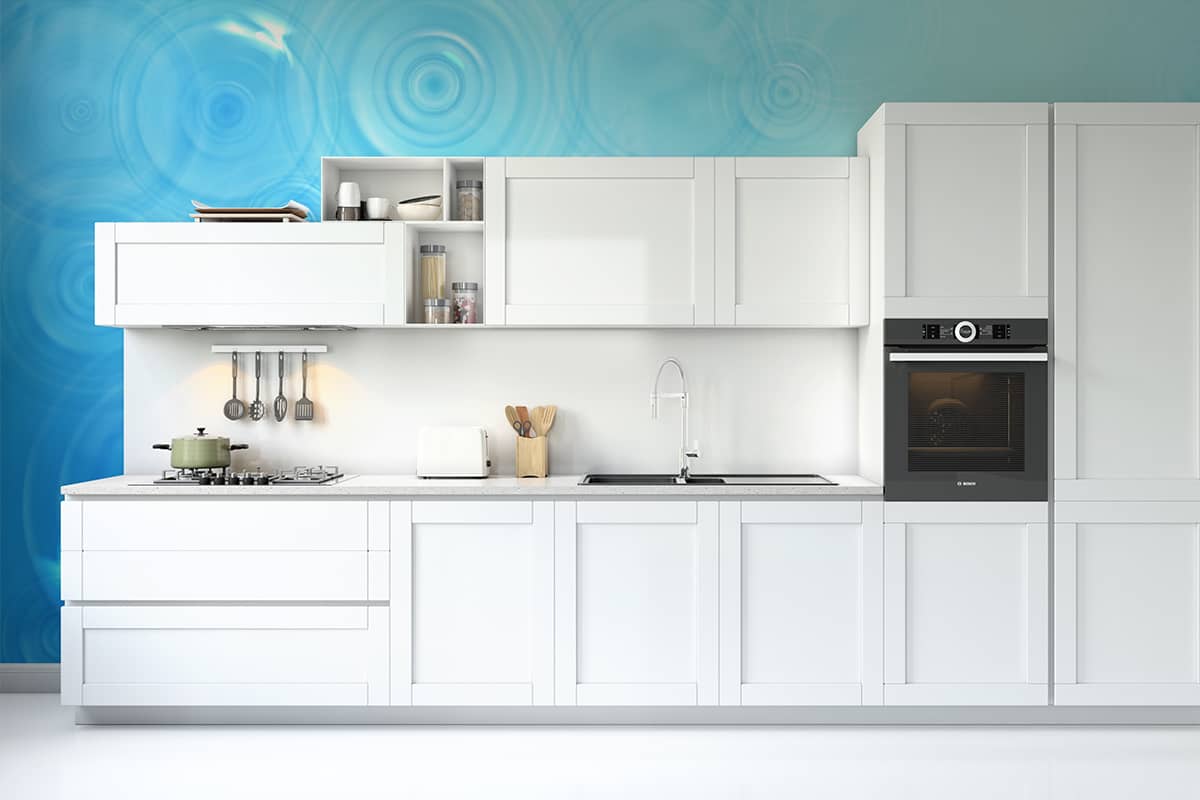 A toile light blue colored wallpaper can be combined with glossy blue cabinets to form a small pool house kitchen design.
Amber design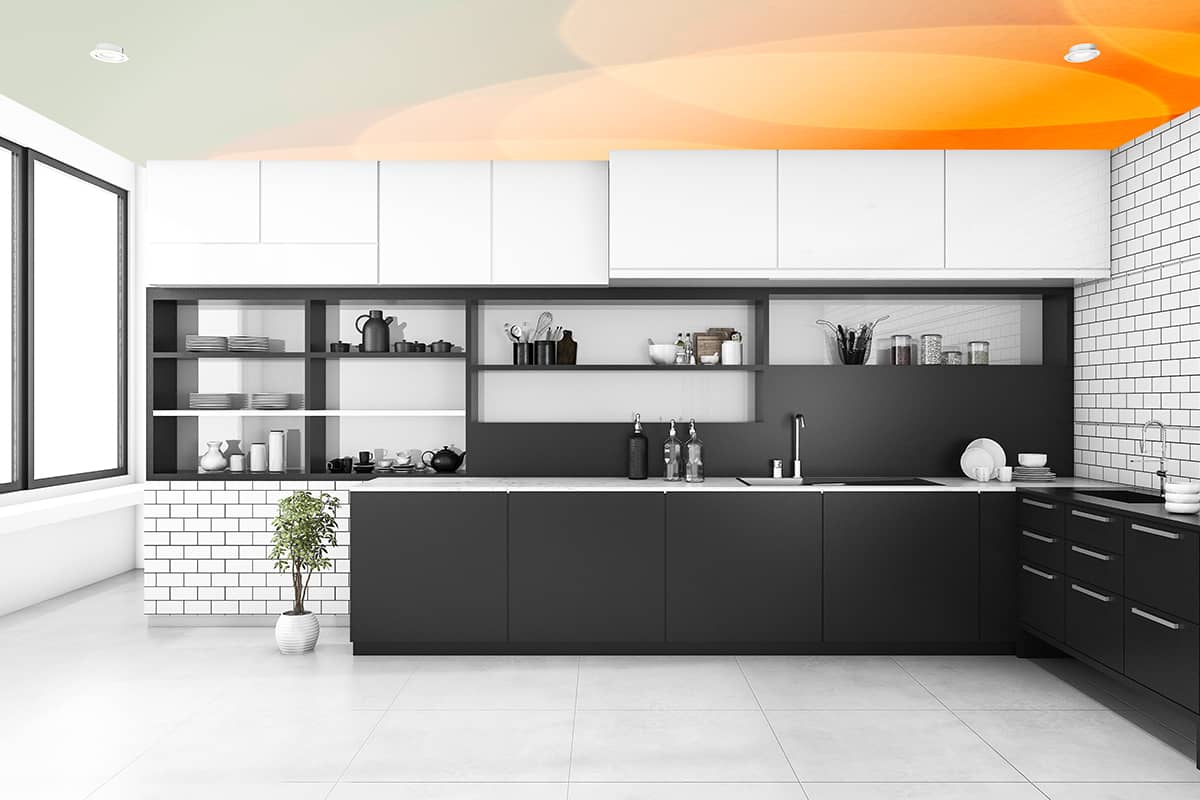 Are you looking for a kitchen design that gives energetic vibes? Use an orange textured wallpaper on the ceiling paired with dark wood cabinetry for a vibrant look. Orange textured wallpaper adds more light to space.
Small kitchens with statement artwork.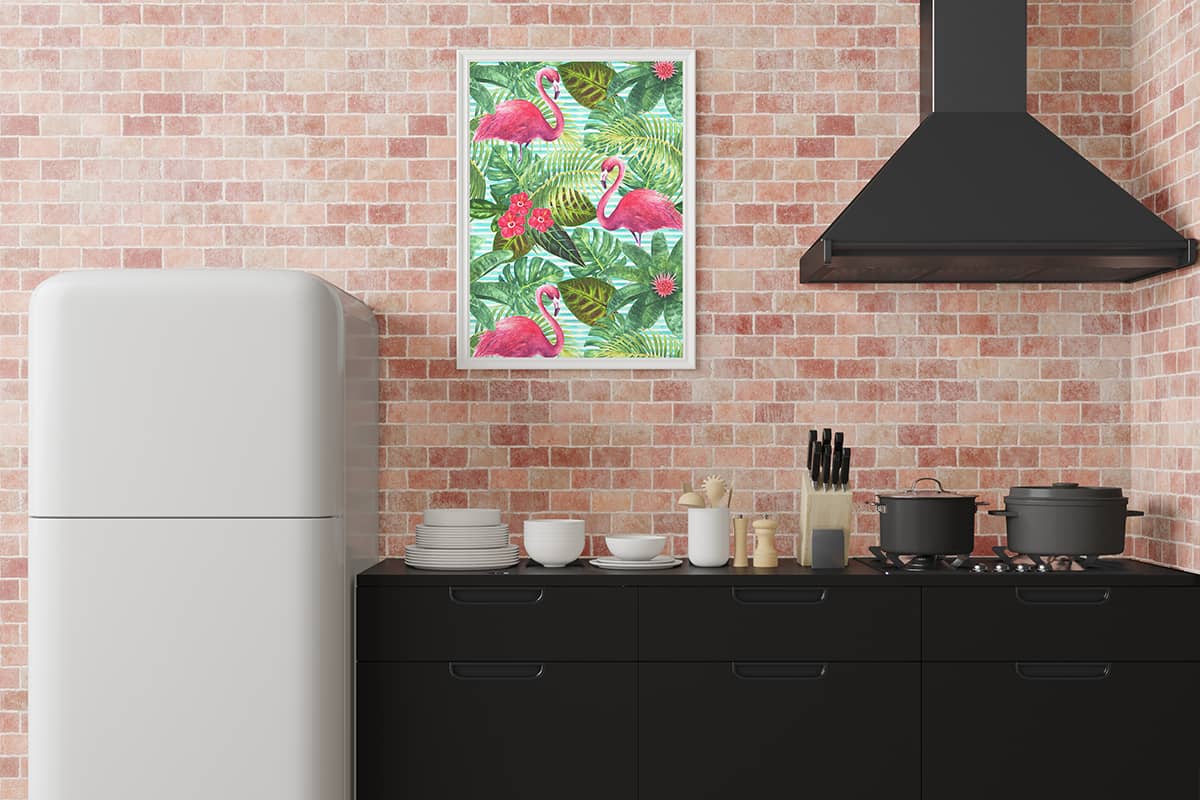 Shift the focus of people from the limited space of the kitchen to the artwork on your wall. Hanging an artwork work wonders for a small home design like a kitchen.
Over the top color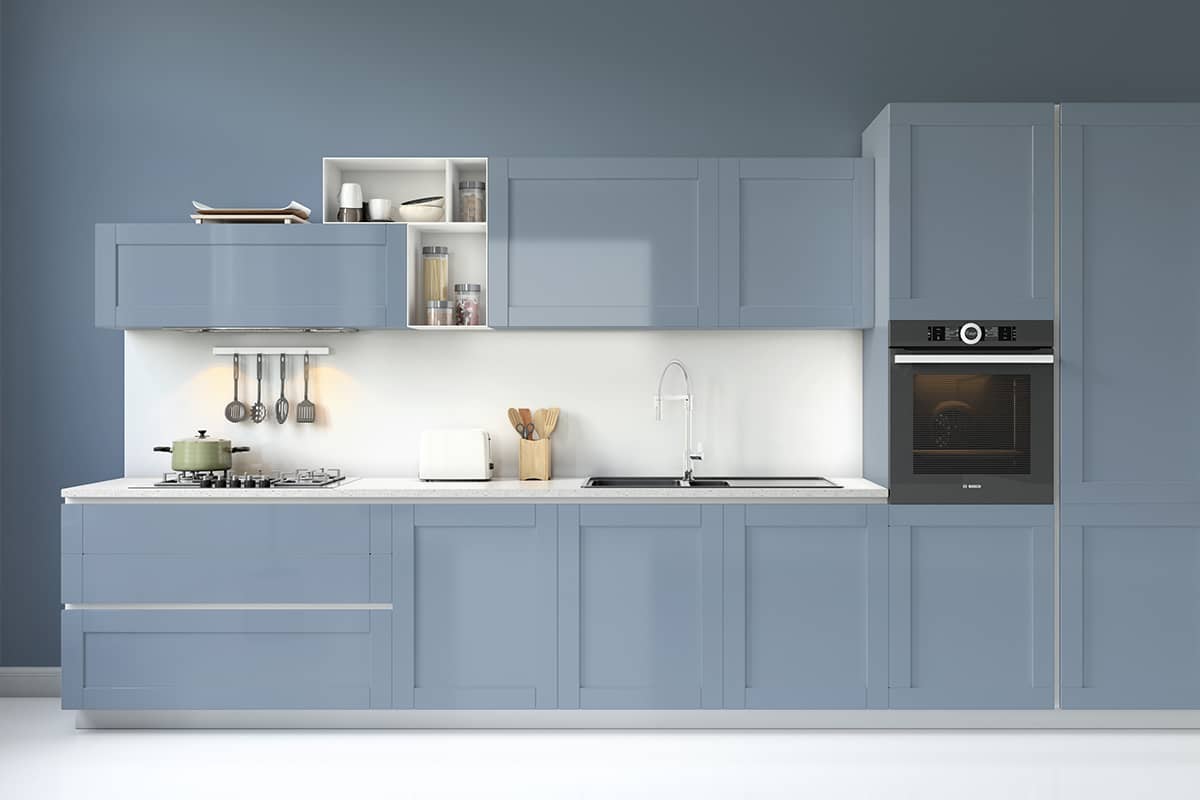 Make the cabinet, table, and counter space of the same plain and bold color as the wallpaper. It will show a single color theme to your kitchen.
Neutral hues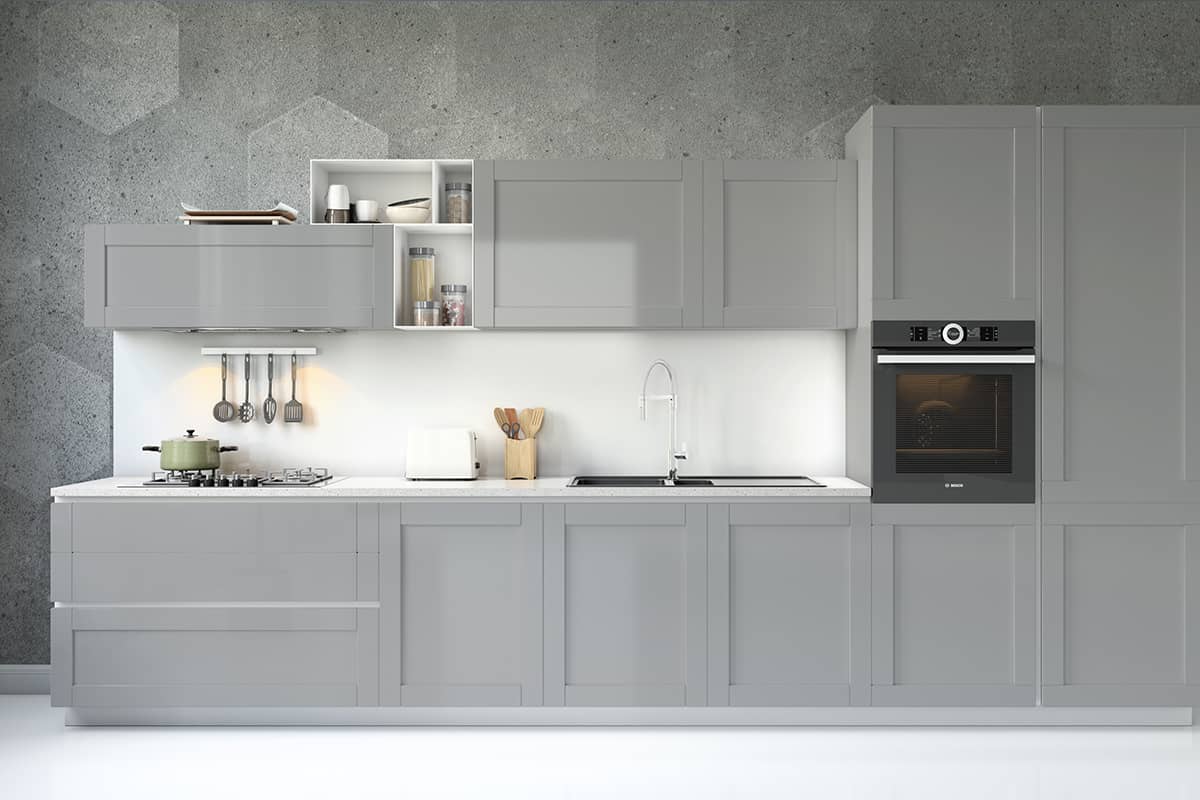 A small kitchen interior with a neutral hue wallpaper will create a subtle look. The kitchen furniture design should also complement the colors of the wallpaper.
Ocean theme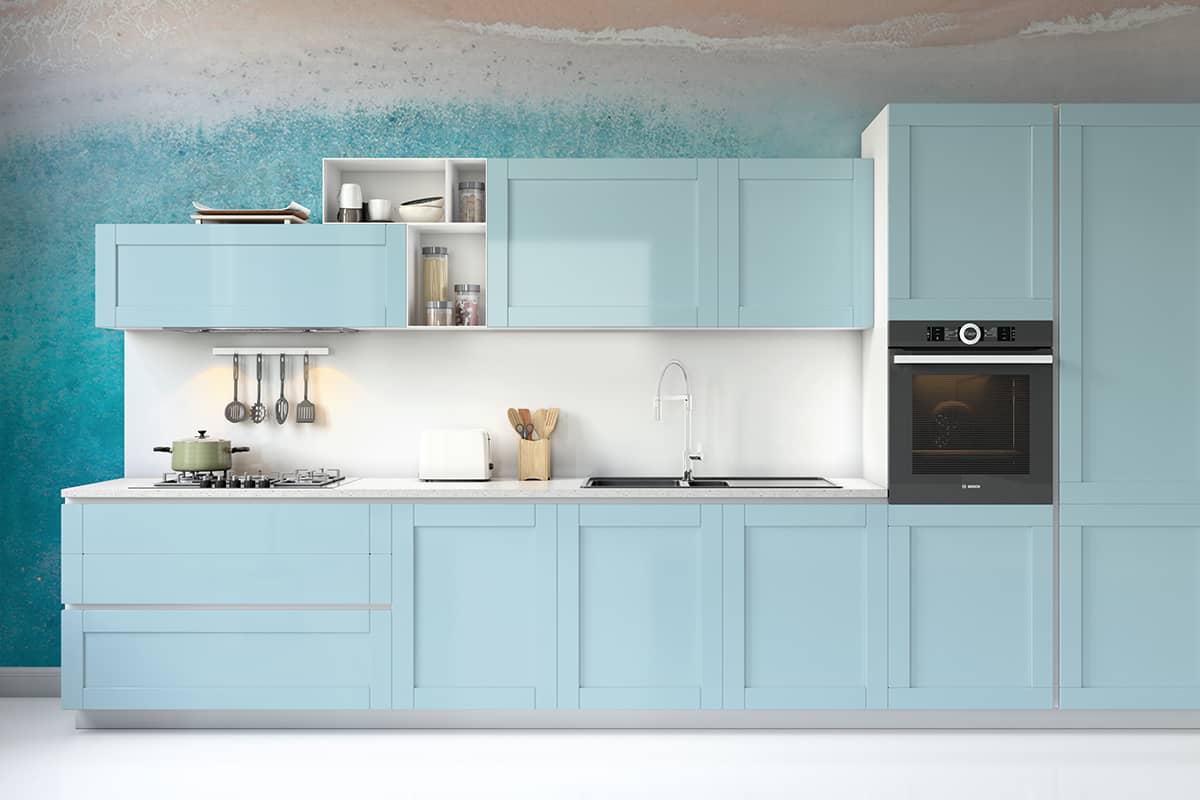 Suppose you have a small kitchen consisting of furniture, cabinet, and table of the color blue to go for an ocean theme. In that case, colorful wallpapers of wave patterns or an aqua spread wallpaper are ideal wall covers.
Eclectic kitchen design for small space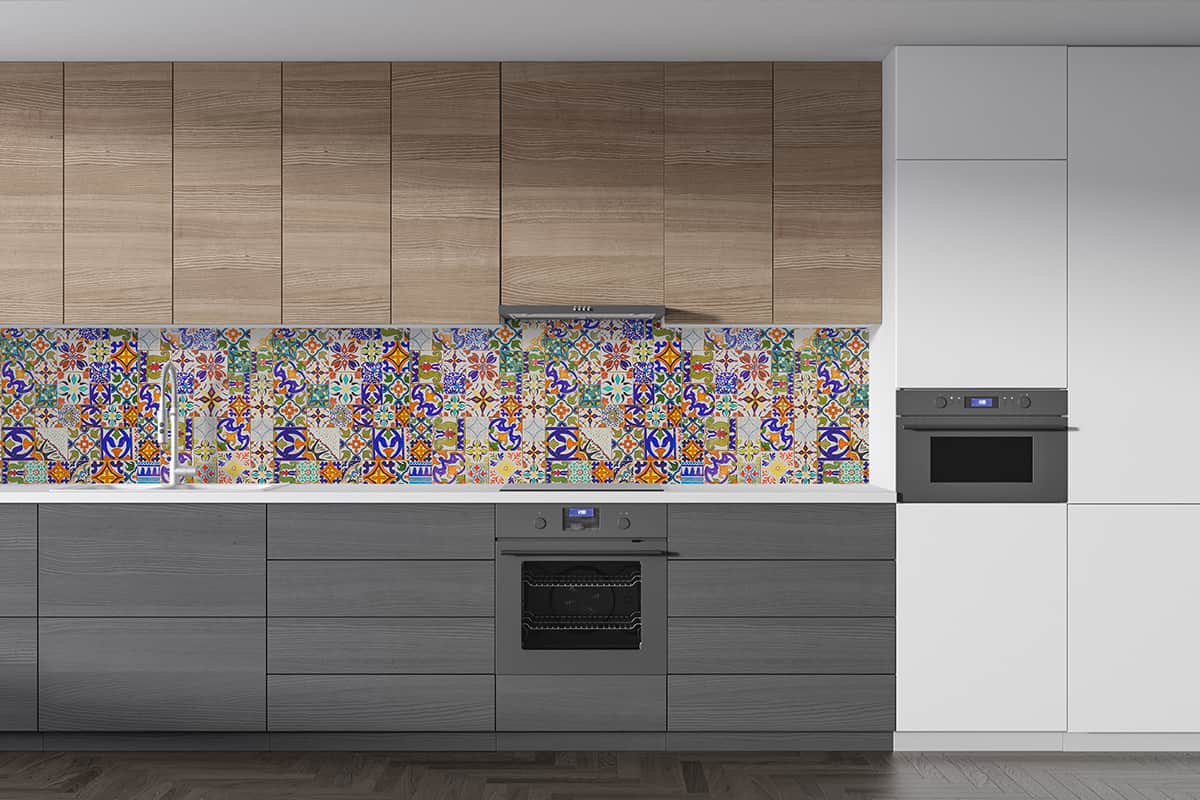 Have some fun by mixing color and pattern wallpapers in the kitchen design. It will give an eclectic view of the kitchen room for the limited space available.
Backsplash and walls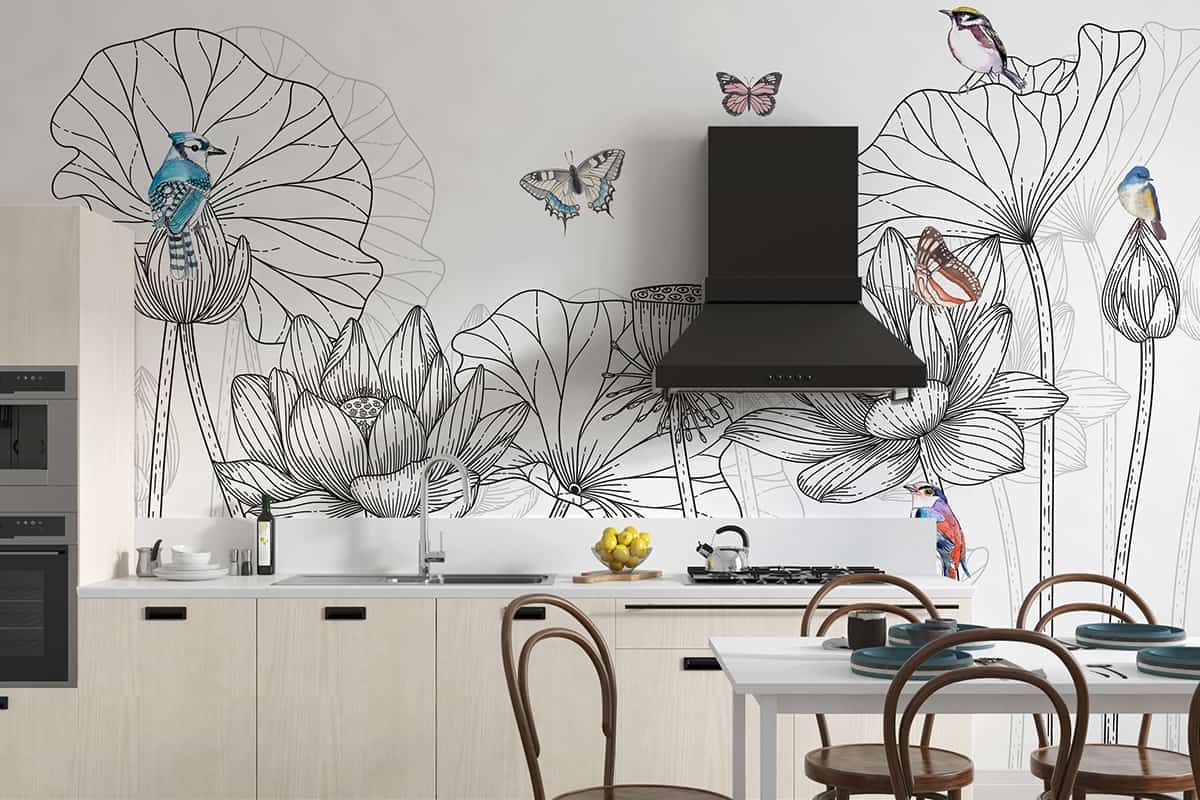 Setting up a theme for your small kitchen design is easier by just applying wallpaper on the backsplash and the walls. A theme of wallpapers like cat or bird will perfectly set the style and also tie your wallpaper together with the rest of the kitchen room.
Brass-accents small kitchen design ideas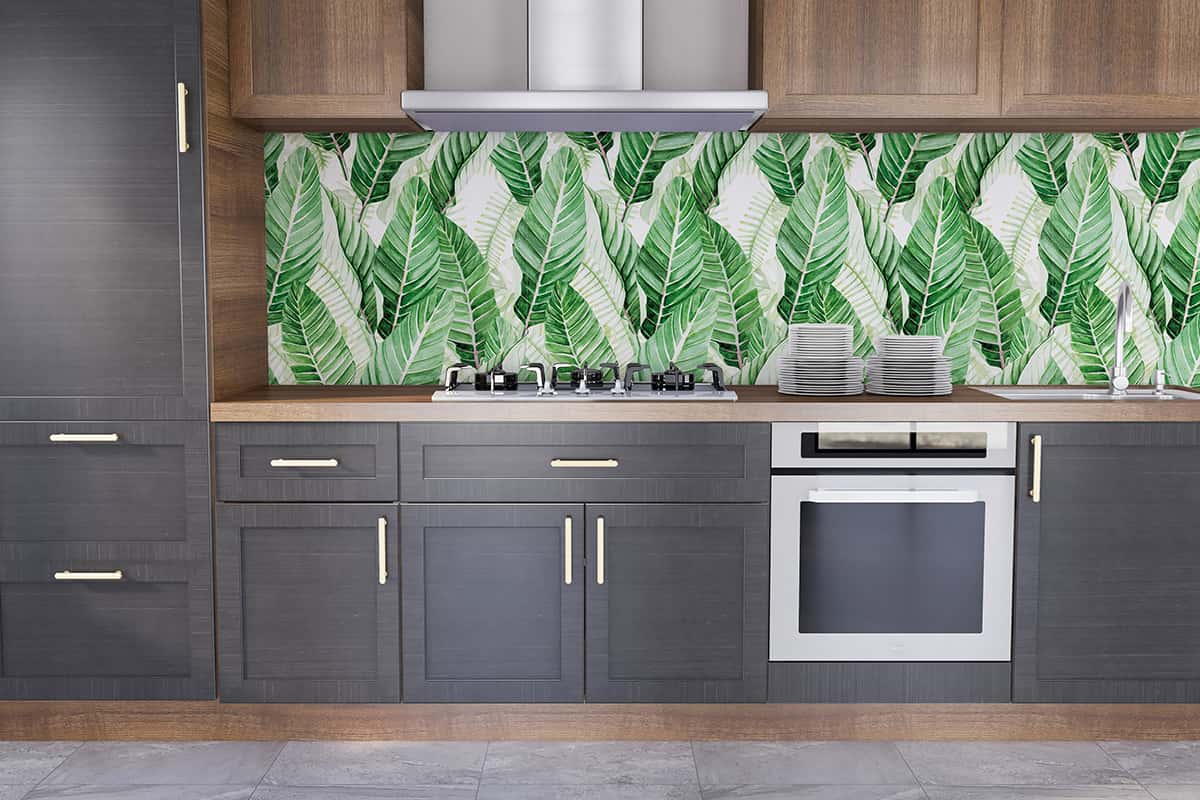 Add brass accents to get a vintage look in the kitchen. Include bar stools with legs in polished brass to add a brass accent in the kitchen. A banana leaf wallpaper with a hint of pink color will complement the brass accent.
Country/ Farmhouse style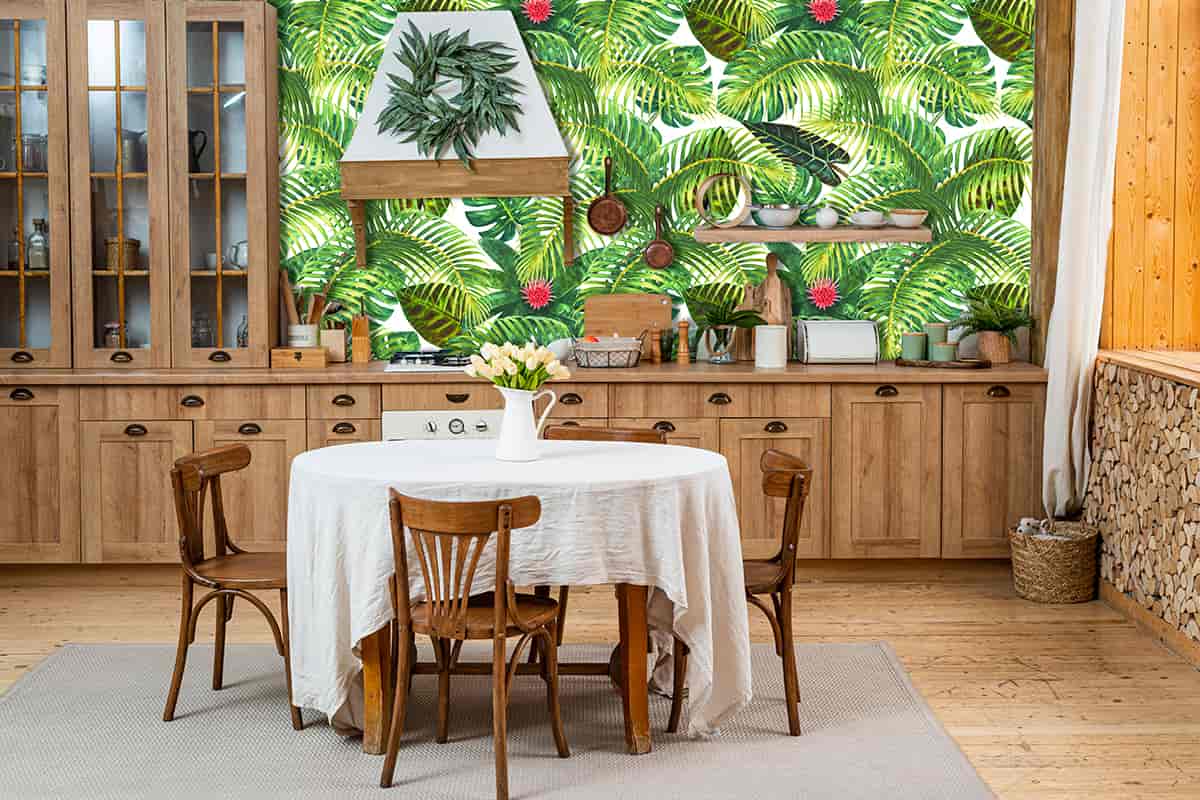 Use rustic decor and choose wood and stainless to create a farmhouse-style kitchen design. A floral wallpaper(green color) on the kitchen wall perfectly fits a farmhouse-style kitchen interior design.
Fresh small kitchen design ideas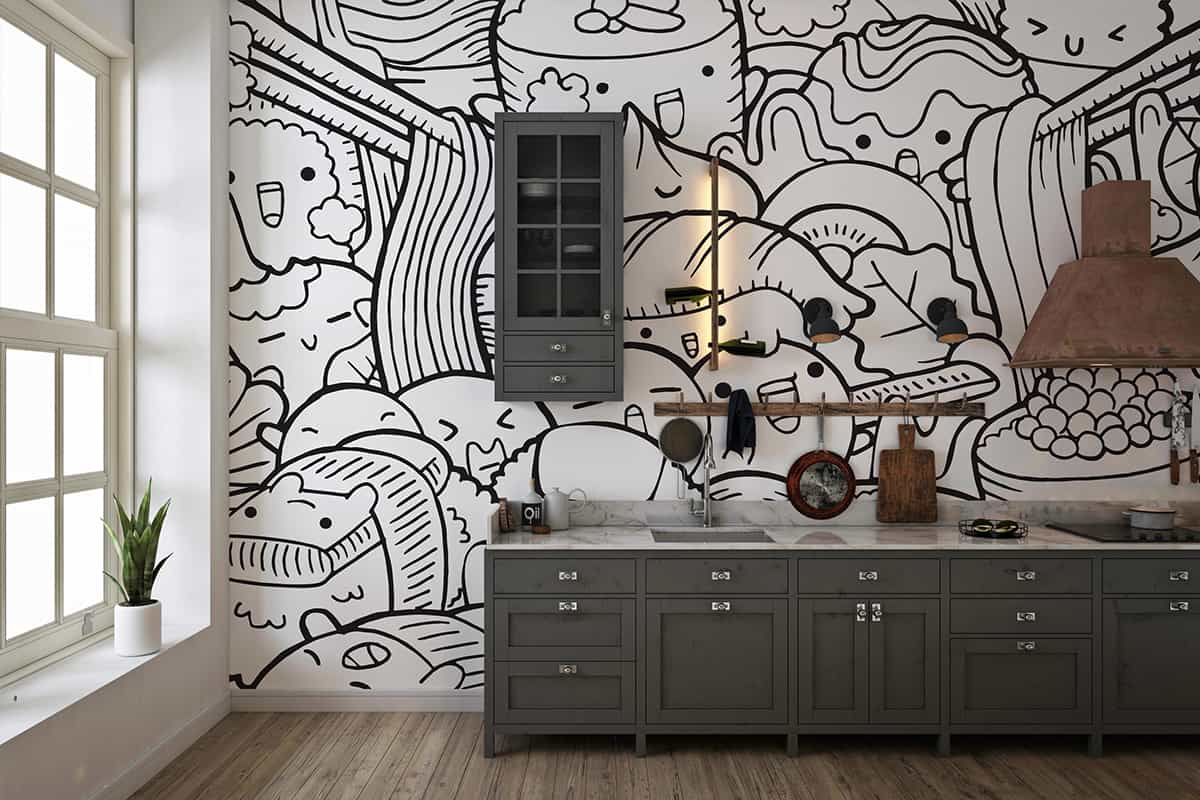 Opt for a large window or a skylight to enter the kitchen for the kitchen to feel light, cheerful, and breezy. Add a continuous chalky doodle wallpaper for the kitchen area to be quirky and fun.
Vintage decor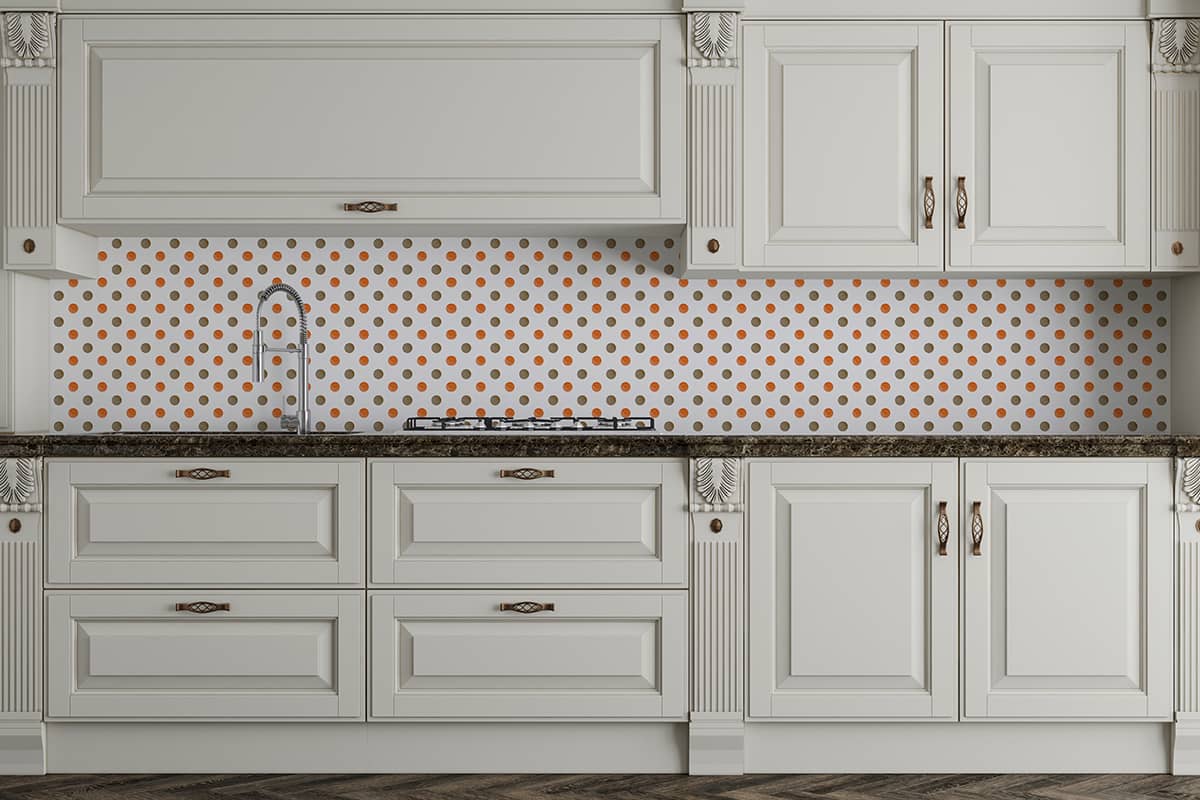 If you are a vintage decor lover, give your kitchen room an old country feel with polka dot backsplash or bold prints of wallpaper from the 60s.
Monochromatic wallpaper for small kitchen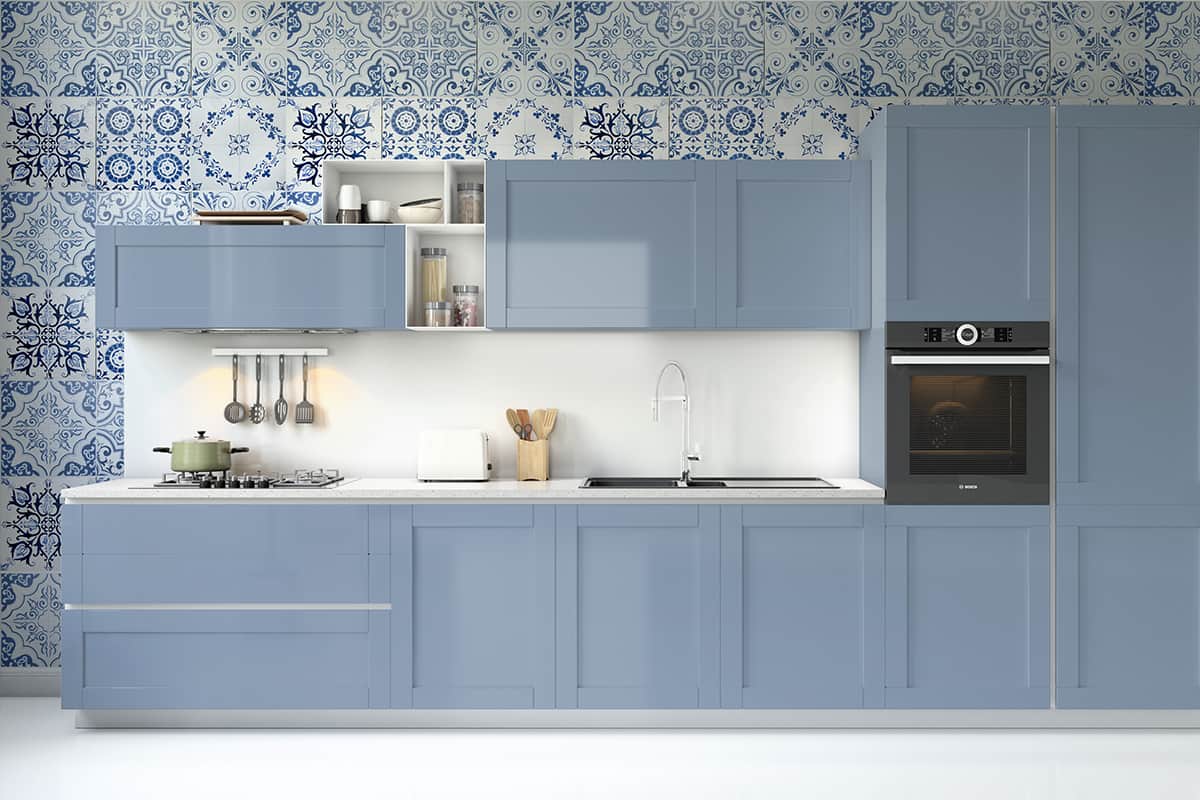 A small kitchen will mostly feel like an over buzzing space and a corner of chaos when guests come over. Apply monochromatic wallpaper on the kitchen walls as the streamlined texture will lend calmness and warmth to your small kitchen.
Classic look as best kitchen designs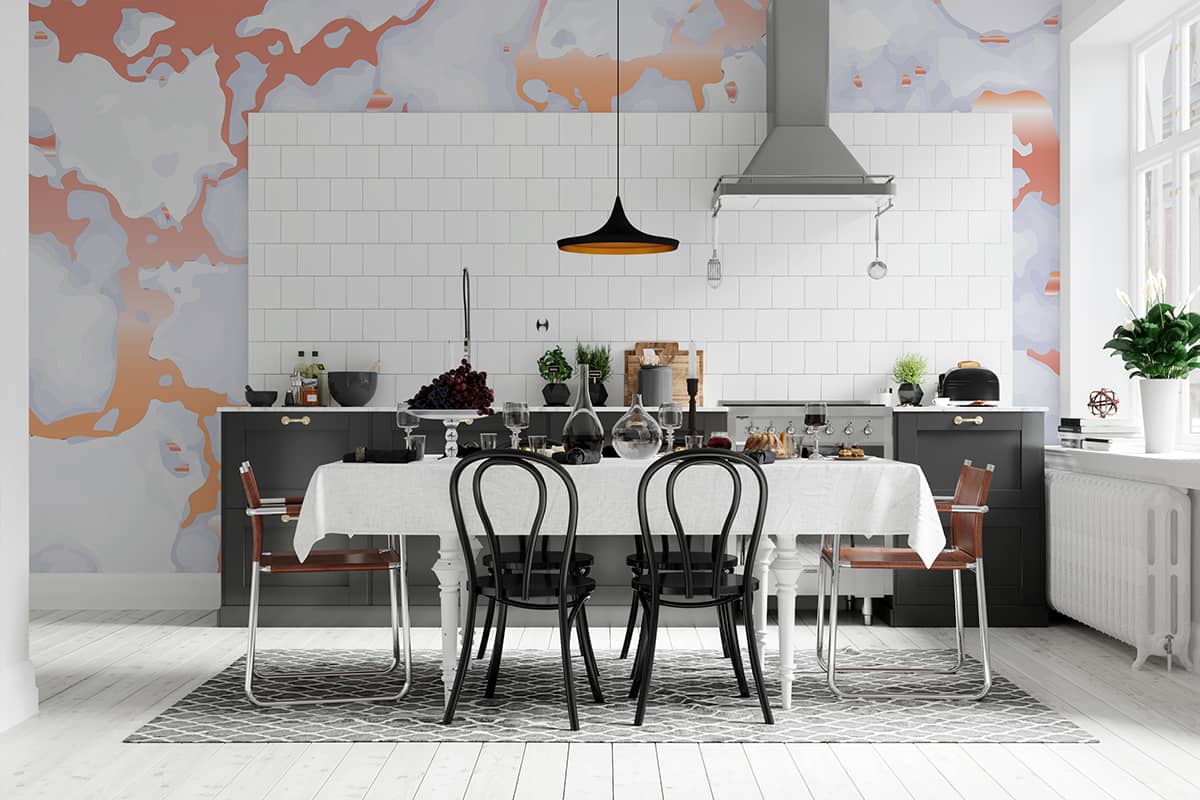 If you are carrying out a kitchen remodel, then consider going for marble effect wallpaper for a striking look for your kitchen. A green or yellow pastel color is perfect for a subtle classic look.
Aesthetic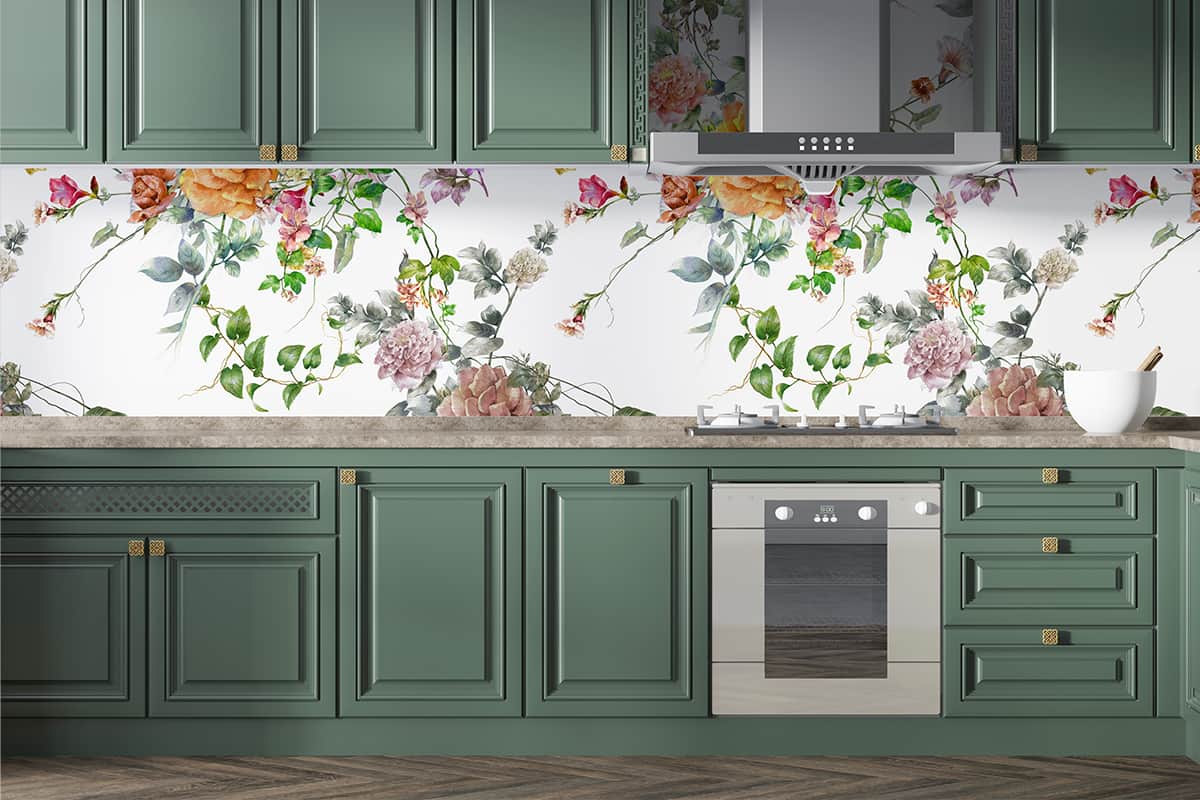 If you are one of those people who don't prefer something over the top or loud, then floral printed wallpapers with a simple print are the way to go for your kitchen.
Contrast effect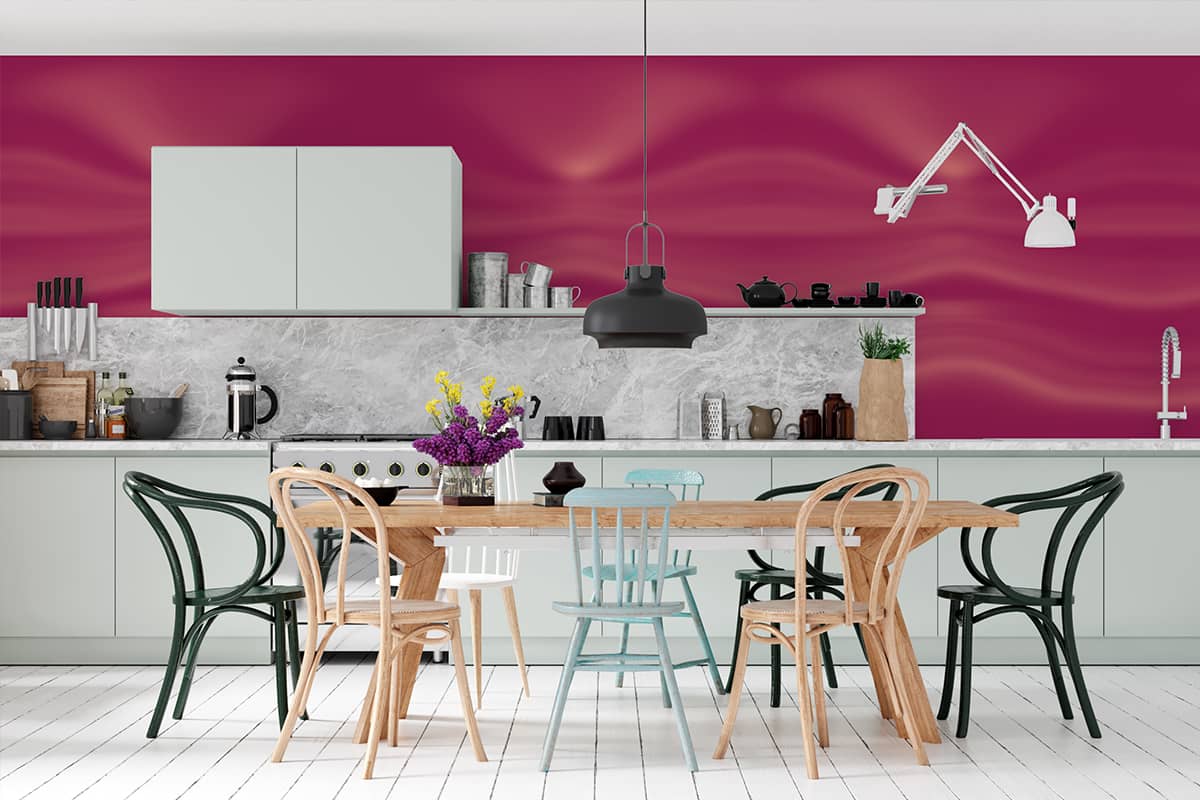 Decorative lighting in the kitchen sets a mood. Use pendant lights which will look good against a dark-colored wallpaper in the kitchen.
Classic kitchen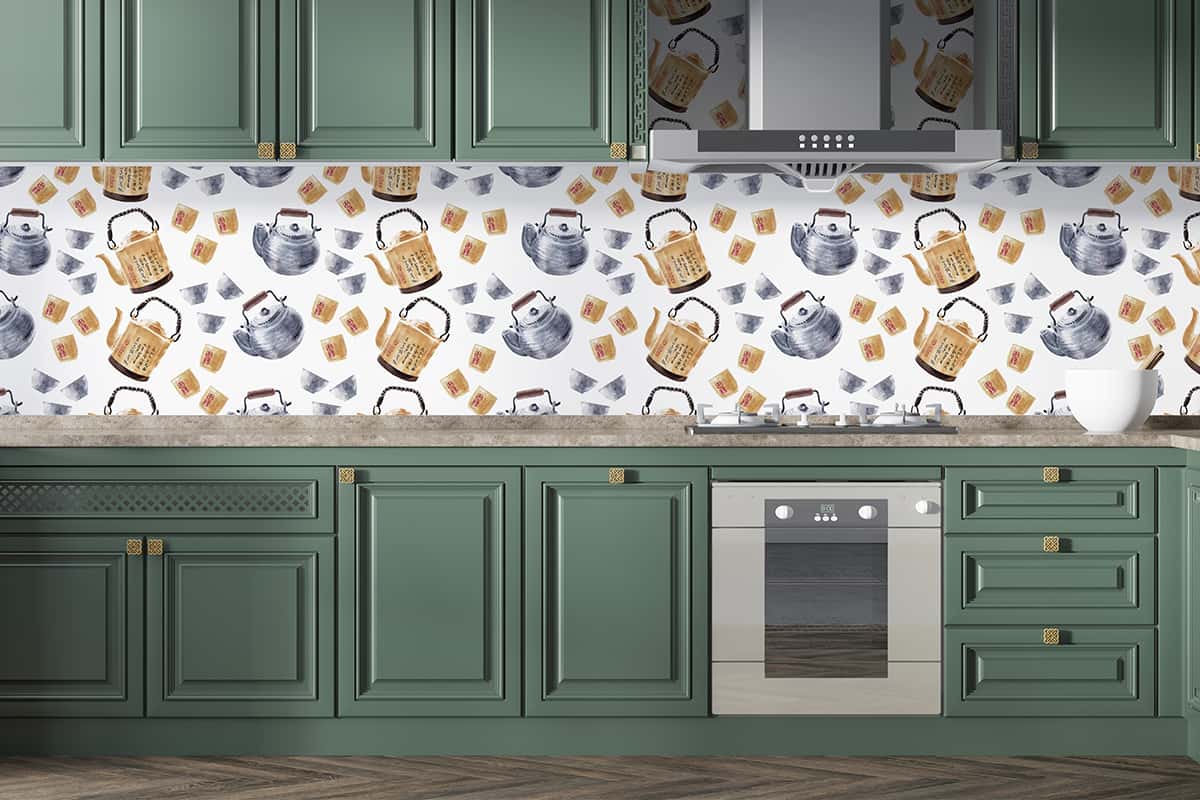 Use teapot wallpaper on the kitchen walls for a classic look to your kitchen. The cabinets and countertop can have a subtle color to add to the classic look.
Light pattern wallpaper for small Indian kitchen design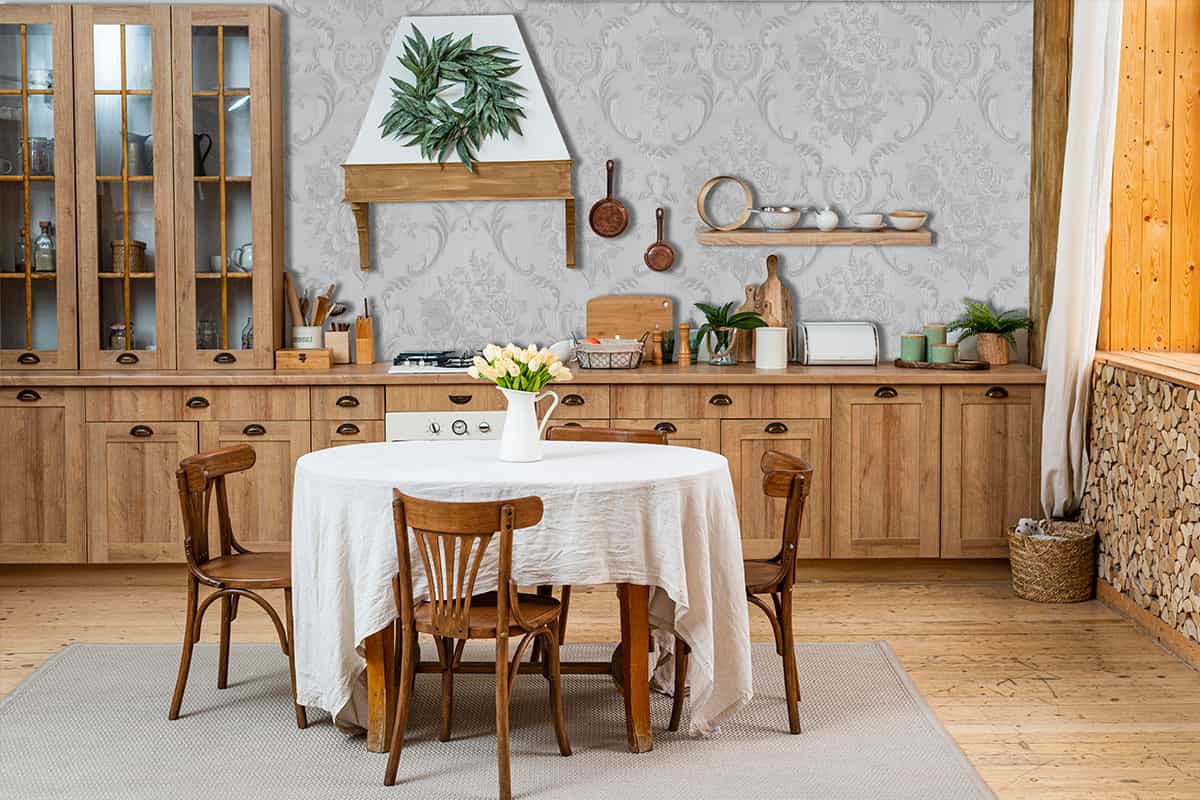 A light patterned wallpaper in a traditional small kitchen will create an inviting ambiance. Usually, a small and cozy kitchen is not an inviting place for many people, and using a light pattern wallpaper will eliminate this feeling.
All white small kitchen design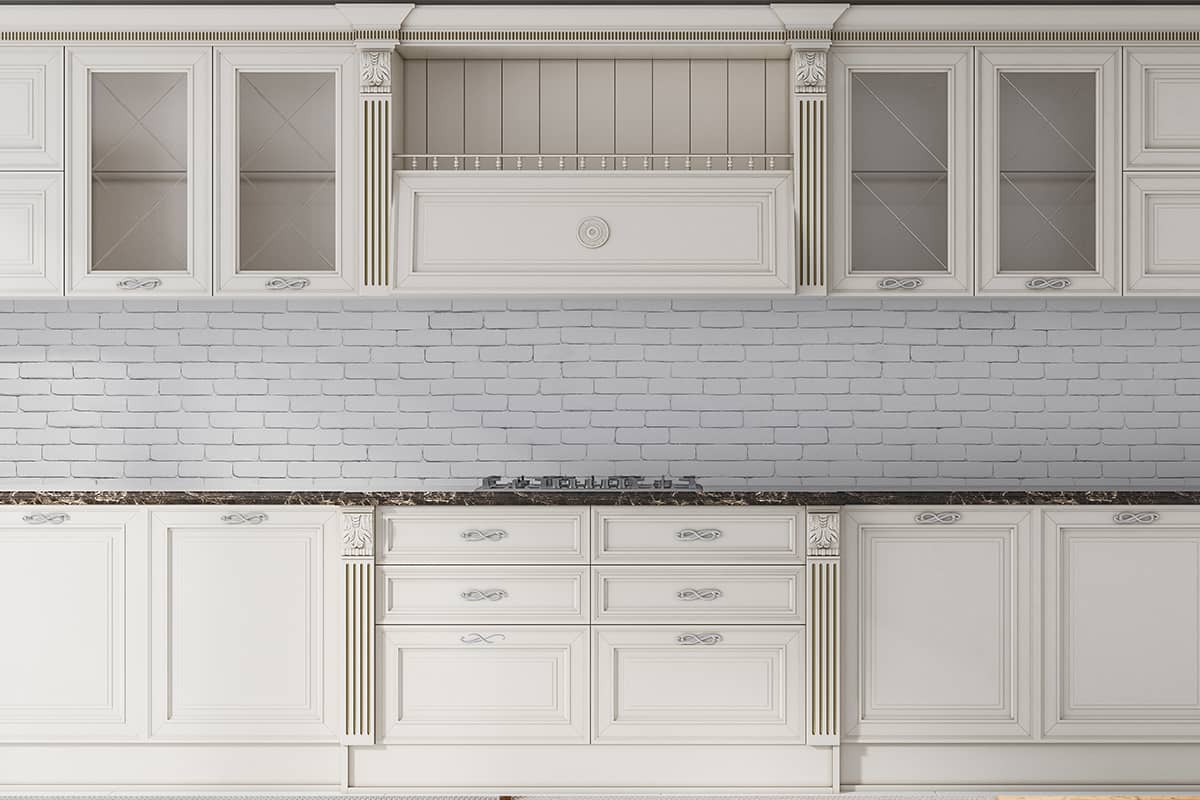 An all-white kitchen is a modern theme for a kitchen that is not to everyone's taste. But if you fancy these very small kitchen design ideas, use a white brick-patterned wallpaper to add an urban glam to the kitchen.
Streamlined design
Avoid bulky hardware on your cabinet and drawers for a more streamlined and sleek look to your kitchen. A monochrome wallpaper will fit in with this design to make it look like a jewel box.
Cozy kitchen design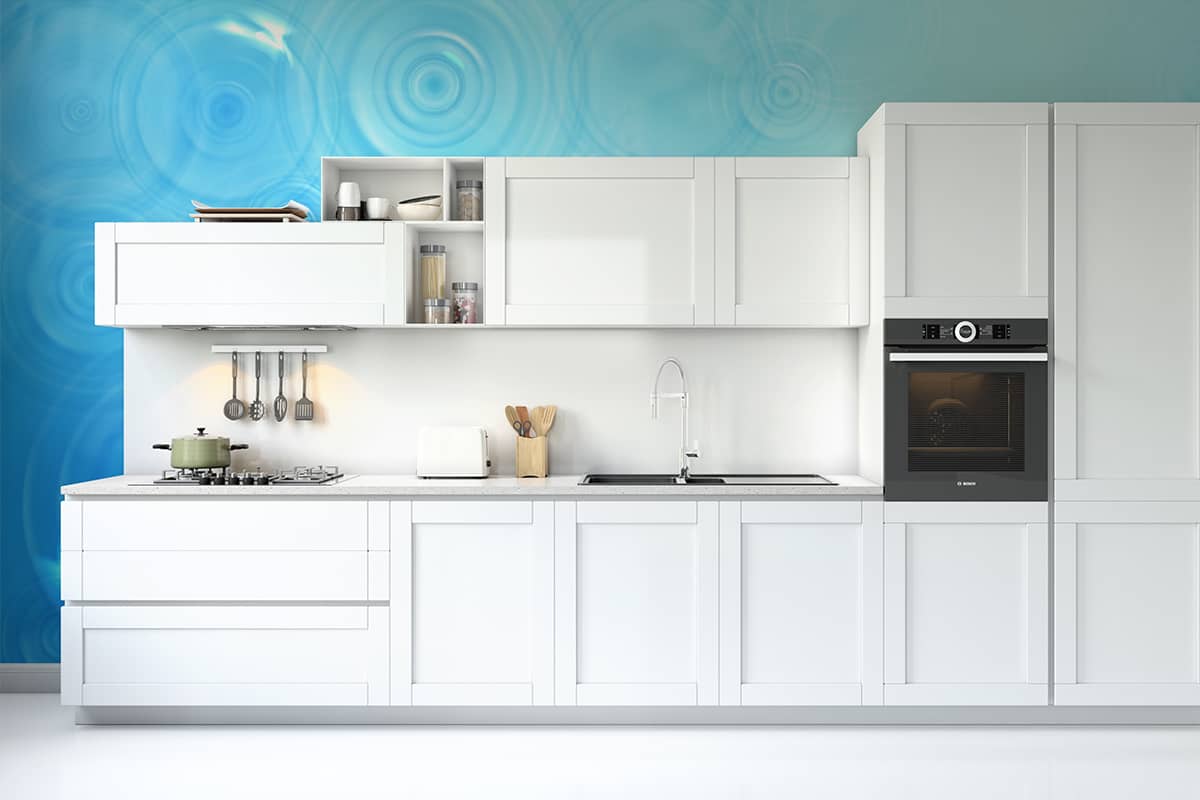 Since you have a small kitchen, take the opportunity to make it cozy by using warm-colored wallpapers and gold fixtures. A small cubic-shaped kitchen will feel cozy with English-style hardware, which will complement the small space of the kitchen.
Wallpaper kitchen design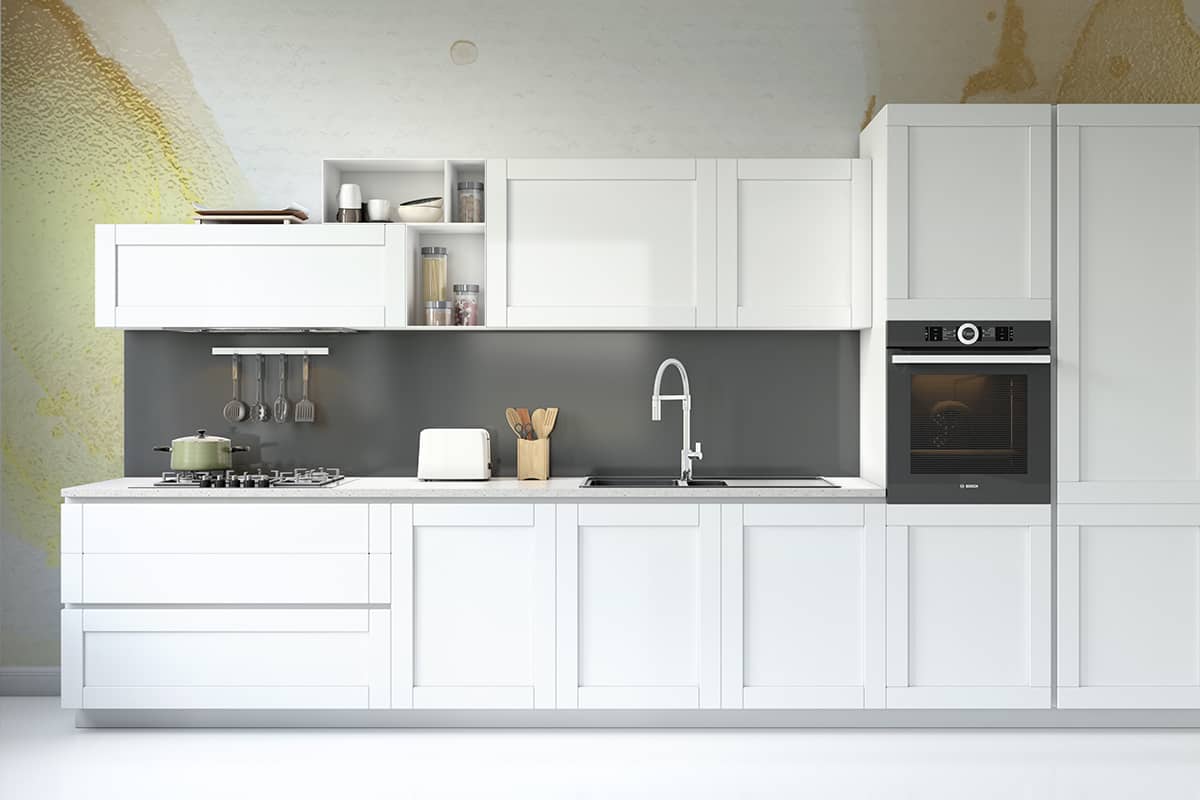 In a small kitchen, there is not a lot of space on the counter or the floor. Make a statement with the help of gold and white wallpaper used as an accent against a smoked mirror backsplash.
Make a statement
Use a bold color wallpaper against a patterned backsplash to communicate the right style statement of your small kitchen.
Metallic sheen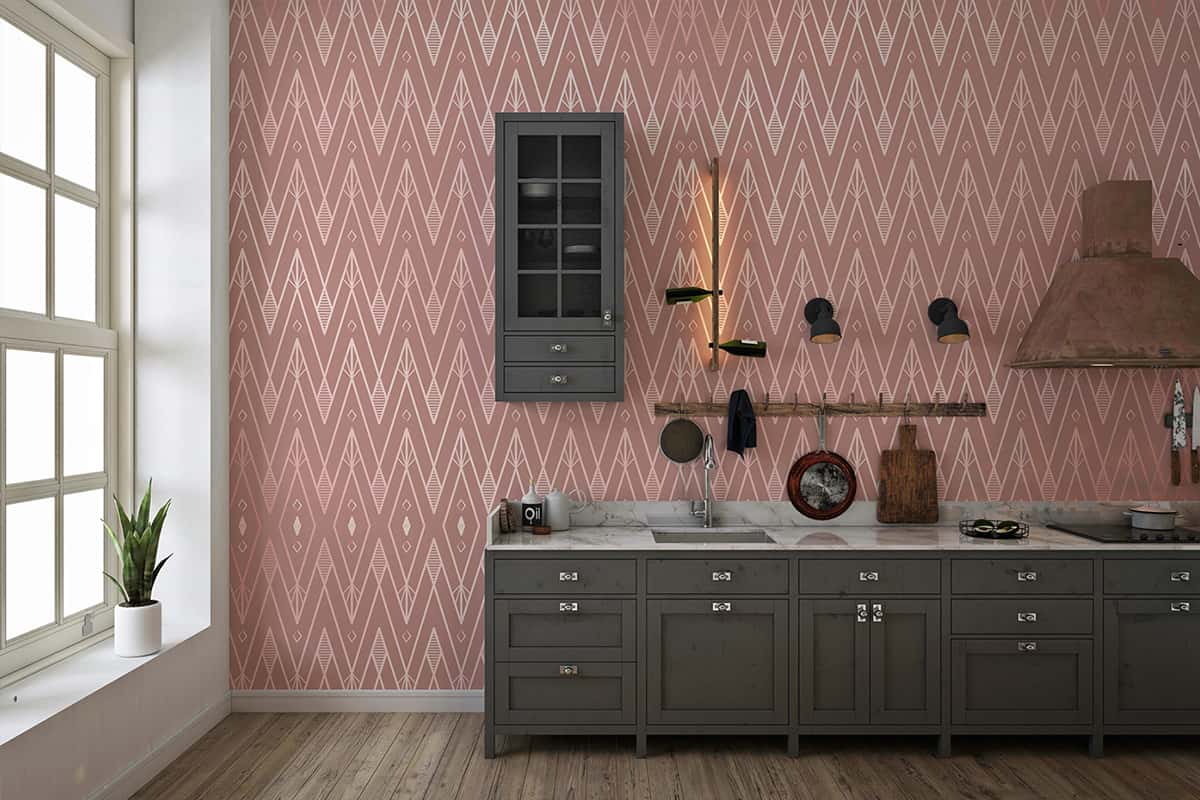 Use a fun wallpaper with a bit of sheen to make a small kitchen look more prominent. It will add a sparkle to the kitchen room, and it will look clean even if you have a few dishes left to wash.
Appliance garage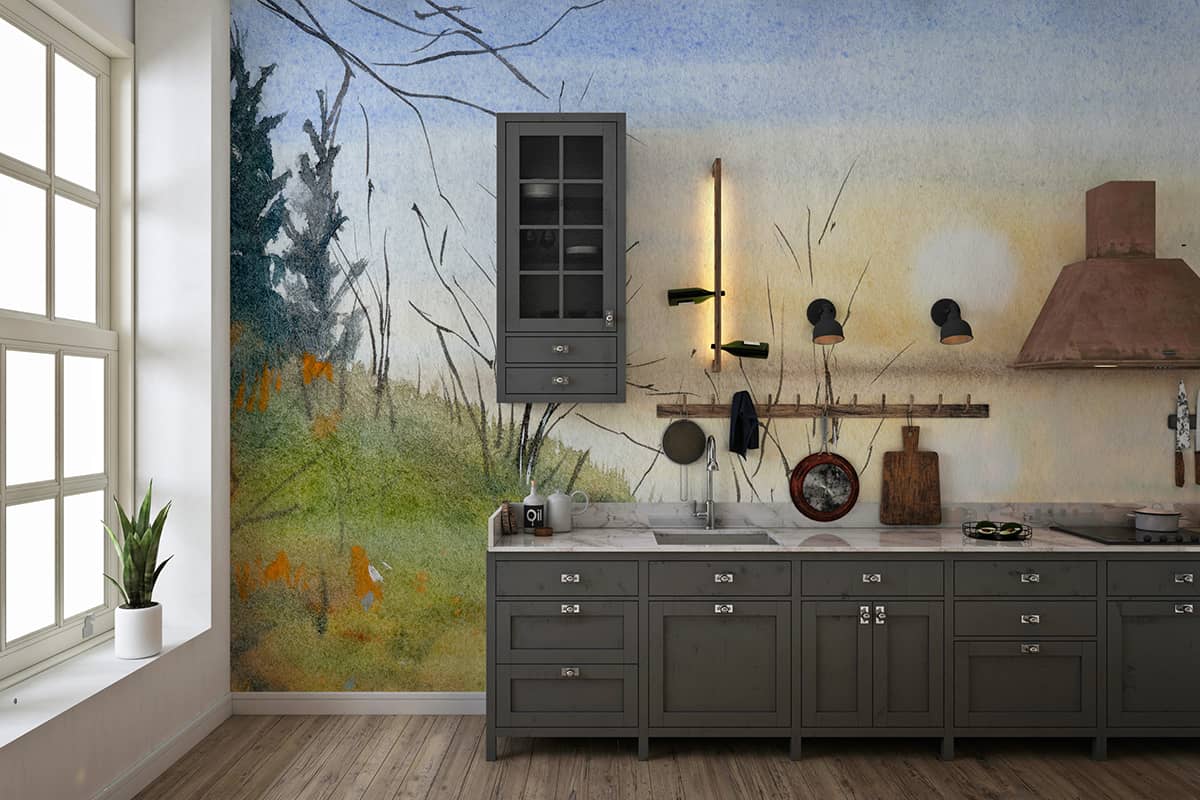 Add a spring-loaded shelf so that a mixer can pop up from its cabinet. A sleek appliance garage to hide a toaster or a coffee maker is helpful to save extra space in a small kitchen.
Tall table
Add a tall table that can overlap with the modern kitchen island as it will work great for a small kitchen space that cannot have a dining table.
Multi-purpose design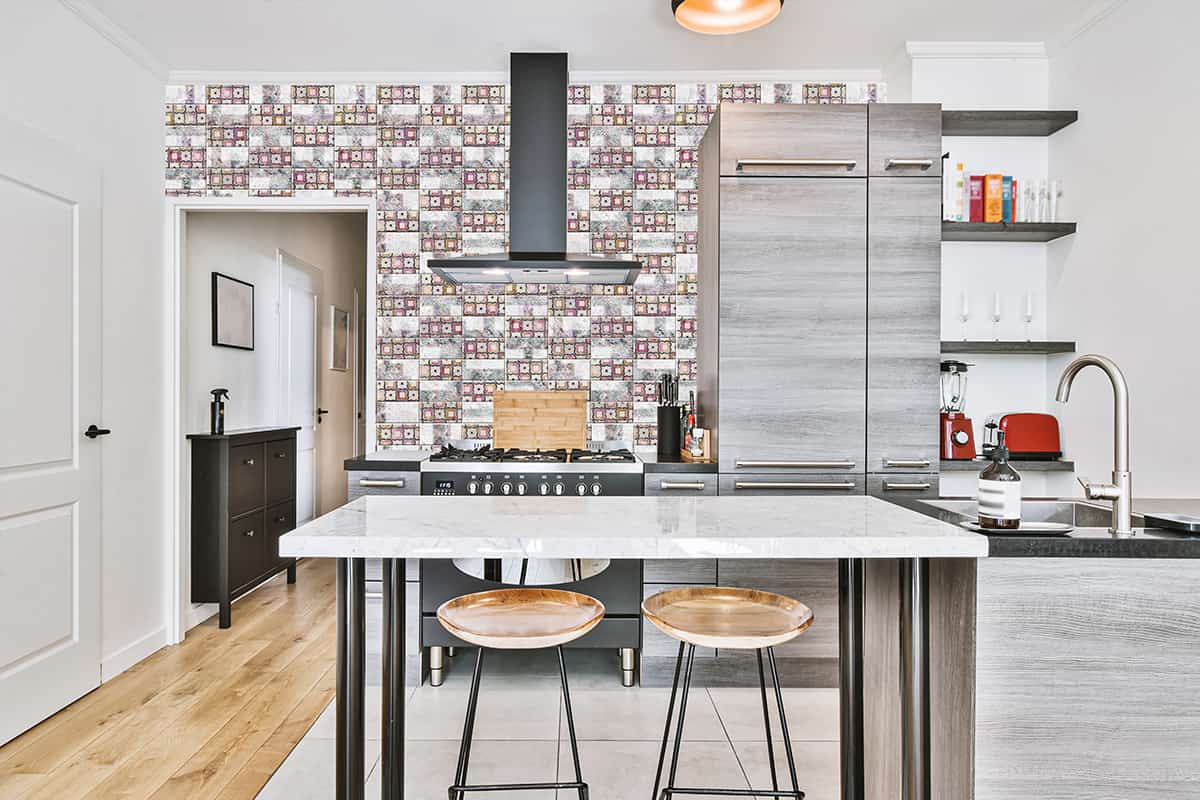 Choose a kitchen island for your small kitchen space, which can work as a counter space while making dinner and as a dining table to eat at later.
Folding doors
Folding doors are a huge space saver and extra helpful when you have a small kitchen space. When guests come over, you will benefit from the spare room our folding doors do not occupy.
Adventours kitchen design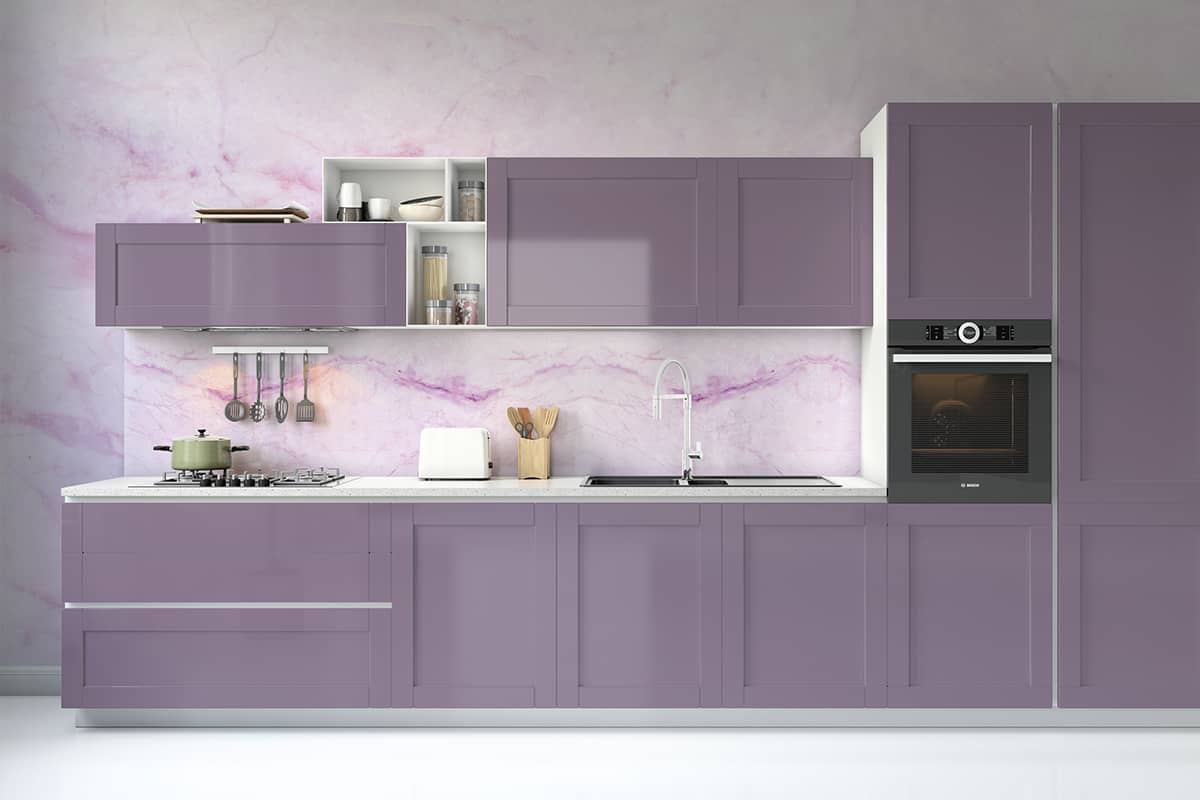 Swirly and colorful wallpapers are an adventurous design combination with rich purple-veined marble and painted cabinets.
Organized design
A small kitchen requires an organized setup as you cannot afford to waste space. Streamline and maximize your kitchen storage space to save extra space.
Floating table
If your kitchen has a blank wall, then install a floating table for extra counter space. Make sure it is foldable so that it does not occupy a large area in the small kitchen space.
Opt for small appliances
If you are working in a small kitchen space, then make sure to get a small appliance that will complement the small kitchen room.
Purple kitchen wallpaper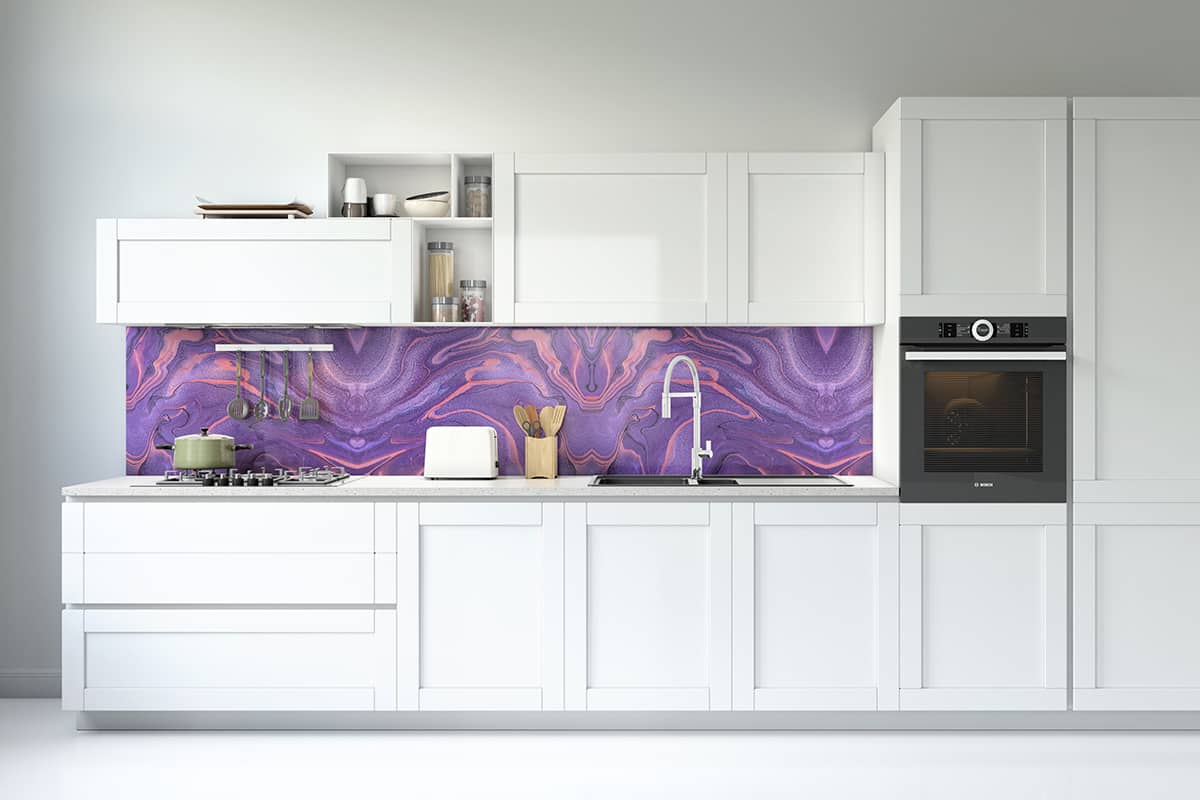 Do you like a white kitchen designs? Couple it with a purple patterned wallpaper to add a pop of color to the white kitchen design.
Lavish kitchen design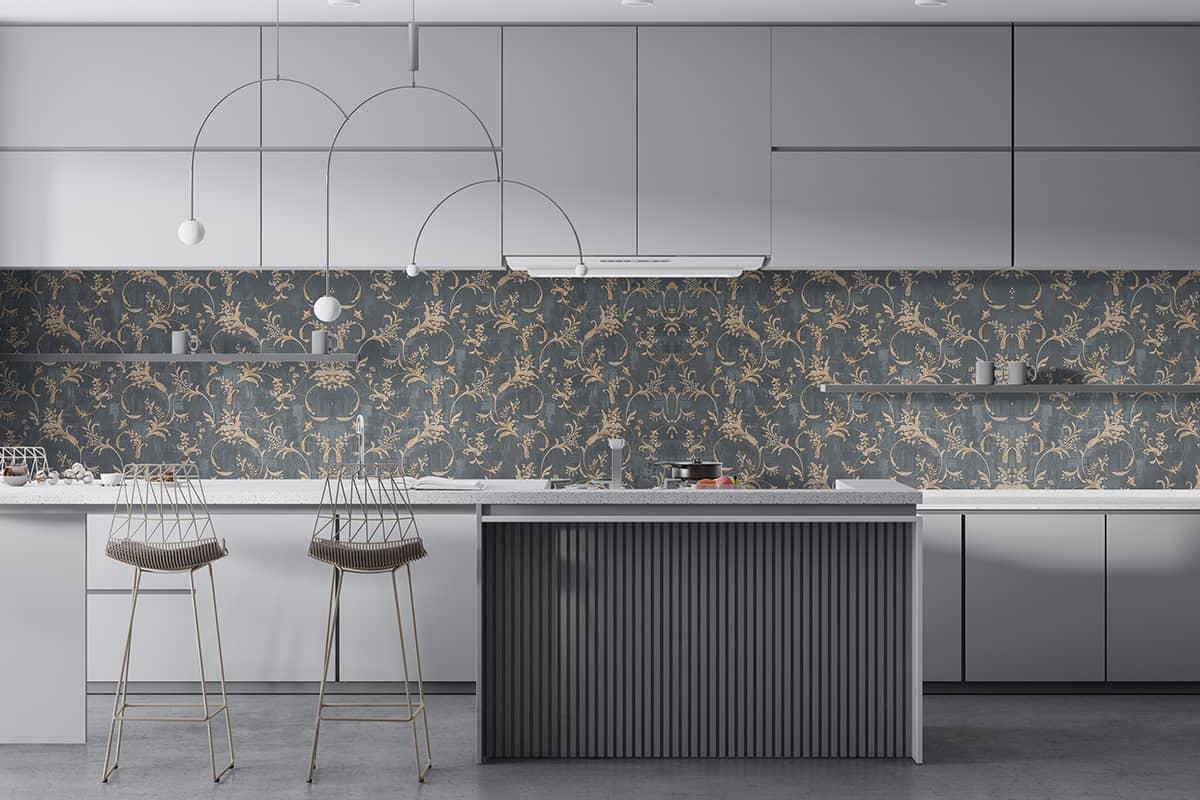 Use neoclassical print wallpaper to give off a lavish vibe in the kitchen room. A 19th-century print wallpaper is an ideal option to go with the lavish kitchen design.
Forest kitchen wallpaper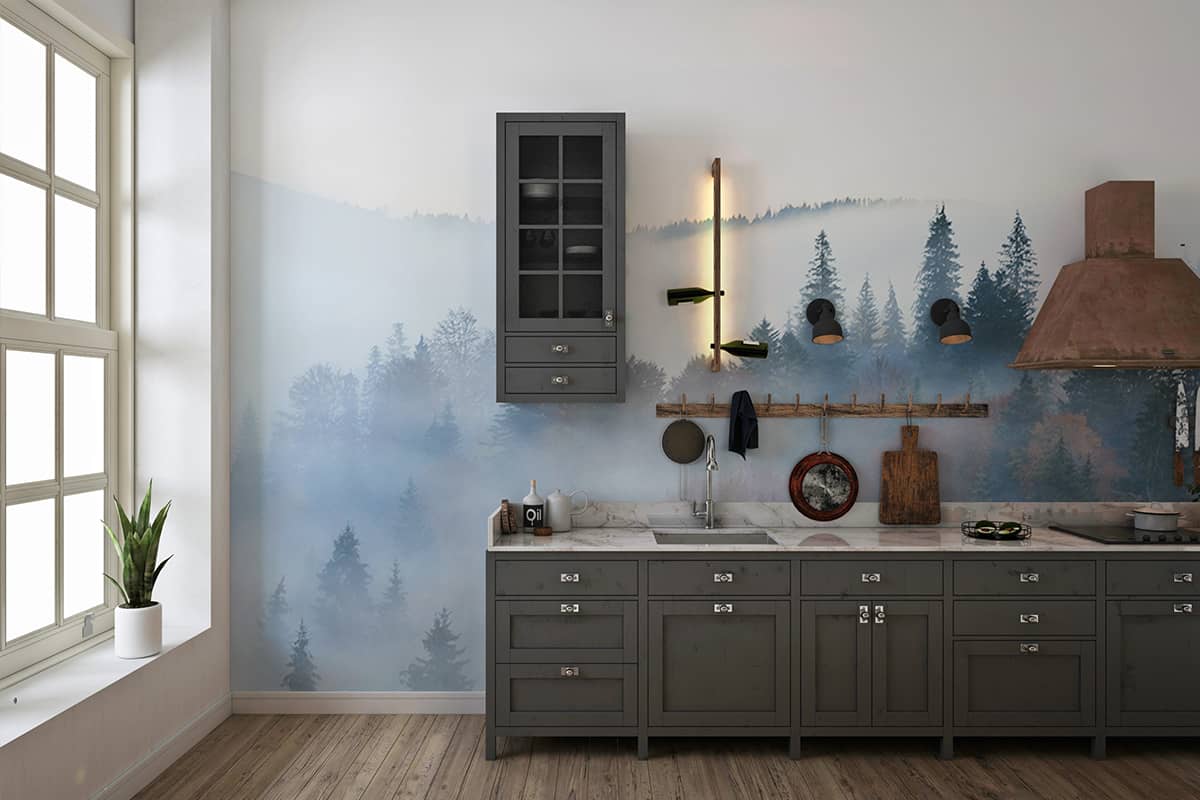 A forest-inspired wallpaper on the kitchen walls will give an outdoorsy feel to a cozy and small kitchen space.
Wallpaper the kitchen ceiling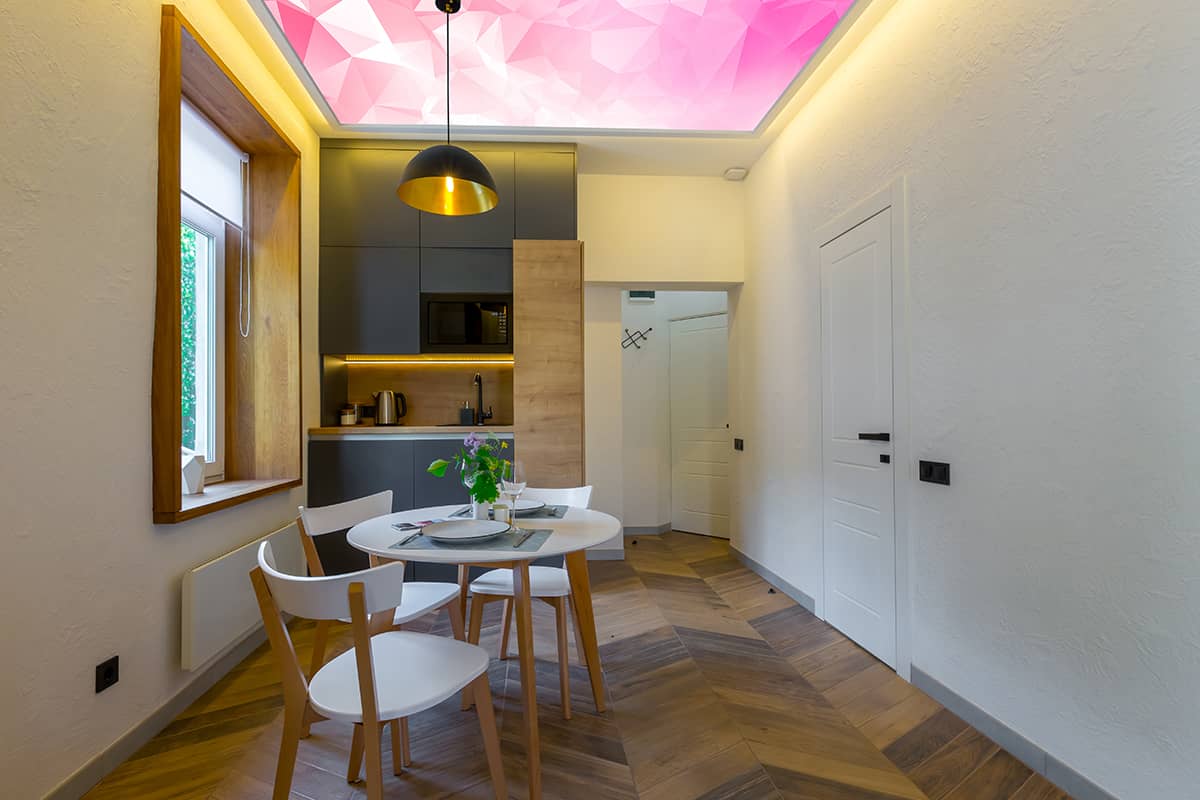 Transform a lackluster small kitchen space by applying geometric wallpaper on the ceiling of the kitchen.
Sunny kitchen design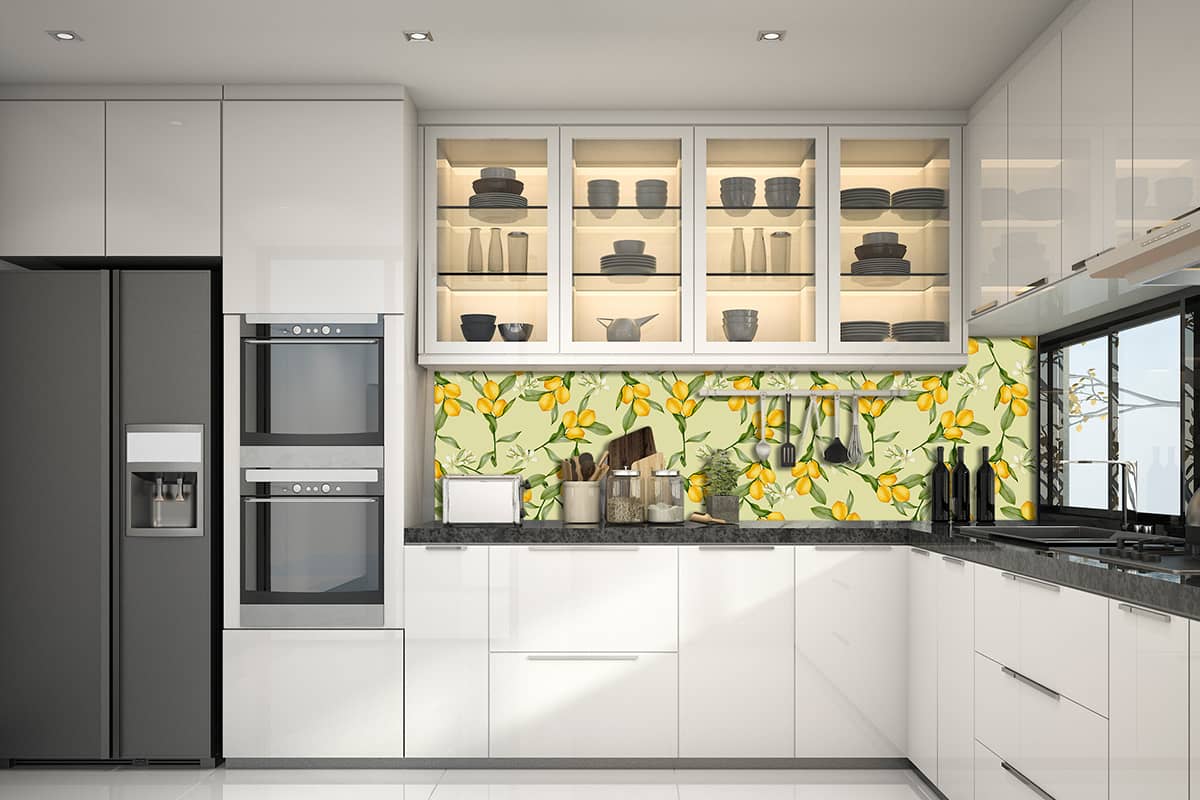 Use a lemon patterned wallpaper to transform a small drab kitchen into a bright and cheery spot for an inviting dining area.
Bold kitchen design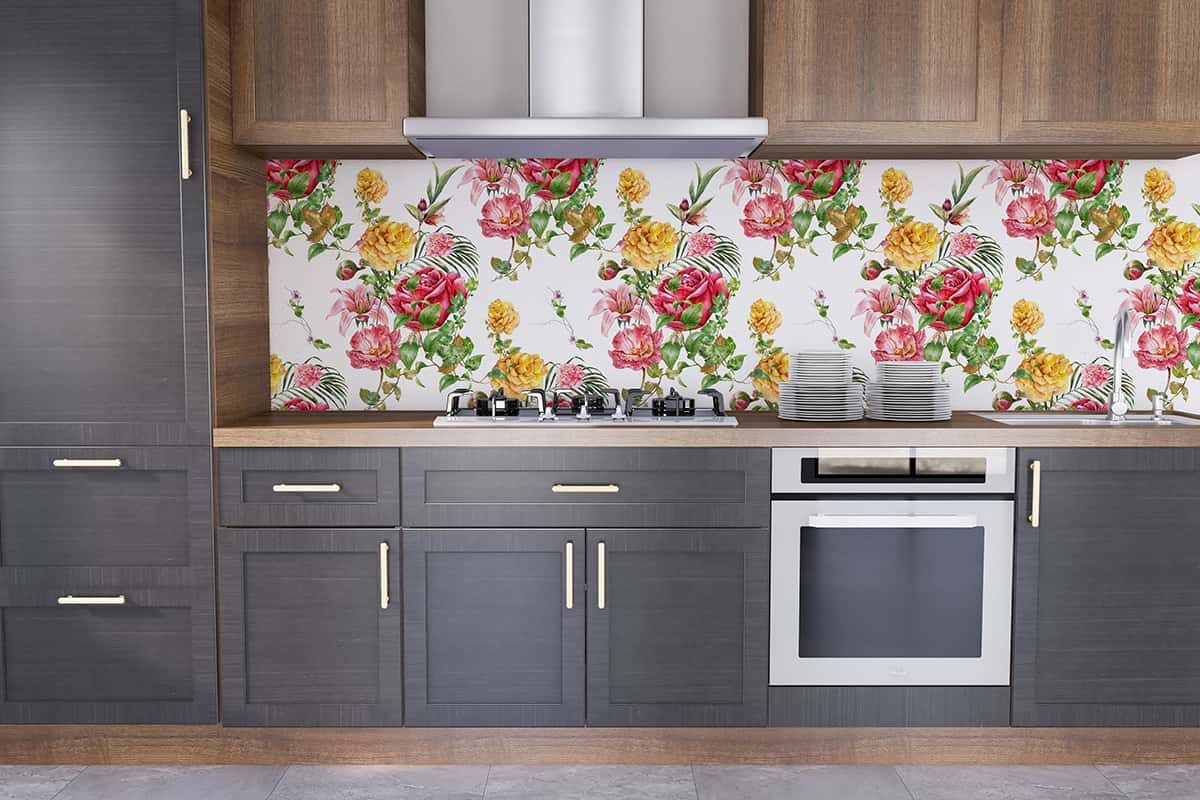 Use a colorful floral wallpaper to turn a small kitchen into a bright and happy place. A bold color to the floral wallpaper will set a theme for your kitchen.
Plaid kitchen wallpaper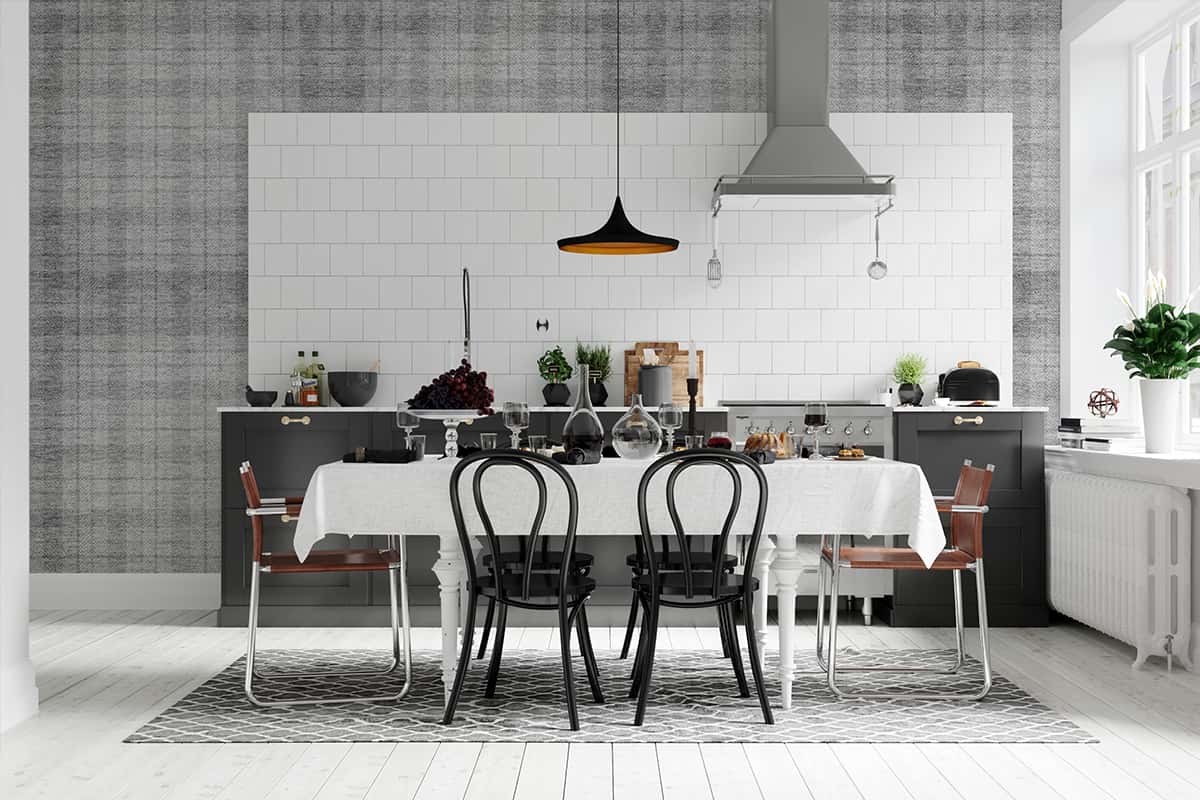 Add a subtle pattern and visual texture to a kitchen through gray plaid wallpaper to give your kitchen a personality without subduing other decorative elements in your kitchen.
Conclusion
Decorate and design your small kitchen with innovative and creative small kitchen design ideas. Wallpaper is a great option to design your kitchen space creatively, as you can even change it in the future if you want to try another theme.
FAQ'S -Schema
Is vinyl wallpaper good for a kitchen?
Vinyl wallpapers are one of the best options for the kitchen as it is easy to clean and better for high moisture spaces. Splashproof and durable wallpapers are made primarily to be used in the kitchen.
Can I wallpaper my kitchen cabinets?
It's possible that you don't like the look of your kitchen cabinet. If you want a quick update on it, then applying wallpaper to your cabinet is a great fix. A pretty patterned wallpaper on your cabinet will look fantastic but make sure to not overdo it as too much pattern can look messy.
Can I use wallpaper as a kitchen backsplash?
Backsplashes are used to protect your walls against kitchen splashes. If you want wallpaper in place of a backsplash, have them custom-made as a contractor to cover the wallpaper with thick tempered glass and make sure to seal off the edges. Wallpaper is flammable, and you must seal off the edge of the backsplash area with a silicone glass sealant.