Lord Ganesha is a prominent figure in Indian art paintings. He is worshiped widely and is considered the Lord for auspicious beginnings, a remover of obstacles, success, prosperity, and intellect. If you want to channelize some positive energy into your home, you must make room for a Lord Ganesha painting.
Plus, Lord Ganesha is an excellent art motif and can fit in beautifully with almost any look. A beautiful Lord Ganesha painting at your home or office is the perfect way to make your space look more sophisticated. Introduce some positivity with this painting.
Ganesha paintings are a great way to decorate one's interiors at home or office as it beautifies the place. Ganesha's relevance extends beyond the Indian subcontinent as people from abroad revere him and admire his figure as an art object.
You can look for Lord Ganesha paintings on canvas or walls or Ganesha-themed art if you want to add a spiritual touch to your interiors.
Check out the various types of Lord Ganesha paintings online on our online art gallery at WallCurry. Select the perfect painting from our extensive collection of Lord Ganesha artworks for your home or office.
Lord Ganesha paintings: decorating your home or office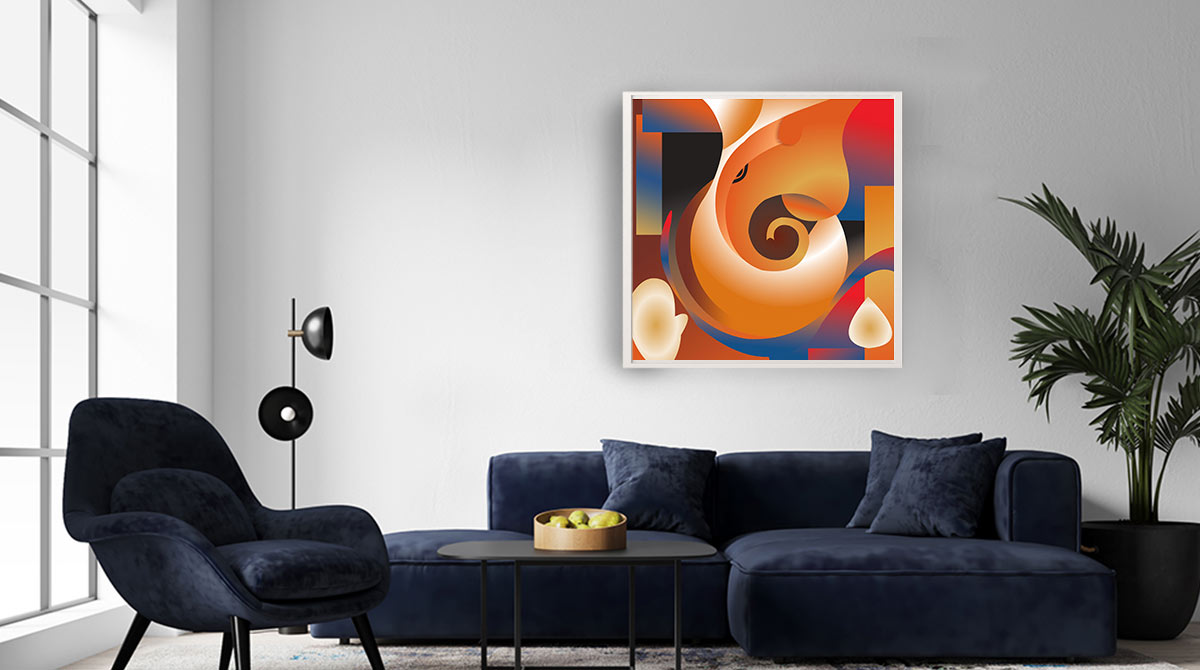 Here are a few tips. Keep these tips in mind while choosing such a painting to decorate your space with:
If you are choosing a bigger Ganesha painting- make it the statement piece on the wall. Ideally, don't hang any other paintings or photographs on it.
Lord Ganesha's paintings come in many colors and forms. Choose one that suits your theme and complements the space.
Experiment with abstract shapes for your sitting area. Go for abstract Lord Ganesha paintings that come in strong colors.
If your home has an ethnic feel to it, using a Lord Ganesha painting where he is depicted as a kid will be a pleasantly unconventional choice.
You can never go wrong with a graphic black and white Lord Ganesha painting.
You can hang fairy lights near your Ganesha painting. Make it look eye-catching and serene even when the lights are turned out.
Look for paintings by or inspired by Jamini Roy. They will immediately give your room a distinct look.
You can make your wall look like a mock shrine by hanging lanterns or diyas from the ceiling near your painting and placing a bowl of flowers on a stool under it.
A Lord Ganesha panel above your sofa makes for an excellent accent. Choose one whose color contrasts with your wall color.
If you want, add a bold frame to add some dramatic effect to your Ganesha painting. Keep the frame simple and of solid color to set off the painting in the best way.
Consider a few things before making a purchase to make sure that your Ganpati painting is suitable for your office or home.
Meaning of Lord Ganesha Paintings and other artworks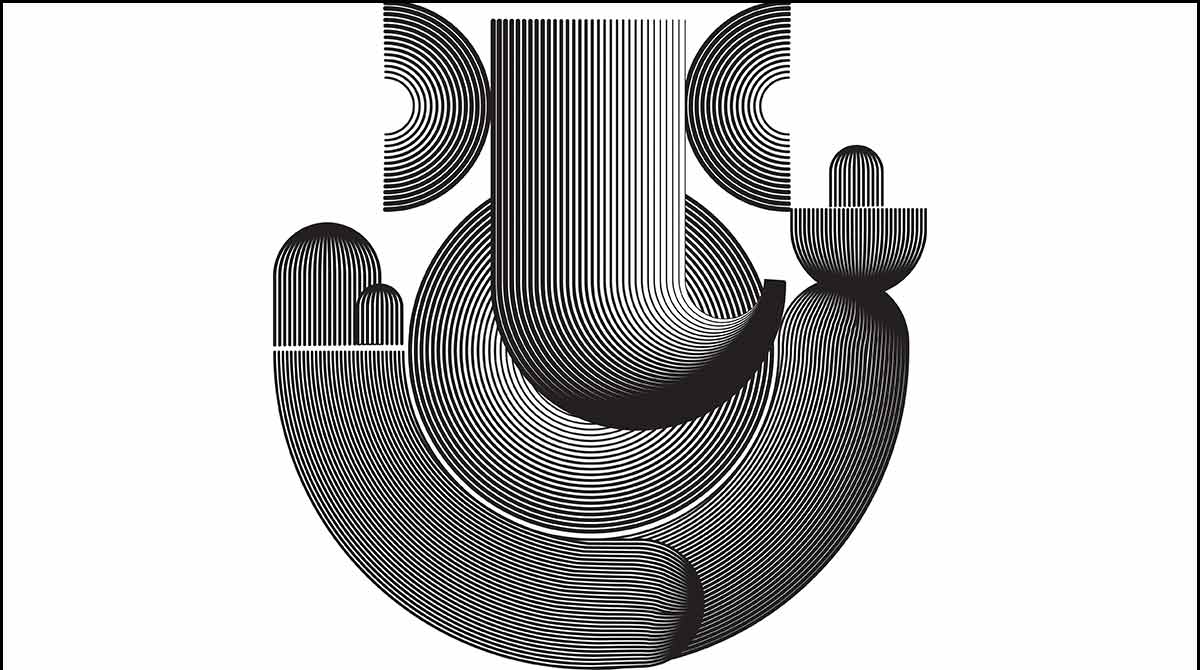 Are you an ardent devotee of Lord Ganesha? Then you must surely know the hidden meaning in the elements of Ganesha's artworks.
Before buying any beautiful paintings of Lord Ganesha or any other artwork, you must be aware of what effect your choice of artwork of Lord Ganesha will have on your office and your fortune.
You must have looked at an abstract painting of Lord Ganesha, some mural paintings of Lord Ganesha, other acrylic paintings, or glass painting images of Lord Ganesha. Have you looked at the minute details of these paintings? Do you wonder what they mean?
Interpretations of paintings of Lord Ganesha images
The head is usually big in Lord Ganesha's art. An elephant's head is replaced with the head he was born with at birth. It is logical that it will be portrayed in a large proportion even in painting. The artists are trying to convey to us that our head(brain) is the most powerful tool we have at our disposal. It has the ability to absorb vast knowledge and wisdom. There is nothing more important than the power of your brain.
In all painting images of Lord Ganesha and other artworks, we see that the belly is usually quite large. A common interpretation of it is that Ganesha used to love sweets, and the large belly is the result of that. The artist wants to convey the real message that we should take happiness and sadness both on the same scale.
If you look at Lord Ganesha, you will notice that one out of the two tusks is broken. There are two interpretations to this specific detail. The first interpretation is that Ganesha broke his tusk and used it as a pen to write Mahabharata. The second interpretation is that Parashuram used a weapon from Lord Shiva to attack Ganesha. He took the blow to keep the honor of his father. These two instances teach us that the broken tusk represents humility and sacrifice. The tiny eye of Lord Ganesha represents focus and high concentration.
It is a common belief that it's a bad omen to keep painting images of Lord Ganesha that have two tusks.
Vastu rules for hanging Lord Ganesha paintings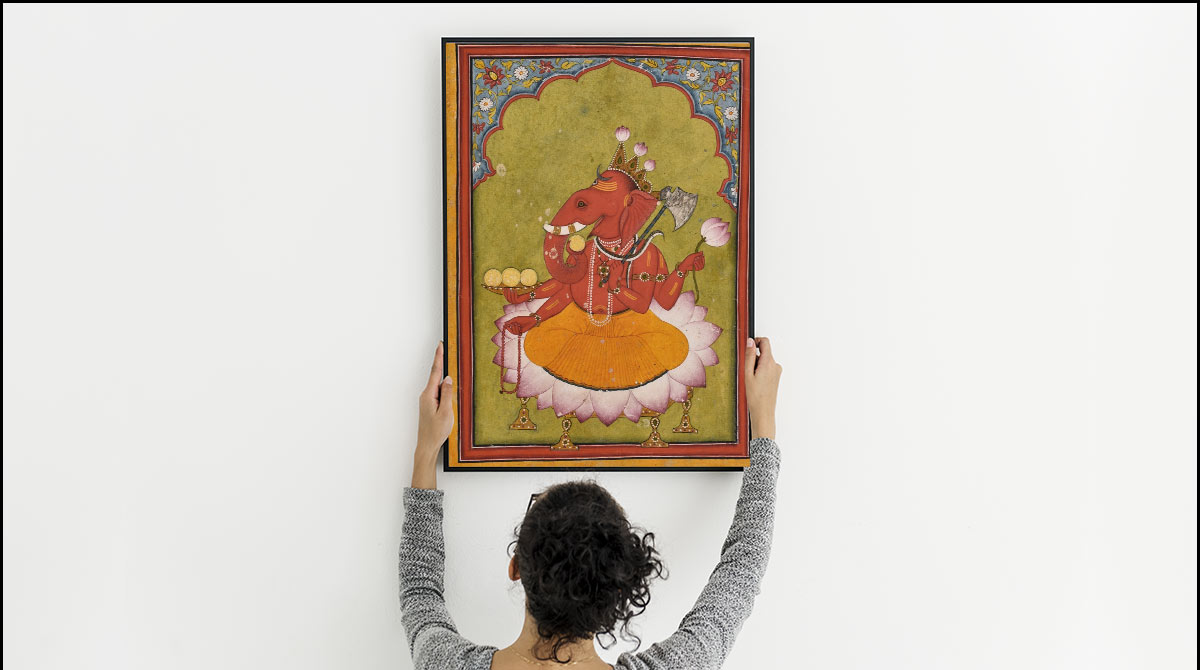 Let these Vastu tips help you place Lord Ganesha's paintings in the proper place for a positive effect. Most of these tips apply to both Lord Ganesha's paintings as well as idols.
Never place a Ganesha painting facing south because it will have adverse effects instead of doing any good.
The most desirable places to hang your painting of Lord Ganesha are west, north-east, or north direction. According to Vastu experts, placing Ganesha paintings in the north or northeast wall will bring stability to your marital life. It is in the direction in which Lord Shiva resides.
To positively affect health, put beautiful paintings of Lord Ganesha in the dining room.
Avoid placing Ganesha paintings near a toilet or a washroom as it emits negative energy. Vacant areas like underneath a staircase, storage room, laundry room, garage, and bedrooms are not ideal places to hang Ganesha paintings. They radiate bad energy.
Place Ganesha paintings at the entrance if you are moving into a new house or have bought a new office. Lord Ganesha's presence is supposed to keep negative energy at bay and usher in prosperity and good luck.
Vastu experts recommend placing white Ganesha paintings in your home or office to invite harmony, peace, and prosperity into your lives. It also brings stability when placed in the right direction in your home or office.
Vastu experts also prefer vermilion color paintings of Lord Ganesha for offices. They are supposed to bring success and growth.
Vastu experts try to discourage people from buying dancing images of deities for prayer rooms. In his dancing form, Ganesha represents the furious forms of deities.
Other vastu experts say that a dancing Ganesha art painting increases positivity if placed in a southeast direction.
We would suggest you take the advice of a Vastu professional expert who can have a look at your home or office, the position and direction it is in, and provide you with accurate advice.
Amazing Lord Ganesha paintings
Are you thinking of putting up an acrylic painting of Lord Ganesha or abstract Lord Ganesha paintings in your home or office? Great decision!
Ganesha artwork is a thing of beauty, and it will add a touch of serenity to your room or office walls. The perfect way to start a new business or start living in a new house is by placing this painting in it.
Lord Ganesha symbolizes wisdom, intellect, and understanding; it is the perfect addition to your home and office. It brings positive energy into your lives if you hang Ganesha paintings on your walls. Ganesha is the symbol of perseverance in the face of diversity.
Having a Ganesha painting on your walls will give you the strength to push through difficult times to come out victorious in the end.
Types of Lord Ganesha Paintings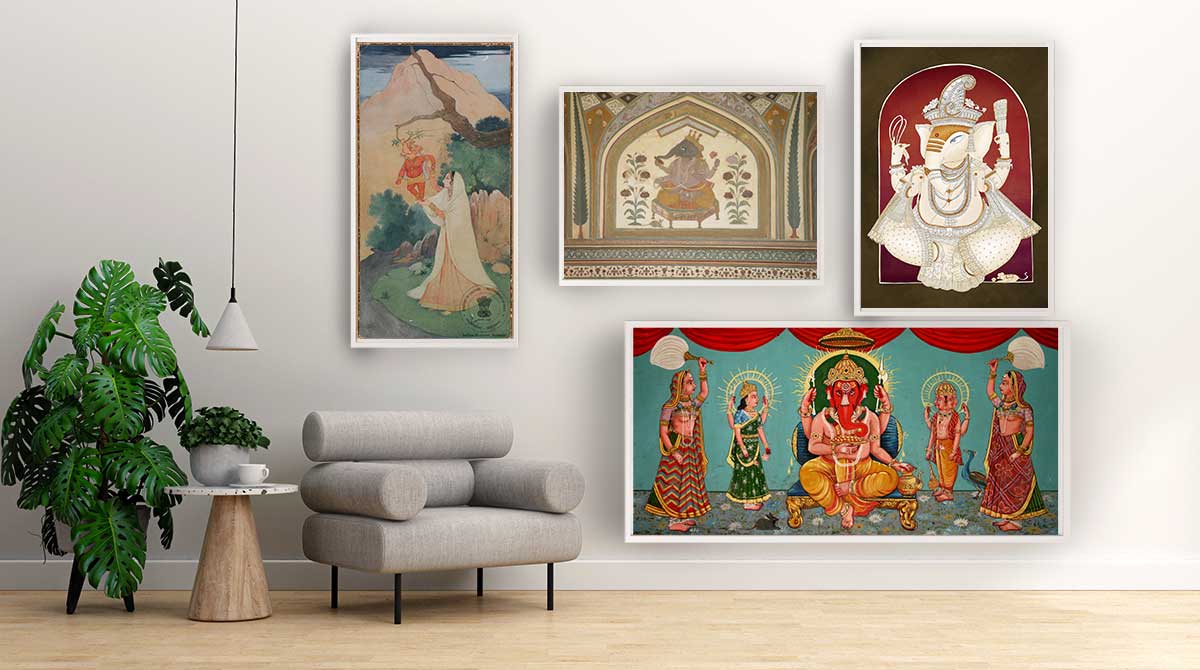 Lord Ganesha has 32 forms. Accordingly, there are 32 forms of Lord Ganesha paintings. Artists depict him in all his forms. The 32 forms are:
Bala Ganpati
Taruna Ganapati
Bhakti Ganapati
Vira Ganapati
Shakti Ganapati
Dvija Ganapati
Siddhi Ganapati
Uchhista Ganapati
Vighna Ganapati
Kshipra Ganapati
Heramba Ganapti
Sri Ganapati
Maha Ganapati
Vijaya Ganapati
Nrtya Ganapati
Urdhva Ganapati
Ekashara Ganapati
Vara Ganapati
Tryakshara Ganapati
Kshipra Prasada Ganapati
Haridra Ganapati
Ekdanta Ganapati
Srishti Ganapati
Uddanda Ganapati
Rinamochana Ganapati
Dhundhi Ganapati
Dvimukha Ganapati
Trimukha Ganapati
Sinha Ganapati
Yoga Ganapati
Durga Ganapati
Sankatahara Ganapati
Artists often depict him as sitting, dancing, or standing in the paintings. Sometimes he is even seen fighting the demons- in some others; you can see him with his family as a kid. You can even find Ganapati in contemporary situations.
One of the most seen paintings of Lord Ganesha is of him sitting with the four arms, which represent the four inner attributes of the mind: Manas ( memory ), Buddhi ( intellect ), Ahamkara ( ego ), and Chitta ( conscience ).
All the four attributes combine to represent Lord Ganesha- which is pure consciousness. Different variations of Ganesha paintings based on different color combinations are also available.
Now that you are aware of the importance and significance of the elements of Lord Ganesha's paintings, you can make a more educated selection while choosing to buy.
Visit the WallCurry website to buy Ganesha paintings online from a wide variety of Lord Ganesha's paintings.
Conclusion
Lord Ganesha is the one who provides prosperity, fortune, and success and possesses beautiful paintings of Lord Ganesha in your home and office. A fantastic painting of Lord Ganesha will be a perfect addition to your life if you have just bought a house or started a business.
FAQs
Which direction should Lord Ganesha painting face?
Lord Ganesha's paintings should face the north, northeast, or east direction. Placing the painting in these directions will ensure stability in your married life. It would help if you did not place a Ganesha painting in an area near a bathroom, toilet, storage, dining room, basement, or garage.
The abstract Lord Ganesha painting should not face south as it may bring more harm than good to your life.
How can I place Lord Ganesha's painting at the entrance?
If you have bought a new house, then placing beautiful Lord Ganesha paintings at the entrance is advisable by Vastu experts. Ensure to check the direction in which the painting is facing when installing it at the entrance. Hanging a south-facing painting is not advisable.
Make sure to take a Vastu expert's advice to look at your home or office and see the directions and position and advise you based on that.
What are the benefits of buying paintings of Lord Ganesha images?
Lord Ganesha's art paintings are auspicious and help keep away the negative vibes in your home or office. Lord Ganesha is known as a destroyer of obstacles.
If you hand a Ganesha painting in your office, it will help you achieve success in your work. Colorful art paintings of Ganesha are beautiful to look at and spread positive energy around the house.