Want to bring in some positive energy into your home or office? You can tap into the power of Vastu to ensure that success and prosperity become a fixture in your life. A common way to do it is to keep a Vastu shastra horse painting at your place. The Vastu Shastra horse painting will act as a lucky charm and infuse your life with positivity.
Vasthu is neither fiction nor superstition, as many in the contemporary world would like to think. As a result of decades of research, Vasthu is a science that has been used for millennia to construct structures like workplaces or homes.
The ancient epic 'The Mahabharatha' mentions Lord Vishwakarma and his knowledge of architectural design in making the Lakshagriha (Wax Palace). When it comes to building, Vasthu teaches the fundamentals, particularly when it comes to harnessing nature's energy for the enhancement of home and society.
Using Vastu Shastra, five fundamental elements – earth, water, fire, air, and sky – are systematically combined to create an attractive environment for living and working. Buildings having Vastu principles in them to improve health and wealth as well as enlightening the environment.
Sky (West) signifies expansions and improvements; Vayu (East, Northeast) joy and happiness; Agni (South) strength and renown; Water (North) spirituality & healing; and Earth (Centre) for stability, peace & harmony.
You can order a seven-horse painting right here.
Want to know why the seven horses are a lucky motif for you? Well, read on.
Horse As Per Vastu Shastra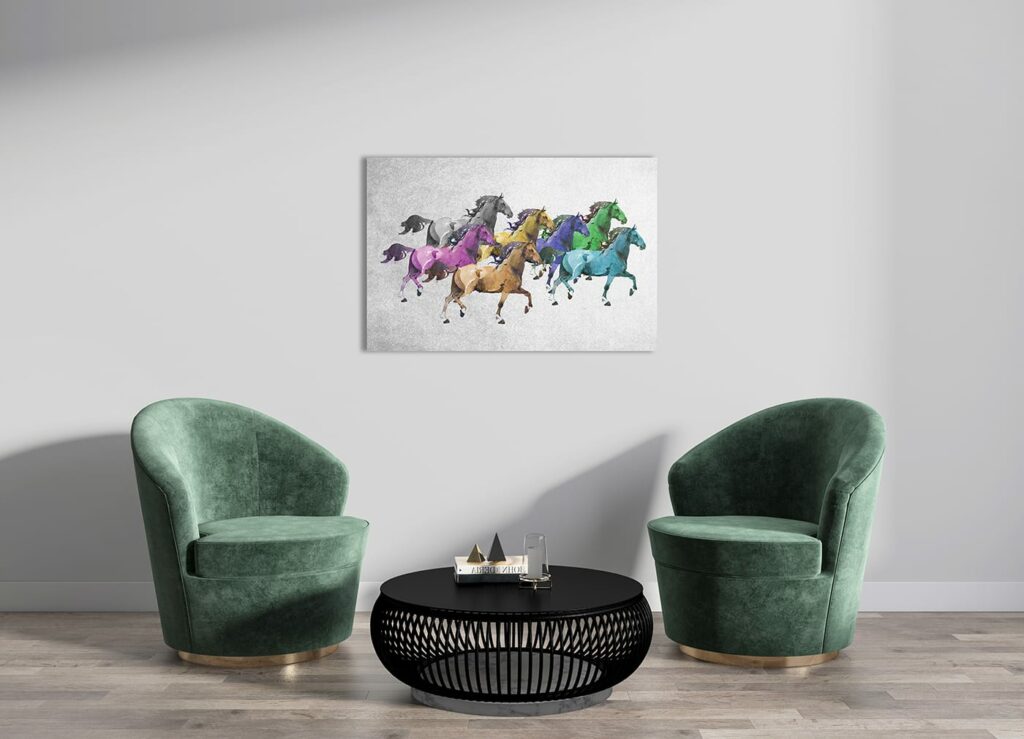 Lord Surya- the Sun- rides a seven-horse chariot in Hinduism. As a result, these seven-horse Vastu shastra paintings are up-and-coming. Vastu has a particular meaning for the seven horses artwork as well. Because the horses are a sign of strength and success, this seven-horse artwork brings success and power into one's life and career.
The picture of seven galloping horses gives a sense of well-being in one's life and helps get rid of bad energy. According to Vastu Shastra, this painting helps maintain the balance of power in one's home. The seven horses in the picture are said to represent peace, prosperity, and development.
Vastu Shastra 7 Horse
The Vastu of the Seven Horses should be pointing in the correct and beneficial direction. The south wall of your home or place of business is the ideal location for seven horse paintings.
A Vastu shastra horse painting should be placed in the correct position. In your house, the South Direction is linked to success and fame, among other things. The south wall of your home or workplace is perfect for a seven-horse painting.
If the South Wall is not accessible, the East Wall of the house should be used as an alternative to hanging the painting. Native American horoscopes are used to determine the location of the east wall.
Horse As Per Vastu Shastra – Important symbolism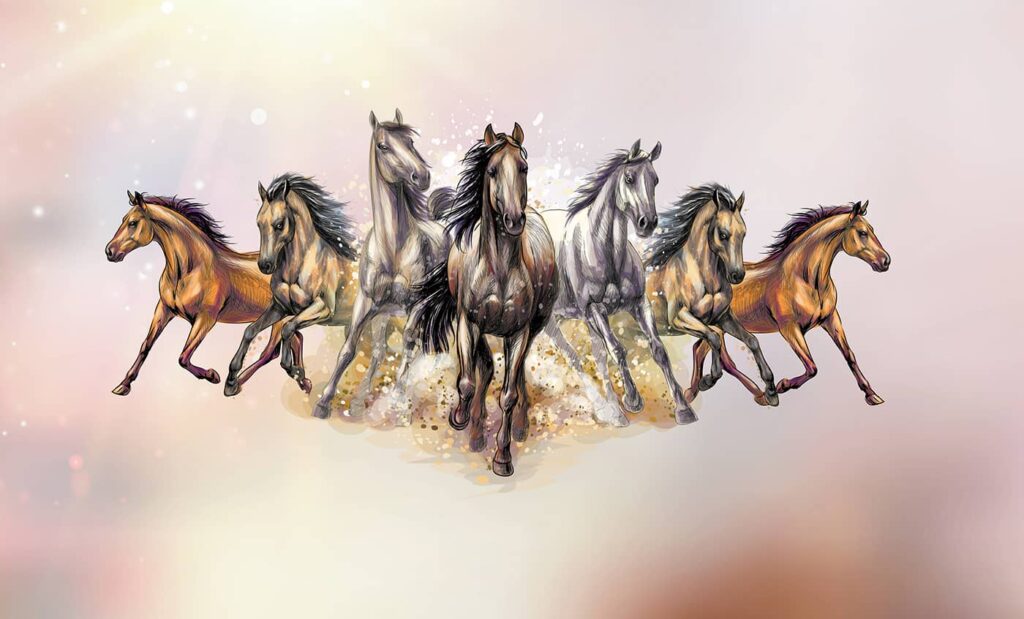 The Vastu shastra horse painting for reception rooms provides more than aesthetic appeal- it also ensures prosperity. Consult an astrologer or a Vaastu expert to know the correct place to feature this painting.
Pay attention to the size of the painting- it should be proportionate with your decor. You can also frame it if you want to make it the center of attention. If the painting is against an orange backdrop or has a rising sun, it would be most ideal.
Since the color orange is a combination of the colors red and yellow, it includes the characteristics of both hues. It symbolizes activity, bravery, enthusiasm, motivation, extroverts, socialization, and an insatiable desire for development.
Feng Shui suggests that the rising Sun, symbolizing strength and success, is blessed with positive energy, which raises the chance of prosperity and attracts accolades, renown, and respect.
Seven Horse Vastu Shastra
In many cases, a horse symbol signifies a significant life event, such as a job change or the birth of a kid. Please hang this artwork in your living room, ideally just inside the entryway. This is said to bring bravery, honesty, and prosperity into your house.
There are several types of Vastu Shastra Horse paintings in the market. Here is one that you can get from WallCurry.
The Vastu shastra horse painting has seven horses in dark hues with a beautiful mellow background to symbolise positivity. Grey colours, by Vastu, help to create a feeling of peace and calmness.
White Horse Vastu Shastra – what does it mean?

According to Acharya Indu Prakash, the colour of the horses in the Vastu shastra horse painting is also important. Though all hues of horses stand for development and positivity, an image of white-coloured horses is preferable for the inside of your house or business.
When horses are galloping, they convey power and vitality. On the other hand, the white colour of horses in this painting communicates serenity and purity. The benefits are that it facilitates learning, quiets the restless, and creates an open and pleasant dialogue in life.
White horses in the Vastu shastra horse painting may cleanse the mind and keep you in touch with your spirituality. Because of this, you should include a painting or statue of white-coloured horses in your home décor.
Significance of the number 7 in Vastu Shastra For Running Horse Painting
The number seven is very significant. According to numerology, the number seven is a holy number that symbolises victory, triumph, ascension, free will, perfection, and security, among other things. The number 7 includes both the number 3 of heaven and the number 4 of the earth; as a result, this fortunate number represents a bridge between the ground and the heavens.
Thus, displaying Vastu shastra horse painting at the lodge, home or office will promote an increase in activity or success and power in your company.
The Seven Horse & the Planet Venus
Venus represents the horse, and therefore its importance is considered when it is in a chart. Placing a seven-horse image without taking Venus' position in the birth chart of the family members into consideration may be harmful. It is a belief that having seven-horse paintings in your home can bring financial stability into your life.
One of the common themes in Feng Shui art and painting is depicting a herd of eight galloping horses. The naming of each horse for its skills and legendary abilities may be traced back to the tale of the Eight Horses of Mu Wang.
According to tradition, they were believed to be as fast as dragons. Because of their link to success and persistence, scrolls painted with beautiful representations of the eight horses are frequently found in commercial and professional settings.
This number refers to the eight most important things in life: a successful career and family, a successful marriage and education, and a happy and healthy life.
Importance Of Running Horse In Vastu Shastra
Keeping a Vastu shastra horse painting in a living room, office, or business space depends on the intention of its use. Consider the horses coming into your house while hanging the painting instead of horses leaving your home.
Progression and fame are intrinsically a part of the south zone of your home. The south wall of your home/office is excellent for Vastu shastra horse painting. If the south wall is inaccessible, the east wall is a good alternative.
Vastu Shastra Horse Image
Abstain from hanging images of horses in your home that have a broken frame or are damaged. This creates a mangled image in the brain and confuses chi energy (characteristic vitality).
The Vastu shastra horse painting should not be hanging in the following locations of your home or office:
at the main door facing out,
near the street,
in front of a toilet or trash can,
and within the home/office facing out the windows.
Steeds should not diverge since this shows aimlessness and a lack of focus and desire and affects your relationships with friends, co-workers, and business partners (s).
Horse Statue Vastu Shastra
A horse in a running form in a picture or statue in the home or office stimulates energy. It generates positive energies in the home, essential for financial stability in life and career development. Though, as is the case with everything Vastu-related, there are certain rules to follow and avoid.:
North is a great location for a galloping horse picture or statue. It is well-known for providing the perfect push in the right direction for your job life, career, children, recognition, and health.
Those aspiring to fame and riches in their vocations should point their horse painting to the south.
To maximise the benefits of a running horse statue, place it in an office, study, or drawing-room.
A galloping horse status should not have a leash. A horse on a leash impedes achievement and growth.
Avoid using a single galloping horse or statue to decorate your home. When keeping a stallion, it should be in multiple pairs.
If you want to place the horse statue in a position other than the south, make certain that it is next to a window and that the horse's face faces the window.
A horseshoe is an auspicious ornament in the home to ensure good health and prosperity. The horseshoe doorknob is particularly effective in attracting good energy.
Wearing a horseshoe ring on the right middle finger is lucky, and the belief is that it fends off evil.
It is a positive indication to place a painted horse in a jumping position with its right foot pounding and its tail lifted on your study desk. It is a sure way to ensure wealth and pleasure.
Rather than anger, a horse's image or statue should radiate joy and serenity.
Pancha Pakshi Shastra For Horse Race
Pancha Pakshi Shastra originates from Tamil literature from the ancient period. The Sanskrit term Pancha Pakshi refers to five birds. This custom is based on five components. Its use depicts how the state of elements has an impact on individuals.
Pancha Pakshi classifies all individuals into five different kinds of components and assigns everyone a birth date. The birds synchronise with a particular element and experience state changes in response to a complex system.
Pancha Pakshi Shastra is not the same as the "Pakshi Shastra" used by Indian nomads, in which a parrot chooses a card from a deck to predict the future.
The Pancha Pakshi method has a remarkable resemblance to the Pancha Bhuta system. The Pancha Bhuta, or Vedic Astrology's Five Elements, represented by five birds, exerts influence and control over all human actions.
Each of these five pullu birds is unique in its way; they take turns emitting their powers throughout the day and night in a unique sequence.
Individuals use Pancha Pakshi in everyday life as it is a practical technique. It allows individuals to live meaningful lives on all levels, mental, physical, and even spiritual. Its use can also be in the prediction of horse races.
Conclusion
The horse is a symbol of perseverance and determination. Additionally, it symbolises reliability and accomplishment and the capacity to handle and capitalise on possibilities. The Vastu shastra horse painting promotes the building of new ideas and its seamless execution in business settings.
Allowing Steeds to proceed indicates that you can cooperate effectively with one another. When hung in the home or office, it serves as a reminder of triumph, achievement, and accomplishments.
FAQs
Is there an astrological meaning to Seven Horses according to Vastu Symbolism?
The number 7 is fortunate in several different situations. It is important in the calculations of numerological luck and positivity since it is a prime number. Number 7 symbolises many good aspects of life – for example, the seven colours of a rainbow and the Hindu concept of saat Janam, or seven lives, to mention a few examples. As a consequence, the number seven is auspicious as well as the horse itself.
Second, what kind of horse paintings should you refrain from exhibiting in your home?
Keeping Vastu shastra horse paintings enormous off the walls unless you have a good reason to do so. Additionally, it is important to avoid pictures of horses with angry expressions or other unpleasant emotions since they may imply a negative attitude toward the animal, counterproductive.
Make sure that the pictures are visible on the canvas when you hang a painting of seven galloping horses before you put it up. Distorted images may lead the chi energy to become confusing, enabling good energy to and transforming it into negative. Obtain the advice of a Vastu specialist before making any changes to your home or office space.