It is an auspicious sign if you hang one of the Radha Krishna paintings on canvas on the wall of your home. Lord Krishna is one of the avatars of Lord Vishnu. Hindus celebrate his birth on the eve of Krishna Janmashtami or (Gokulashtami in Maharashtra). Lord Krishna is a powerful incarnation of Lord Vishnu.
Radha is an incarnation of Goddess Laxmi. Their love story is eternal and has inspired artists for centuries. Get some Radha Krishna paintings on canvas for your home, and celebrate their divine love. Infuse your home with an aura of peace and love.
Visit WallCurry to go through its online art gallery of Radha Krishan paintings on canvas. Buy paintings online of your choice on this site.
Different Radha Krishna paintings on canvas for your home
When you are decorating your home, you want to make sure that the home's aura is calm, refreshing, full of love and care. There are many ways to achieve this aura, and one of the many ways is to hang Radha Krishna paintings on canvas in your home. Below we discuss the importance of different Radha Krishna paintings on canvas, which can positively affect your home.
1. Krishna Radha canvas painting
To elevate the energy in your home, you must hang Krishna and Radha canvas painting in your bedroom and the living room. It creates an aura of peace and love, according to Vastu Shastra.
2. Radha Krishna oil painting on canvas
Spread positive vibes in the living room by hanging a Radha Krishna oil painting on canvas. As most people are present and socialize in the living room, it is the perfect place to hang an art painting to spread tranquil vibes.
3. Art paintings for romantic vibe
A Radha Krishna canvas painting that depicts the divine lovers sitting under a tree against a moonlight sky is very suitable for a bedroom. Such a painting depicts a certain level of intimacy that fits perfectly in the bedroom.
4. Acrylic canvas painting of Krishna Radha
A Radha Krishna acrylic painting on canvas depicting the love between the two divine souls is a perfect choice for the bedroom. Newlyweds looking to decorate their homes can choose such a painting to imbibe their relationship with the same love and affection.
5. Radha Krishna canvas wall painting
Apart from home decorations, Radha Krishna canvas paintings also bring peace and happiness to your home. Radha and Krishna represent eternal bliss and bring good fortune to their devotees. Elders say that if a house has its idols or paintings, the deities will bless it with happiness and joy.
Wall paintings that show Radha and Krishna engaged in "abhishaar" or meeting in secret are a thing of beauty. Not only do they enhance the show of your room, but they also bring in some peaceful energy to it.
6. Baby Krishna paintings on canvas
Many parents name their child Krishna because of the child's nature similar to that of baby Krishna. Therefore, it is said that hanging a painting of baby Krishna will beget a child, like Krishna, who is innocent and mischievous just like him.
Not only that, baby Krishna or Balgopal shows the playful and mischievous side of God. Be it stealing butter or playing, Sri Krishna's child form invokes "vatsalya" or the feeling of caring for children. Balgopal or Balkrishna also performed many miracles- but he still remained Yashoda's doting and mischievous kid.
7. Radha Krishna paintings on canvas with cow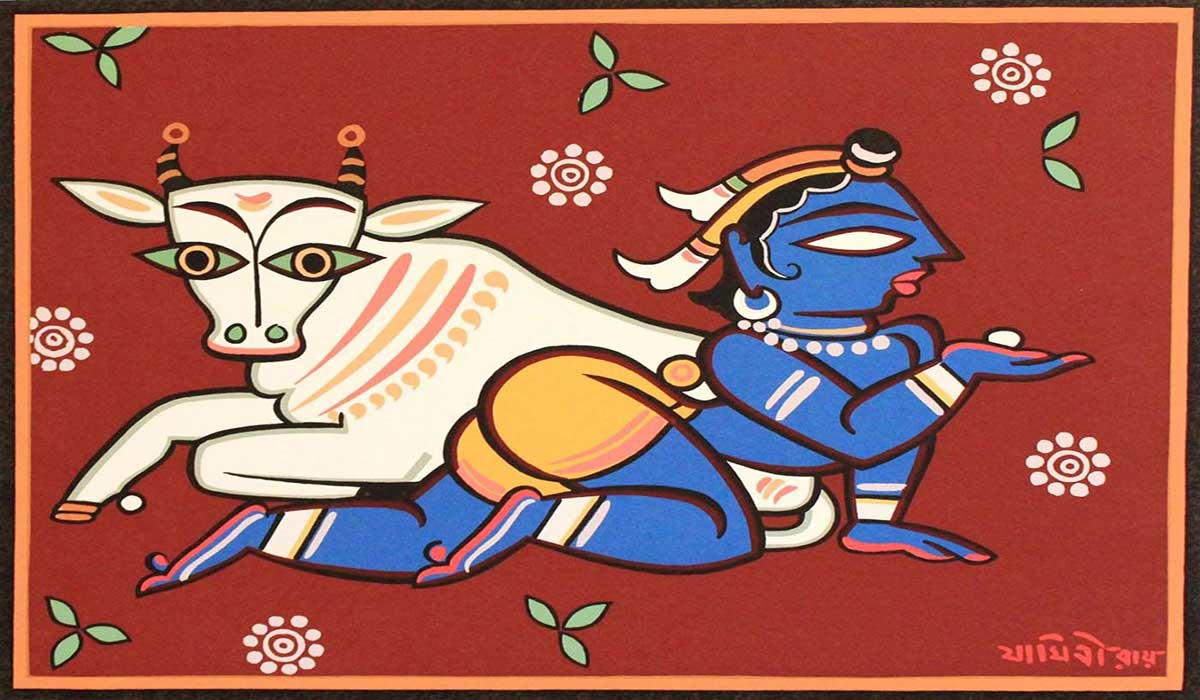 Cows are holy according to the Hindu scriptures. Lord Krishna has immense love for cows, and a painting depicting Radha Krishna with a cow in the background is auspicious for your home.
Another name for Lord Krishna is "Gowardhan," or the one who protects the cows. Sree Krishna is the divine shepherd, and in his adolescence, he guarded his father Vasudeva's cattle while they grazed. He played his flute while watching over the cattle.
8. Krishna with flute painting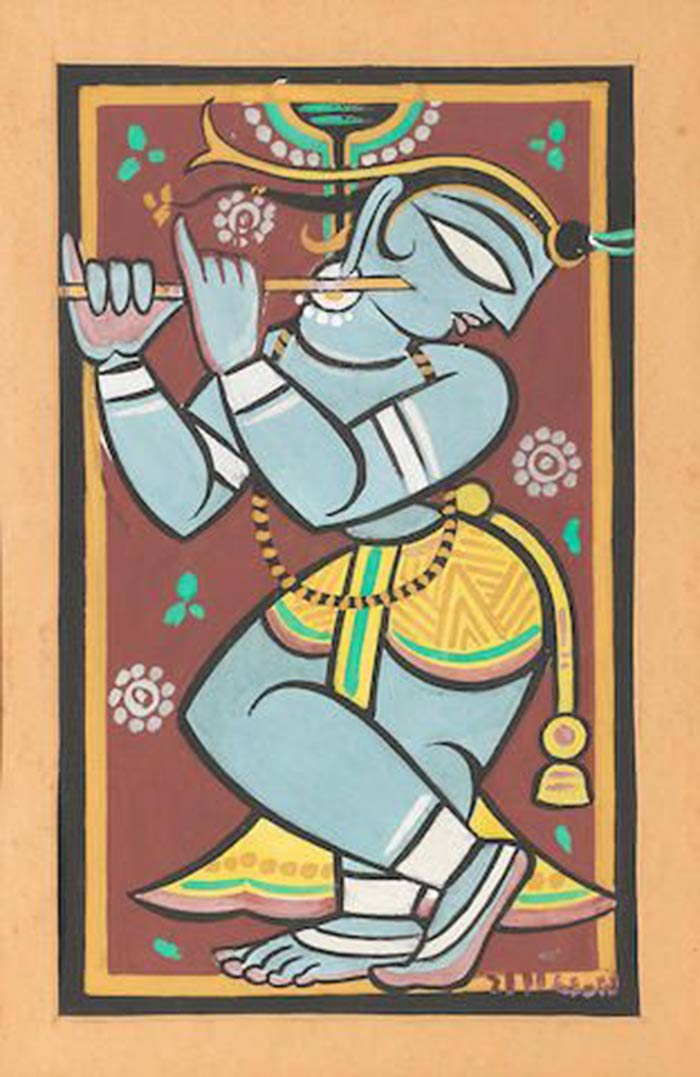 You can see the association of the flute and Lord Krishna quite strongly in paintings. As we said, Lord Krishna played the flute while he acted as a shepherd. He is the most skillful flute player of all time. Krishna's music have an enchanting effect on the world.
He beckoned Radha by playing his flute- and though all Gopis were mesmerized by its sound, Radha could never resist its call. It is the reason why many paintings depict Radha with Krishna while he is playing or holding the flute.
A Lord Krishna canvas painting where he plays the flute forms the perfect piece of ethnic art to liven up your room.
9. Blue colored Radha Krishna paintings on canvas
Lord Krishna usually has blue skin in paintings and images. Ever wondered why? While the name "Krishna" means "dark-skinned," artists have drawn him in blue through ages. It is because Lord Vishnu is endless like the sky- without beginning or end.
Radha Krishna paintings on canvas that show him to be of blue skin has a "blue" aura. A blue aura is that of inclusiveness. Anybody and everybody can worship and approach the Lord, and a painting that shows him in this avatar makes your home a welcoming, wholesome place.
10. Radha Krishna oil paintings on canvas
Brighten your room with a deep blue-colored oil painting of Radha Krishna that will bring some serene energy to your home. Go for a monochrome decor theme- with contrasting shades of blue; you can make the room feel like an extension of the painting.
11. Colorful painting for your home
Radha in colorful attire and Lord Krishna in his yellow robes make for attractive artistic motifs. Paintings that show the divine lovers at their colorful best are a visual treat to the eyes.
12. Radha Krishna paintings modern art on canvas
The beauty of the Radha Krishna motif is that it is evergreen. It is a versatile theme- and adapts very well to modern styles and a variety of aesthetics. Go for a modern take on Radha Krishna- your room will be a unique study in fusion style.
13. Madhubani paintings of Radha Krishna
Madhubani's painting style originated from the Mithila region in Bihar. Females practice this art form, and their paintings are distinct in style and a feast to the eyes. Radha Krishna is a very popular Madhubani motif.
With beautiful floral and geometric patterns in the background, a Madhubani Radha Krishna painting will light up your home.
14. Radha Krishna by Yamuna side painting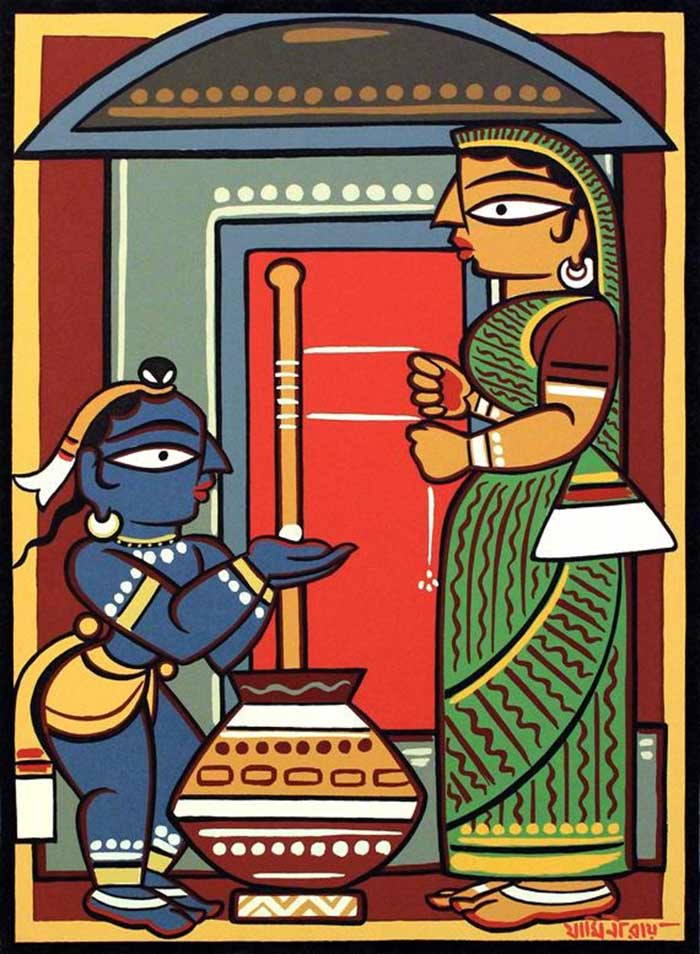 A painting that shows Kirshna embracing Radha on the bank of river Yamuna is a must for any devotee. After all, the river Yamuna is an integral part of their love story and remains the river most prominently associated with Lord Krishna.
15. Phad Radha Krishan paintings
Religious-themed Radha Krishna artworks are Phad paintings that originate from the state of Rajasthan. The phad paintings have a common theme of depicting Radha and Krishna in a state of bliss.
16. Tanjore paintings
If you are decorating your home and looking out for paintings, then Tanjore paintings should be on your list. Tanjore art paintings of Radha Krishna represent the wholehearted love between Radha and Krishna. It is one of the few styles of painting that have an emboss on it. Some of the areas with elevation from the surface of the paintings provide a 3-D look to it.
17. Pichwai Paintings
Pichwai paintings are made on fabric and paper, and you can frame them to hang on the interiors of your wall. These Radha Krishna's paintings beautifully represent the devotion of Radha and Krishna to each other's souls for eternity. The unique feature of a Pichwai painting is that it is made with natural colors whose source is semi-precious stones, leaves, and flowers.
18. Painting of Dancing Radha Krishna with Gopis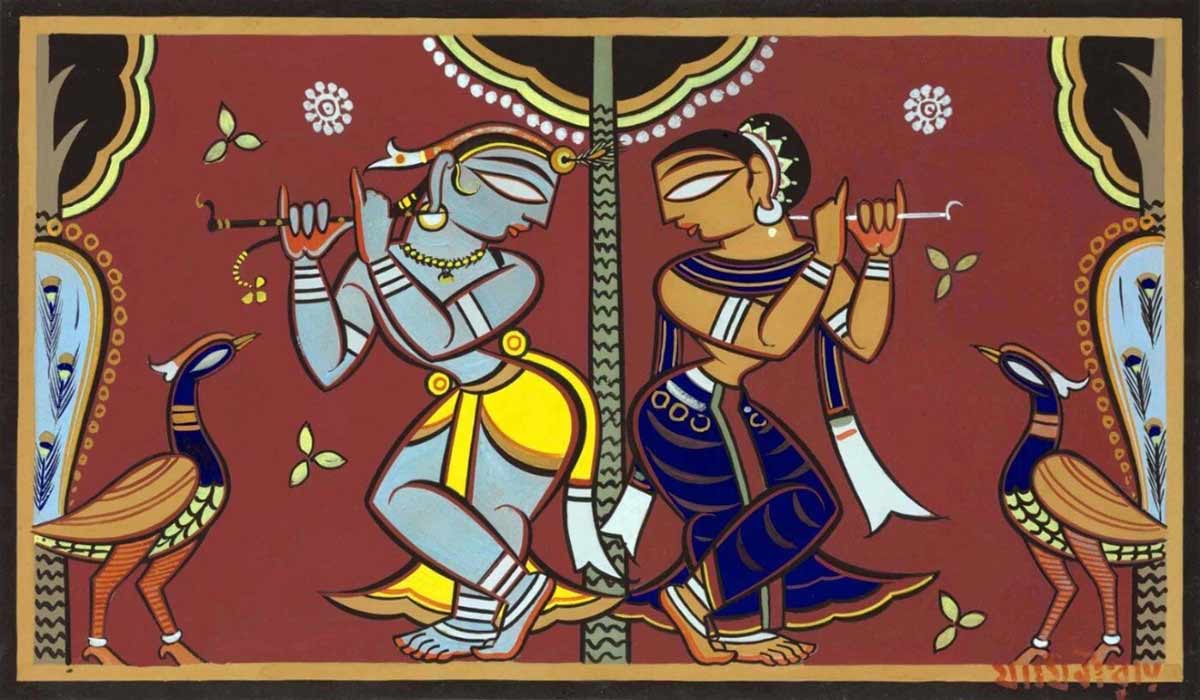 You can never go wrong with a beautiful painting of Radha Krishna dancing with the Gopis. After all, Gopis were as much a participant in their divine love story as the river Yamuna. They were the companions to their romance, and a painting featuring them gives a celebratory vibe that uplifts the mood instantly.
19. Jamini Roy art painting of Radha Krishna
The artist Jamini Roy blurred the boundaries between the worlds of the mortal and the divine. His specialty lay in portraying gods and goddesses as ordinary people, which spoke of a more earthy love for the Lord from the devotee.
Jamini Roy's work usually has an emphasis on subjects and lines enclosed in a border. The lines are thrown in sharp contrast with a flat color application, creating an instantly recognizable look. Showcasing a painting of Radha Krishna created by Jamini Roy is an excellent way of showing your love for the art.
20. Radha Krishna paintings on canvas at night
Devotees believe that Radha and Krishna used to meet secretly in Vrindavan at night. The melodious tune of Lord Krishna playing the flute captivates everyone's heart, and it did captivate Radha too. A beautiful art painting of Radha Krishna at night sitting near a lakeside is a mesmerizing scene everyone wants to have in their home.
21. Canvas painting of Lord Krishna and Radha on a Lotus
Keep negativity at bay with a painting of Radha and Krishna standing on a lotus. Lotus is a symbol of resilience as it grows in muddy water and it is still pure. Lotus is the symbol of stability and combines it with Radha Krishan in a painting, and it will bring positivity and strength to your home.
22. Modern art painting of Radha Krishna
If you want to reflect your artistic personality on your home decor, then buy a modern art painting by Radha and Krishna from an online art gallery. Contemporary art paintings have some interesting aesthetic elements that immediately arrest the eye. A modern art painting featuring Radha and Krishna can work as a great statement piece for your living room.
23. Radha Krishna painting on a swing
Radha Krishna used to enjoy each other's company a lot on a golden swing. So this specific time spent was given the name Jhulan Yatra. Devotees of Lord Krishna celebrate Jula Yatra in the month of Shravan. So buy a painting of Radha Krishna on a swing, as it will enhance the beauty of your home and radiate positive energy.
24. Raas Leela painting
Raas Leela is the dance of divine love. It is the joyful dance of Lord Krishna with his devoted gopis. People hang a painting of Raas Leela on their walls to spread joy and positivity. A Radha Krishna Raas Leela painting will be the best wall decor for your home if you have a hall with enough space.
25. Moonlight Radha Krishna canvas painting
An excerpt from the Krishna Book refers to Krishna's increased desire to dance with the gopis on the moon's appearance. A painting with a full moon in the background and Krishna dancing with the gopis creates a relaxed and festive atmosphere in your room.
26. Radha Krishna painting with a Peacock
Lord Krishna reminds the peacocks of the rain and makes them happy. Lord Krishna's music helps them dance better, and as a gesture of gratitude, they offer him their feathers which he places in his hair. Such is the beauty of their connection.
A graceful art painting of Lord Krishna and Radha with peacocks is a head-turner. The colorful peacock feathers in the canvas painting of Radha Krishna adds a visually stimulating detail to your walls.
27. Raja Ravi Varma painting
A Radha Krishna painting by Raja Ravi Varma, a celebrated Indian painter, and artist, will be a beautiful addition to the house of someone looking to decorate their walls with a painting.
28. Mughal style painting
A canvas Radha Krishna painting in the style of Mughal painting is a must-have painting for people who want an unconventional look.
29. Famous Radha Krishna paintings on canvas
Several well-known artists like R C Sharma, Jamini Roy, and Raja Ravi Varma have captured the depth of the love between Radha and Krishna through their paintings. You can buy these paintings online for your home.
30. Radha worshiping Krishna
A painting where Krishna is playing the flute and Radha looking up to him in awe is the perfect portrayal of how much Radha adores and worships Krishna. It is a beautiful painting to hang on your walls as it shows the immense love between the two.
Conclusion
The depiction of Radha and Krishna together in painting is a beautiful way to bring positive vibes into your home. Get a painting that fits your walls perfectly and radiates good energy in your home by adding beauty to the walls.
FAQs
Is Radha Krishna's painting good for the bedroom?
It is considered auspicious to hang a Radha Krishna painting in your bedroom. Radha and Krishna had unconditional love towards each other have taught us the true meaning of love. Because of this reason, it will be pretty auspicious for a couple to hang Radha Krishna paintings on canvas in their bedroom.
Even Vastu Shastra supports this line of reasoning as it says that hanging a painting of Radha Krishna in the bedroom improves the relationship and boosts love between them. It also mends any problems in marital relations.
How would you describe the canvas painting of Radha Krishna?
Radha and Lord Krishna's canvas paintings are usually an image of Radha and Krishna spending time together. It portrays the eternal love that existed between Lord Krishna and Radha.
Their paintings try to show us their undying love for each other. The affection and love between Radha and Krishna are so deep that when Radha asked Krishna why can't he marry her, he replied by telling her that marriage requires two souls and they were already one soul together. Radha and Krishna's love is considered to be divine because it goes beyond social mores and conventions.
Can we hang Krishna with a flute at home?
Hanging a painting of Radha and Krishna with Krishna holding a flute is very auspicious. The flute is quite dear to Lord Krishna, and he always used to keep it with him.
If you have a painting in your Home with Krishna holding a flute, then many types of Vastu defects are wiped out completely. It is also known as a problem eradicator as such a painting has the power to eradicate problems in your marital life.