When it comes to Halloween- there are a lot of things to get excited about: horror movies, the crisp autumn air, ghost stories, costume parties and spooky decorations. If you are a Halloween enthusiast, here are some great Halloween home decor ideas for you.
No one talks about the philosophy of Halloween, this unique festival allows people to face their fear of death, winter, and life's unknown mystery by encouraging wild joy. Halloween activities at home transform our fear into a celebration where we can embrace the dark side of life.
Apart from its philosophical connotations, Halloween brings people together as a community and teaches people to become generous and fearless. Probably the popular reason people love Halloween is that they can wear funny costumes and transform into anything they like to be.
Of course, we cannot miss out on the commercialism of this unique festival. As long as kids get candy and gifts on Halloween, nothing can stop its popularity as many countries are celebrating it with fervour regardless of religion. This fun and secular side of Halloween enables people to enjoy the day more than Christmas and play many Halloween games at home.
Halloween Decorations for Home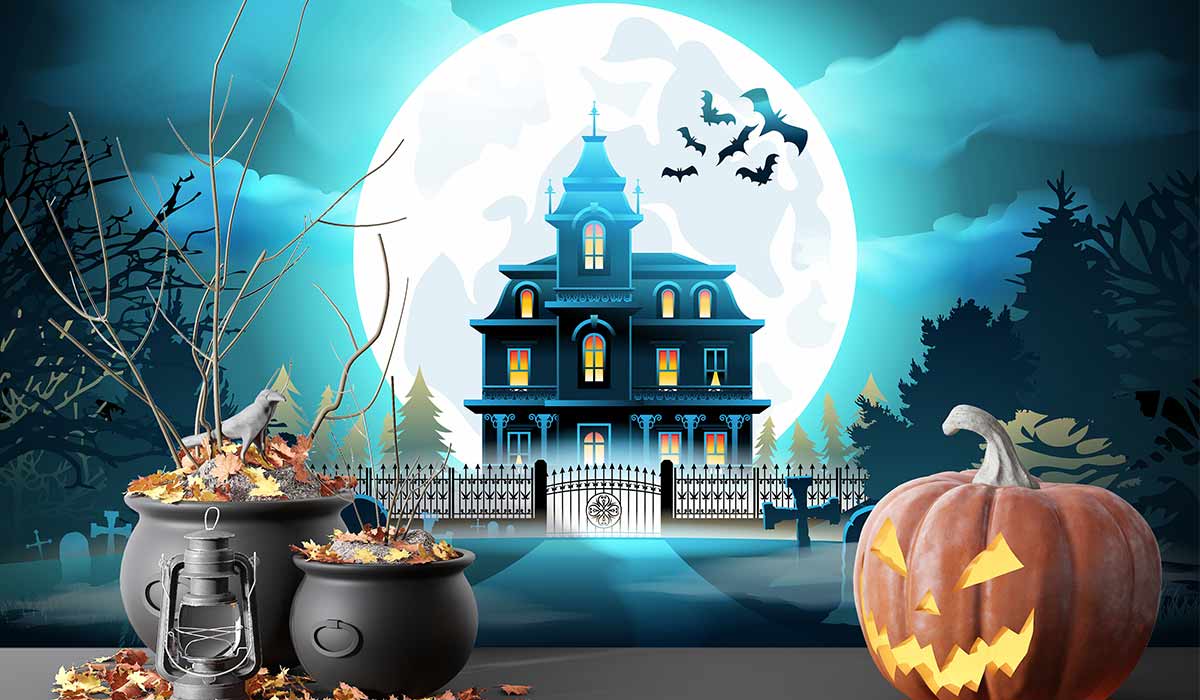 Halloween evolved from the ancient Celtic festival of Samhain when people lit bonfires and dressed up in costumes to ward off ghosts. Today, it has evolved into a day of activities such as trick-or-treating, carving jack-o-lanterns, festive gatherings, dressing up in costumes, and eating treats.
We've included suggestions for both the inside and outside of your home. To impress your guests with Halloween home ideas, decorate your front porch with eerie Halloween wreaths, witch brooms on the door, or giant spiders. Do you want to use wickedly inventive home Halloween party ideas to decorate every room in your house?
We at WallCurry have got some great Halloween home decor ideas for you!
1. Candles & Crystals As Halloween Home Decor
If you love Haunted Mansions, you'll want to include them in your Halloween home decor ideas. There is something eerie and intriguing about using crystal balls as props. In addition, getting your hands on them is a breeze! You can also place candles around the crystal balls to give it a spooky effect.
2. A DIY Broomstick at home Halloween decorations
Make a witch's broom with a dried corn husk and some twigs. This simple Halloween craft is great for getting everyone excited. This easy DIY broomstick can be a wall hanging or a decoration for your veranda. Wrap white pumpkins with bittersweet vine, holding them in place with t-pins and hot glue.
3. Wine Bottle Candlesticks – Modern Halloween House Decorations
An eerie flicker is a must at any Halloween gathering. Paint wine bottles with matte-black spray paint. Once dry, insert an orange taper candle in each opening
4. Holiday home Halloween Decorations with SpiderWebs
This is the most fabulous waste-to-decor concept since it uses items you probably already have lying around the home. Using garbage bags, scissors, and tape to create spiderwebs is an extraordinarily cost-effective and creative concept.
5. Eerie Wall Lights – Easy To Make At Home Halloween Decorations
You can get eerie glowing eyes by concealing LED tea lights that flicker like actual flames beneath a scary DIY mask. Decorating your walls for Halloween with these homemade lights along the surface will give your decorations a really cool look. These Halloween-themed Spooky Wall Lights, which need no special skills to put up, may give a special touch to your home.
6. Lanterns with a Devilish Tint – an elegant Halloween home decor
Transform your living environment by making impressive ghostly figures using old milk jugs, a permanent marker, a craft knife, and a battery-operated light string. Put a few of these lighted jugs on your front porch or pathway to greet your holiday guests.
7. Glow Sticks with A Twist
Use some old newspaper, tissues, and light sticks to make a demon with luminous eyes peek out behind bushes. How cool is that? Using these terrifying monsters, you can scare off everyone who comes into your house.
8. Vase with A Skull Face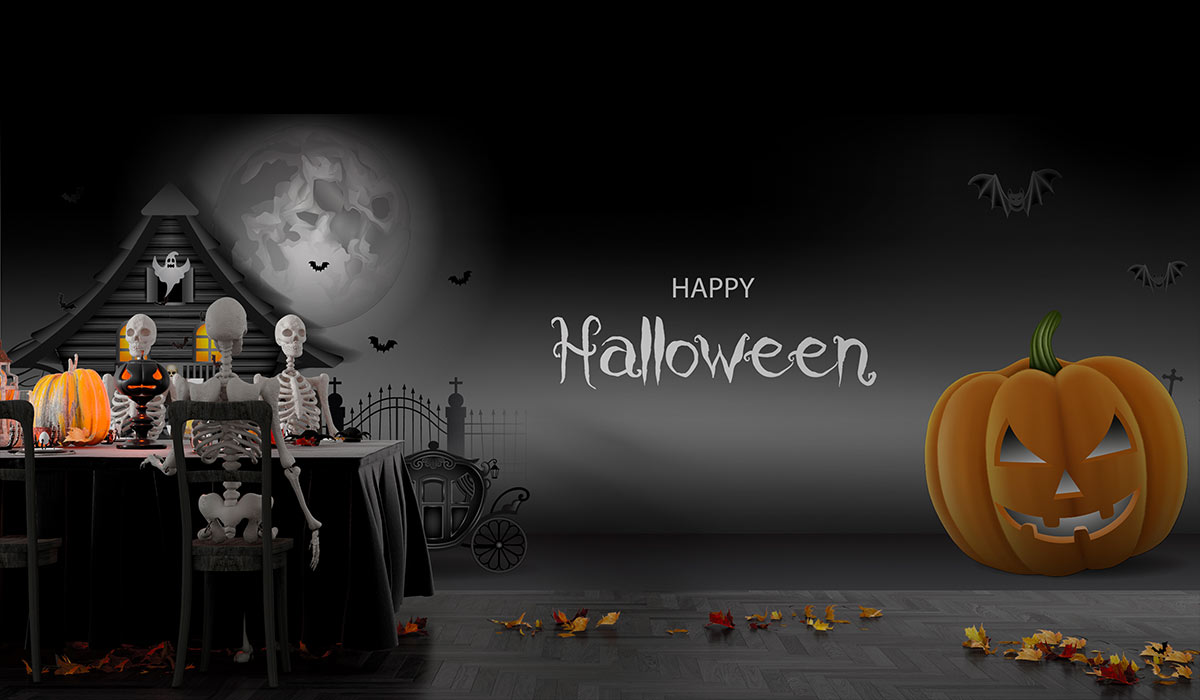 It is the easiest way to add a spooky touch to your home and Halloween decorations. You can buy these readymade skull vase holders online or create one with plaster of Paris. Just place some artificial black roses in these vases, and you are good to go. You can also learn how to make Halloween scars at home to make it more creepy.
9. Bring Skeletons to The Porch
These affordable Skeletons are ideal for decorating your front porch for Halloween, and they'll give everyone chills — young and old. Pose them in a way that adds to the horror factor, and you'll have the ideal scary party guests for your Halloween celebration.
10. A Scary Entrance – Home Goods Halloween Decorations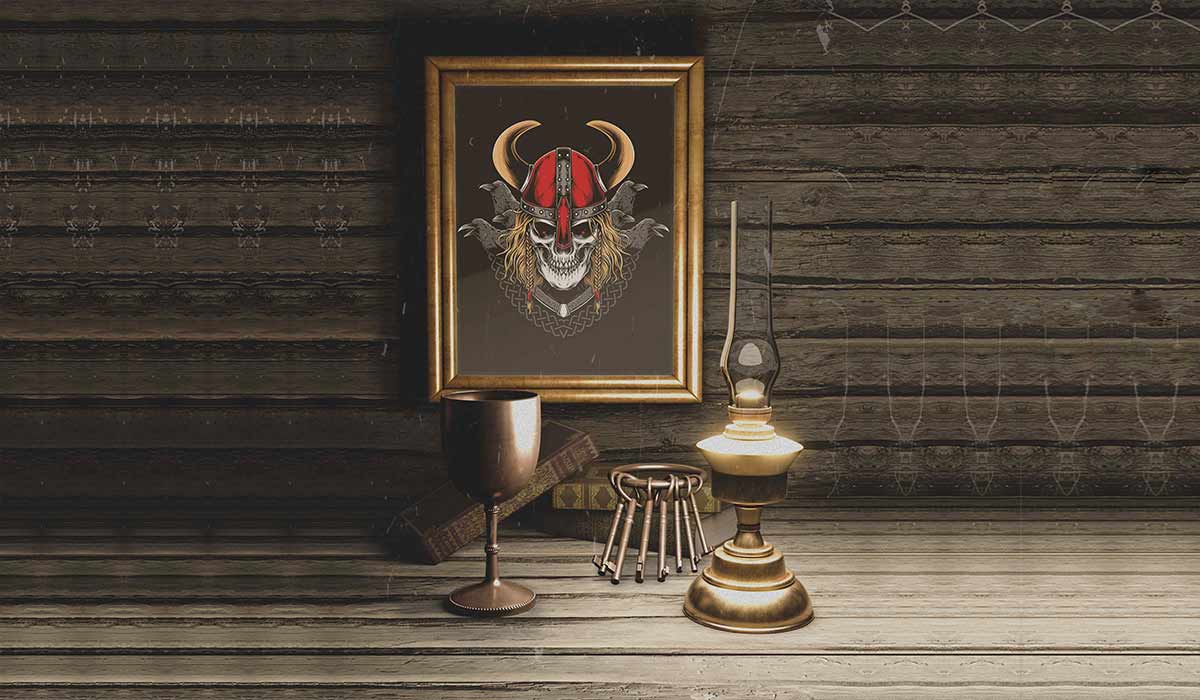 Incorporate big canines and frighteningly brilliant green eyes into your home to transform it into an evil monster! The only materials you'll need are a simple foam board cut, acrylic paint, and long screws to make it.
To create the monster's fangs and eyeballs, you'll need some basic creative skills. When everything is complete, use long screws to attach the teeth and the eyes to your home. Isn't it fun to see people slow down to look at the monster as it appears in front of your house?
11. Mummy in A Jar – a Halloween funeral home decoration
Make a mason jar mummy with two big eyes and plenty of bandages using several mason jars. A big mason jar, eyeballs, gauze, and adhesive are all you need to make a working mummy in under five minutes. There are many DIY Halloween décor things you can create with mason jars.
12. Paper Bags to Rescue – Halloween Decorations to Make at Home
Luminaires made from paper bags are a simple and inexpensive way to make your Halloween decorations stand up. To help trick -o- treaters find their way to your Halloween celebration, make these quick and easy luminaries and hang them along the path leading there.
13. Glowing Balloons – a classy Halloween home decor
These scary creatures are very simple and fast to create, using just white balloons and strong light sticks. In daylight, they seem cute and welcoming, but at night, their spooky side emerges. In addition to being simple to make, these eerie creatures are also easy on the pocket.
14. Spooky Wreath
To make this impressive do-it-yourself décor, gather a slew of plastic monster eyes and a wreath. Putting it on your front door to greet trick-or-treaters and other guests may be extremely frightening. Make this spooky and wacky wreath to spook up your front entrance.
15. Bats on The Wall
How about a spooky Wallpaper or a painting? Bats across your wall are a fantastic way to immediately create a spooky festive atmosphere in your house, and it takes minimal effort. Head over to WallCurry for some more interesting paintings and Wallpaper!
16. Threads & Spiders
DIY Spider Sacks are very trendy, and they are so simple to create that even children may participate in the process. A few pieces of thread, glue, and balloons are all you'll need to create this easy DIY high end Halloween home decor.
17. Pumpkin Cats
Halloween Black Cat O'Lanters is a unique and beautiful variation on the traditional Jack O'Lantern, made from many enormous stacked pumpkins placed on top of one another. These frightening felines with brilliant golden eyes will undoubtedly scare anybody who crosses paths with them.
18. Origami Lights
Make scary origami Halloween light decoration ideas of a string of white Christmas lights that have been reused. These tiny jack-o'-lanterns, constructed of orange paper, are very simple to create and reasonably priced.
19. Hanging Bats
With paper bats, you can transform your front porch into a bat cave. It's impossible not to be scared when you see these realistic paper bats flying about on your front doorstep. What else is there? These bats are very simple to create and are a low-cost decorating idea option.
20. Make Your Own Skull Candle Holder
Use plastic skulls and terracotta saucers to make a spookily beautiful candle holder in honour of Halloween. Making this candle holder takes little time, and it is also very inexpensive. Use plastic skulls, some spray paint, some terracotta saucers, and a hot glue gun to create this eerie candle holder for your Halloween party.
21. Tin Can Luminaries for Halloween
Halloween With their beautiful dispersed light patterns, tin can lights are a beautiful addition to any room in the home, and you can simply create one by repurposing old tin cans. Replace your costly store-bought luminaries with homemade luminaries that are less expensive to create by punching holes in old tin cans lying around the house.
22. Halloween Decorations Wall Spider Web
With these DIY Halloween house decorations inside, you can cover the walls with enormous and scary DIY spider webs to celebrate the charm of Halloween. Making scary spider webs with yarn and two-sided tape, as well as some toy spiders, takes just a few minutes.
23. Make Your Own Cheesecloth Ghosts to Hang on the Wall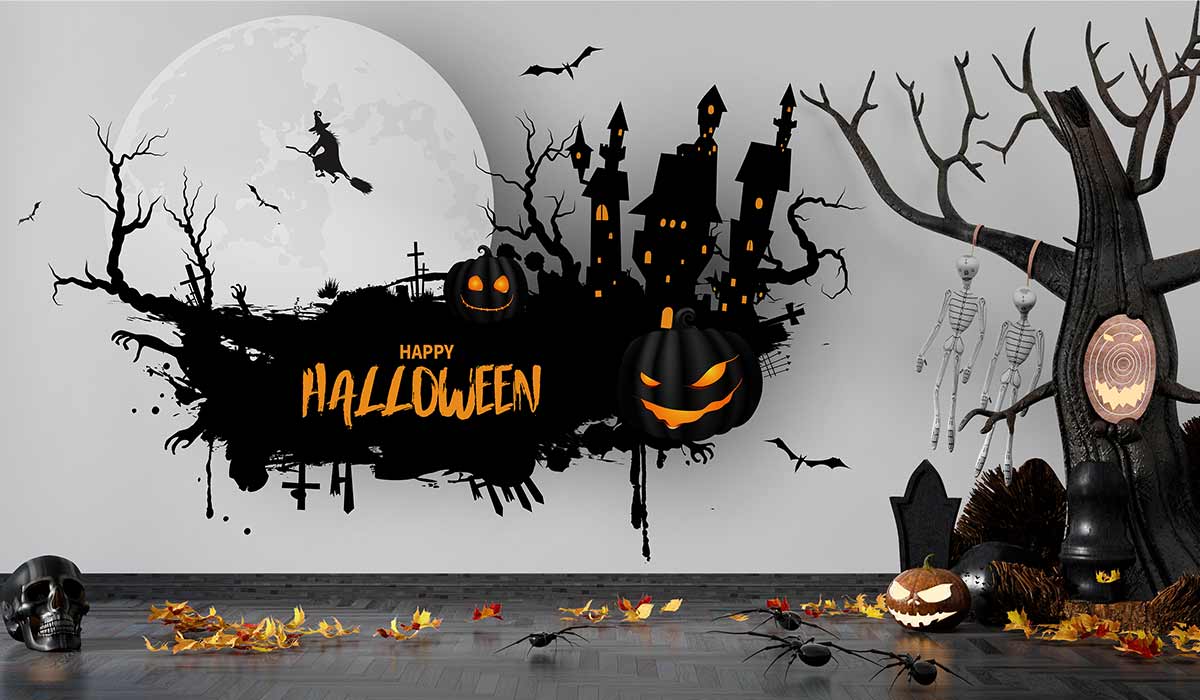 In addition to being a massive hit around Halloween, cheesecloth ghosts are a traditional home décor feature that is both enjoyable and simple to make on your own. An excellent guide for making cheesecloth ghosts can be found on various channels on YouTube, and they are great for hanging from your ceiling, chandeliers, or even the trees in your garden.
24. How to Decorate Your Home for Halloween Party with Cheesecloth Spirits
Another cheesecloth ghost, although this one is a little different in appearance. These cheesecloth ghosts are fashioned from Styrofoam mannequin heads. They are guaranteed to increase the level of fear in your household. They seem to be made of real wood, yet they are very simple to design and affordable.
25. Jack-o-Lantern Topiary for the Halloween Season
With top-notch topiary for your front porch, you may add the unmatched combination of black and white to your Halloween décor for an instant upgrade. It is easy to construct.
26. Create a Dementor – Home Decor Halloween Decorations
Create your own Dementor, based on Harry Potter's Harry Potter series characters, and wow your friends and family with your Halloween décor. This surprisingly simple DIY project may take some time, but the result will be a home décor that will be a trendsetter in the neighbourhood. What more does one need to add that ideal spine-chilling touch to this year's Halloween celebrations.
Conclusion
So this Halloween gets ready to indulge in its spirit with simple Halloween home decor ideas. You can visit the WallCurry page for better homes Halloween decorating ideas, or trendy decor wallpapers and paintings to surround your home!
FAQs
What colours to use for Halloween home decor?
The traditional Halloween colours are orange, black, and purple, and they are still utilised today. However, feel free to include other colours, such as red, yellow, and brown, to reflect the hues of autumnal trees.
What food items are favoured at home Halloween decorations?
Apples and pumpkins are among the autumn harvest items tradition/ally associated with Halloween decoration ideas to make at home. You may create a variety of delectable delights, such as caramel apples and apple cider donuts.
When is the right time to start preparing for Halloween home decor?
Considering that Halloween is coming at the end of October, you should start decorating your house for Halloween during the first or second week of October. Apart from this time, you can start decorating for Halloween, even in September. You can also think of Halloween games to play at home.
Can I use my fall decor item during Halloween fall decorations for home?
If you have already made plans to decorate your home before the first significant fall holiday, choose fall-appropriate decor and then add this decor to the Halloween party at home. Since Halloween, Thanksgiving, and Christmas come after another, so you may have to select long-lasting fall decorations.
What's the significance of pumpkin on Halloween?
Symbolically, the pumpkin is looked at as a symbol that connects rebirth and fertility. Pumpkins also symbolise harvests and crops because they come in the season when Halloween falls every year. For example, for one who wants to go 'trick or treating', a lit-up pumpkin on the stairs denotes that the person who lives there wants a visit. Likewise, there are many rituals and practices like this you try while celebrating Halloween at home.