Diwali, also known as the Festival of Lights, is one of India's most auspicious holidays, celebrated by Indians all over the globe. Diwali celebrations are not confined to the house. Since Laxmi, the goddess of prosperity, bestows her blessings on this special occasion, offices around India deck up to welcome her. Here are some great Diwali decoration ideas for office.
Here are some of our favourite ideas for Diwali decor for the workplaces.
Diwali Decoration Ideas For Office
Diwali is the occasion that calls for beautiful yet simple decor, even for the workplace. At the workplace, people usually don't expect fun stuff. If a company makes the Diwali celebration memorable, then it would be a good step toward team bonding. Let us look at Diwali office decoration themes and ideas that make your office ready to welcome the Goddess of prosperity this year.
Give your office a makeover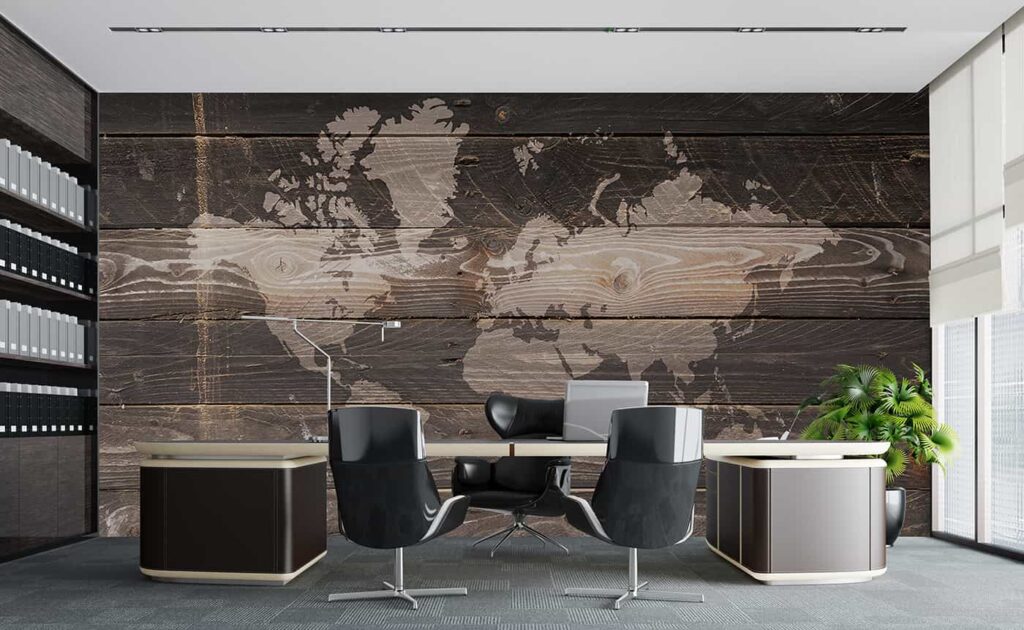 Diwali is the time for re-painting and redoing your office decor. One interesting way to do this is to makeover your office with some exciting wallpapers or murals. They pose a more affordable and exciting alternative to painting your office walls.
You can hang some classy wall paintings in your office to liven up the space to add more variety. Check out our wallpapers and wall paintings collection, and make your office look like a completely new place.
Rangoli Designs For Diwali office decoration
There is no Diwali without at least one rangoli creation adorning the front entrance. Rangolis, an essential element of Diwali, is generally regarded as auspicious. Rangolis may seem complicated, but you don't need to be an artist to create them.
Rangoli design stencils are widely available both online and offline. Rangolis are often created using coloured powder. Many people, however, like rangolis fashioned from various flowers and diyas.
Diyas for Diwali decoration in Office
What is the festival of lights without the iconic diyas? Diyas- whether earthenware, hand-painted, brass ones, or eight wicks are all beautiful. You could skip everything about Diwali and just decorate with the diyas.
The advantage of using diyas is that they are inexpensive and environmentally friendly. Thus, if you want to make environmentally friendly selections, diyas are the perfect Diwali decorating item for you.
Candles as Diwali décor for office
Candles are ideal for workplace decoration. They may be used to adorn almost any nook, gloomy corner, or stairway. The variety of candles available now is incredible. Also, how can we forget how wonderful many of them smell?
Electric candles are another alternative for those who want to avoid the waxy mess that many candles create. Electric candles are widely available and very simple to install.
Floating Candles- Beautiful Diwali decoration items for office
What could possibly be better than candles? Adding floating candles to a standard decorative item definitely takes it up a level. It creates a beautiful atmosphere, almost like a fairy tale. When utilized as a focal point of a room's décor, it can be stunning.
Take a big bowl of water and just place some lovely floating candles in it to enjoy. If you want to make it seem more festive, you may place some brightly coloured flowers and glitters next to it. Consider placing several of these bowls in the workplace to make them seem more elegant.
Definitely place one in the reception area on a centre table to cheer up your visitors.
Cubicle decoration themes in office for Diwali
Decorating the workplace is the greatest approach to get everyone into the holiday spirit. Hang as many streamers, balloons, and fairy lights as possible to make it seem as inviting as possible.
However, if you are not confident about carefully watching the decorations, it is best to opt-out of diyas or candles since they pose a significant fire risk. Electric candles and floating diyas, on the other hand, make for excellent table decorations.
Decorative Tea Light Candles
Tea Light candles are beautiful and eco-friendly, giving your office a dream-like appearance.
To prevent the spilling of wax of the candle while it burns, tea light candles are enclosed in a metal casing. As a result, not only do you avoid all of the mess, but you also have the option of reusing it. Invest in some good ones for continued usage
Fairy Lights – Diwali decoration ideas for office
Fairy lights are the Diwali decorations' chocolate cake. It's impossible to go wrong with it. Everyone likes them because fairy lights make them feel warm and fuzzy on the inside. To be honest, no Diwali décor is complete without fairy lights.
Fairy lights are a flexible ornamental item despite their low cost due to their wide range of colours and forms. Draping fairy lights over pillars is a popular method to decorate with them.
Outlining the frames of the windows and doors is a common practice. You can even use it on the roof of the workplace cubicles.
The best part of using fairy lights is that you can program them to blink in interesting patterns.
Chinese Lanterns – Diwali decoration ideas for office
Chinese lanterns have been growing in popularity as a Diwali decoration item, and this year is no exception. The addition of these lanterns adds a touch of oriental glitz.
Chinese lanterns exude a dreamy and beautiful atmosphere. It's impossible to go wrong with a string of Chinese lanterns strung over bare walls or stairway treads. Go for a red one for a more vibrant and warm look, and use white ones to lend your office an ethereal air.
Paper Lanterns
You should try decorating with paper lanterns if you like a little bit of variety in your life. Making your own paper lanterns may be a great way to include a DIY aspect into your event. If you don't have access to a store, they are also easily available online.
Making paper lanterns together, on the other hand, may serve as a pleasant team-building exercise. So go out and buy some crepe paper, glue, and scissors, and get ready to have a good time.
Bottle Lights – Creative ideas for Diwali decoration in office
So far, this seems to be a recent trend that we are enjoying very much. It also provides us with the opportunity to recycle old glass bottles.
Simply grab some old, dusty glass bottles you have lying around, wipe them up, and begin stuffing them with a slew of string lights. Now, please turn it on and see how it transforms everything into something more wonderful. It is a stunningly stylish and contemporary decorative piece that will add a touch of sophistication to any room.
Lights on the Plants
Who said that decorating a tree should be restricted to just one holiday season? For this task, you will not need a tree; instead, you will need some beautiful string lights wrapped around the office plants.
More importantly, by displaying these "decorated plants" in the foyer of your office, you will be able to create a welcoming, festive atmosphere. Imagine that your workplace has a garden of some kind. The use of yellow fairy lights to adorn the trees and plants is going to look really stunning.
Balloons – Diwali decoration ideas for office
Balloons are the quickest and most effective way to liven up any festive décor. Although it seems to be an essential decorative piece, the sheer variety of forms and colours combined is enthralling.
If your office is kid-friendly, balloons are a great way to decorate.
Flower arrangements
While Diwali is known as the "Festival of Lights," it would be incomplete without adding fresh flowers to the festivities. Gorgeous bouquets make for an excellent Diwali decorating idea for the workplace.
Marigold wreaths are very auspicious. When placed on walls, doors, and the railings of staircases, such flower wreaths are stunning. When you have some of these aromatic items adorning your workplace, you can't go wrong.
Torans for Diwali (Wall hangings)
In terms of design, this is more of a ritual than an ornament. Torans or wall hangings adorn the tops of doors, signalling to the Goddess that she is welcomed in the home. On the other hand, a toran can certainly light up any room, even if it is not used for religious purposes.
Torans may be fashioned from a variety of materials, including flowers, beads, and even a thread. Incorporate red, yellow, and orange hues into your design to make it seem more welcoming to guests. Adding torans to your Diwali decorations is a wonderful way to bring it all together.
Streamers – Diwali decoration ideas for office
Using streamers to spice up and decorate something is a quick and effective fix. You're stumped as to what to do with that solitary hallway? Get a large number of brightly coloured streamers and string them together.
In addition, streamers come in handy as they are reusable for various happy events. Paper streamers are also cost-effective and straightforward for even the most artistically challenged individual to create eye-catching decorations.
Bells and Wind Chimes
If you believe that bells are only useful during the Christmas season, you should rethink. We are talking about Diwali, which has evolved a lot from its traditional ways of celebration.
Diwali workplace decorations that include golden bells and wind chimes, as well as marigold garlands, can look very welcoming. These decor items will look their finest when hung from the ceiling or any other "high" location.
Enhance The Reception Area- Diwali office decoration themes
The welcome area is the first thing we see when we walk into any office space. As a result, you must go all out to make it seem the part for Diwali workplace decorating.
Make a rangoli in the centre of the room, making it as colourful as possible. You can use fairy lights, floating candles, and Chinese lanterns to decorate the reception area.
Conclusion
Diwali is a festival that brings people together in the spirit of joy. As we all are aware of the fact from last year, the entire world has gone through the Covid-19 pandemic. We still haven't fully recovered from this global problem. However, things are going normal day by day, so it is our best chance to develop team bonding and a sense of togetherness among the employees. You can ask your team members to use these Diwali decoration ideas for office and make this year's Diwali a memorable event.
Visit WallCurry website for more such festival tips!
FAQs
What are the traditional Diwali decoration in office?
The most traditional decoration method is the lighting of diyas and oil lamps. Flowers and rangoli are also a part of Diwali decor since its inception. These days, some people gift chocolates as sweets to their employees as a Diwali gift.
When should one start preparing for the festival?
It typically takes place between the middle of October or the middle of November. In addition to family feasts, bright decorations in houses and temples and conspicuous displays of light are also possible during celebrations. Making or purchasing festive illuminations and decorations for your home is a wonderful way to prepare your home for Diwali celebrations.
What makes Diwali a perfect festival for office events?
In India, Hindus consist of almost 80% of the country's population while Jains and Sikhs also celebrate Diwali. Since it is the biggest festival in India, it is the best time to reward employees for the contribution they make to the company.  You can either celebrate Diwali at the office or give gifts to employees.
What is the significance of diya in Diwali?
Diya is the heart of Diwali. The traditional name of Diwali is Deepawali and "Deep" is the Sanskrit name for diya. In different languages, it is called with names such as diyo, deya, divaa, deepa, and deepam. Diya usually consists of clay with a cotton wick absorbed in ghee or vegetable oils.

Not only for the Hindu population of India but diyas are also used in Sikh, Jain, Buddhist, and Zoroastrian festivals.