When Diwali, the festival of lights, comes around, the whole country is illuminated. It celebrates the triumph of light over darkness, of good over evil. To welcome Laxmi, the goddess of prosperity and luck, Indians decorate their homes. Here are some really simple and affordable Diwali decoration ideas for home to help you enliven your surroundings this year.
Diwali Decoration Ideas for Home with Lights
Lights are the heart of the Diwali festival. They can be used in multiple ways to decorate your home this Diwali:
The New Age LED Diyas
If you want to enjoy an eco-friendly Diwali this year, LED diyas are the way to go. They are an excellent replacement for conventional ones and are also entirely safe. In addition, they are smoke-free and emit a very strong light that easily lights up the whole room.
They are also inexpensive and last a long time. Go for the ones you can connect to a plug if you don't want to burn through batteries.
The Trendy Water Lamps
Water lamps are great at making a certain area of your house seem unique and lively. They contain certain unique salts that, when exposed to electricity, produce some beautiful colours and fascinating patterns. They are rather subtle and mellow than traditional Diwali decor – so it's a great way to give your home an understated and elegant festive look.
Lanterns – home decoration ideas in Diwali
For the most part, flying or floating lanterns are available, but you can also buy hanging lanterns and place them on the balcony. You can use different coloured lanterns to create a unique look. Not only that, but lanterns come in various forms and sizes, making them great items for Diwali light decoration home ideas.
Lights In A Jar & bottle- Diwali decoration ideas for home with lights
Your empty racks and shelves may be filled with led bulbs placed in glass jars that you have lying around. As soon as they are turned on, they emit a beautiful glow. It's something that everyone can do without spending a hefty amount.
If you have any empty glass bottles sitting around that you don't know what to do, then put light bulbs inside them. Hanging them from the ceiling to create a façade can be unique and add additional colours to the already existing lights.
Lights In A Paper Cup
Regular LED ropes may be unappealing and uninteresting to look at. However, adding some creativity with cut-outs elevates the vibe of the LED rope and may also elevate the overall ambience.
Lights In A Bangle
Stacking a few bangles, one on top of the other and then putting a Diya in them, causes the light to glow in distinct colours. It can also be used to cover little areas of the home where there may be no lighting.
With bangles, you can create different looks for different nooks.
Floating Diyas With A Twist
If you have a pool or pond in your home, using some diyas and putting them in the pool or pond produces a firefly effect.
If you don't have a pond or pool, fill a tub with water, add petals, and put the diyas on top of the water to create a magical ambience. They are a low-cost option that looks fancy while just costing a fraction of what you would get in the market.
You can also waterproof floating candles for a better effect.
Diwali Decoration Ideas For Home With Flowers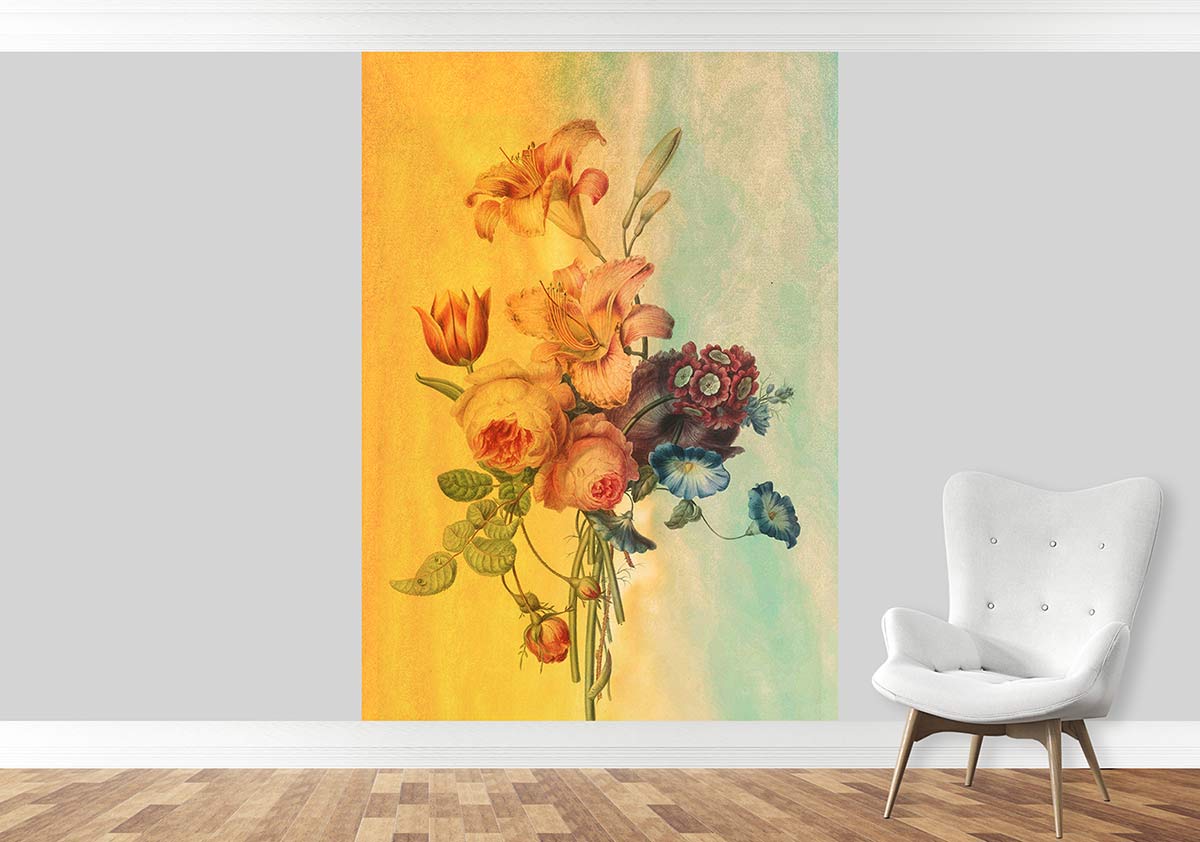 Flowers are a must in our festivals, and we've grown up decorating our homes with flowers, bored of doing the same thing every year? Let's check out these new Diwali decoration ideas for homes with flowers.
The Classic Marigold
Marigold is a part of all auspicious festivities in India. They can be used in all aspects of the house and even to create rangoli designs. The petals can be used to cover a surface before placing diyas or other decorative items.
Flower Curtains
Nothing too heavy, simply some beautiful flowers strung together at a distance to create a delicate and lovely floral curtain. You may use your favourite flowers in a variety of colours to complement your décor.
Colours such as reds, oranges, yellows, and pinks will undoubtedly be popular choices for Diwali.
Flowers As CentrePiece
You may use garlands to decorate the area around your puja idol. It might be a nook you want to dress up with your brassware and lamps or an empty wall that you want to make festive with your lights and decorations.
A few string lights with flowers may transform a plain space into the focal point of your celebrations. It is also possible to utilize various colours of flowers in an asymmetrical arrangement to create a lovely screen for the deities.
Flower Wall Hanging
To fill up empty walls, thread a few garlands on a branch, a stick, a steel rod, or even a few hangers if you want to keep it simple. To make the hanging colourful and festive, use bright red and orange flowers with a few golden paper flowers or golden balls strung in between.
Use artificial flowers Chandelier
There are numerous sets of artificial flowers and home decor pieces available in online stores. These decorative pieces add some quaint charm to your celebration. You can also find beautiful chandeliers made from artificial flowers to beautify your ceilings.
If you already have a chandelier at home, you can use these artificial flowers to enhance its appeal. Add little LED lights to these flowers, and they will brighten up your home.
Diwali Decoration Ideas For Home With Paper
Paper Cup Garlands
If there is one Diwali décor that is always in style, it is the paper cup garland. After Diwali is over, you may leave it up for a bit longer, if not all year long! It is suggested that LED lights be used instead of fairy lights for this purpose since fairy lights may get very hot and pose a fire risk when used with paper.
Paper Toran- ideas for Diwali
A crepe paper toran will, without a doubt, endure longer than a fresh flower toran and also be more attractive than a plastic toran. This is a fantastic idea for a Diwali backdrop. You can use this toran for a variety of different occasions.
In order to make your own toran, gather a variety of crepe papers in colours of your choosing. If you want to make it even more festive, you may attach gold bells to either end of the rope. Even after Diwali has come and gone, preserve your toran in a safe place for future celebrations or parties!
Illuminated Paper Bags
Illuminated paper bags are excellent for creating a warm atmosphere and providing soft light. You can light them up with battery-operated candles. Who knew that plain brown paper bags could be transformed to create beautiful decor?
To make paper bag lights, just punch a hole at the top of the paper using a fancy hole punch and insert your candle into the opening. Don't be concerned if you don't have a fancy punch on hand; punching the paper bags with a safety pin or needle would suffice in this situation. Make as many as you possibly can to give your home a dramatic look.
Diwali Decoration Tips And Ideas For Home
Diwali Home Decoration Ideas Photos
You may put a unique touch to your Diwali decorating style this year. Everyone indeed decorates their homes with lights. So, we can use fairy lights, but with a twist. You can share some of your favourite photos from the special days you've spent with family and friends this year.
Hang the pictures or snaps between the lights, then hang the whole light garland on your favourite wall. So, start taking photos and creating some beautiful moments to cherish for the rest of your life.
Diwali Decoration Ideas For Home Images
You can buy beautiful Wall Paintings and Images to brighten your home this Diwali. The images can be hassle-free decor. You can purchase beautiful paintings at WallCurry.
You can also use Ganesha and Lakshmi Paintings to add an auspicious touch to the festivities.
Diwali Decoration Ideas For Home Handmade
Rather than buying the same old and monotonous types of wall hanging from the marketplaces, you may make your own using simple materials and techniques. Making wall hangings does not need the use of a lot of materials or time.
You may make some with cardboard, old newspapers, brightly coloured papers/sheets, and fairy lights, among other things.
Hand Painted Diyas
Diwali isn't complete without diyas, and you can make it even more memorable by painting your own! Purchase diyas and then adorn them using acrylic paint.
Isn't painting your thing? You may also include sequins and beads in your design. Experiment with a variety of designs and colours; the more, the merrier, of course!
Conclusion
Diwali is the time when every home is decked to the nines. If you don't want to paint your home or spend on new furniture, an easy way to give your home a makeover is to decorate your walls. You can use wallpapers and murals- which are more affordable and exciting to look at and hang wall paintings to liven up your drawing-room.
So what are you waiting for? This Diwali, with our Diwali decoration ideas for home, you can welcome the Gods Ganesh and Lakshmi with beautiful decor, that too on an affordable budget.
Visit WallCurry for more tips on Diwali decoration ideas for home and other festivals!
FAQs
At what time of the year one should celebrate Diwali?
Every year, on an Amavasya or a New Moon Night, the Hindu festival of Diwali is celebrated in October or November. Traditionally, this festival is referred to as the "darkest night of the year." The fifteenth day of the Kartika month, according to the Hindu calendar, has arrived. Traditionally, the celebrations last 5 or 6 days, starting with Dhanteras and ending with Holi. The date of Diwali is determined by the moon cycle as well as the Hindu lunar calendar.
Why do we celebrate Diwali?
Diwali is a celebration of the victory of good over evil. In Hindu Mythology, the reason to celebrate Diwali is the return of Lord Rama to Ayodhya after defeating Ravana. His subjects decorated the entire city with lights to welcome him home- and since then, Diwali has signified the triumph of good over evil. Many Hindus prefer to go to holy places and celebrate this festival of light.
Why do we light Diyas?
We light diyas because it is the symbol of light, and as per Hindu mythology, Ramji's return was all celebrated by lighting Diyas. As per tradition, during Laxmi Pujan Goddess Laxmi, the bringer of luck and prosperity, visits the homes of the devotees and bless them. To make her step in, people decorate their homes and light diyas to see where she should visit.
What to avoid while celebrating Diwali?
Apart from diyas, you will notice people love to burst crackers in Diwali, especially kids. If you have kids, make sure they should wear loose and synthetic clothing while bursting crackers or lighting diyas. Wear cotton clothes instead. It would be best if you keep buckets of water nearby your house in case of emergencies. Also, some people love to burst crackers that make a loud noise, in this case, put cotton plugs in your ears to avoid damage to your ears.
What sweets are made for Diwali apart from Diwali decoration ideas for home?
Indians make traditional sweets such as Chakli, Laddus, Barfi, Kheer, Shankarpali, Karanjee. Some parts of India have different names for specific sweets. The goal of these sweets is to eat something auspicious during Diwali. In many festivals, the tradition of making sweets are there. However, people share sweets with neighbours and spend quality time with their families.